I work as an activities assistant in a nursing home. Some of my patients have Alzheimer's/dementia. I have trouble finding craft/activities for them. Coloring gets very boring and I know they want to do more. I am also on a tight budget. With the warm weather coming I would like to start a garden club, but they are in wheelchairs. I am at a lost for ideas.
By joyce m mundie from Pittsburgh, PA
Answers
March 1, 2011
0

found this helpful
Best Answer
I know you said you were on a tight budget, but perhaps you could get some donations to build raised beds for the garden. I visited a senior citizen's home once and there was a great garden area made up of raised beds and large container garden options as well.
Also, have you thought of researching memory games designed to help dementia patients? I believe that there are some specifically used for them. Perhaps, something as simple as sitting in a circle and introducing yourself, then the next person introduces you and themselves and so on.
Barbara
March 2, 2011
1

found this helpful
Best Answer
Wonderful that you want to do this. National Gardening Association's Kid's Garden News has an archived article: "Gardens are for Everyone. . ." that has excellent ideas for gardeners in wheelchairs. Try searching their site, kidsgardening.com. You might be able to adapt some of these ideas to your budget. For instance, plastic guttering is relatively inexpensive and could be put in a frame at a working level for wheel chairs, or maybe used as indoor window boxes.
March 3, 2011
1

found this helpful
Best Answer
I also work as an activities assistant in a nursing home, here in FL. I know what you mean about trying to engage the dementia patients. We just did our gardening project yesterday. It went well. We planted sunflowers...which grow quickly and are stunning to look at. I'm hoping to get a garden club or boy scout troop to come in when it's time to transplant them into the ground to assist with that part of the project.
Other ideas about dementia patients, if possible and if they aren't too aggressive or combative, I've found they like to be given a job to do. Ask them to help you hand out supplies for an activity. Most don't do well in group settings, although we recently had a spelling bee and an Alzheimer's patient came in second place.
I understand the anger from KansasCindy. My dad also suffers terribly from Alzheimer's and since I live several states away, it is heartbreaking to think of my "once powerful, strong, CEO father" coloring in a nursing home. So, I am on both sides of this....as a daughter of a patient and as a worker in a nursing home.
I would love to bounce ideas with you, if you'd like to stay in touch. Please contact me through a message .
Good luck! I know exactly how hard your job is, how exhausted and overwhelmed you feel.
God bless you!
January 9, 2014
0

found this helpful
Best Answer
I work at an AL facility but we also have quite a few in wheel chairs but you might be able to find some one like we did that will donate time and the materials to make crates. They will lift the pots off the ground, so the can get to them more easily it would lift the plants up enough that they would be able to reach without bending over in the chair.
Answer

this Question

...
My mother has Alzheimer's and has been blind for about a year. She is bored to tears - literally - and lonely at the nursing home during the day by herself. She can no longer crochet. I tried coloring.
No good. She is advanced, but not so much that she would agree to a baby doll. I'm trying to find something she can do, by herself during the day until I get there after work to visit. Thank you.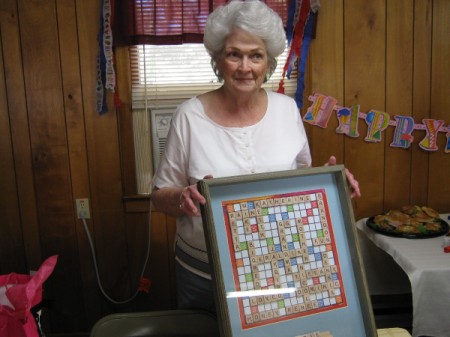 Answers
July 16, 2016
0

found this helpful
I am sure some of ThriftyFun's members will have good suggestions to offer. In the meantime, may I say, 'Your Mother is a very beautiful lady'.
Oh! I just thought of something. A blind woman taught me how to knit. She knitted pot holders for a good portion of the day. Maybe you Mother could try that. It would keep her hands busy til something more interesting was found. Good luck.
July 18, 2016
0

found this helpful
She used to crochet and knit, but can no longer do it. I don't think she could do the pot holders either since her "memory muscle" seems to be gone as well.
Otherwise, it'd be an awesome idea. Thank you for your response and I look forward to others, as well.
April 25, 2017
0

found this helpful
Dear LJohnson, I have a few ideas for your mother who I hope is still doing well. She could fold fabrics of different textures to feel them. You can get a pocketbook or bag and fill it with stuff that she can sort. Also, my grandmother had dementia and was in a nursing home run by the state with limited activities. My parents paid for her to have lifetime membership in the local senior center. The center picked her up every day and brought her to the group. She was around people and activities and we really felt it helped prolong her life; it certainly made her happy.
August 19, 2019
0

found this helpful
I totally agree with you. My grandfather was dealing with Dementia, and started feeling sick after his retirement stage from office. Every time we meet him, he uses to name us with different identities. He is getting trouble in remembering the names. Last month He wanted to plan an estate and to distribute the things before he leave us, so we called eldercare lawyers and took help from them. But deep inside we pray for him to get well soon.
Answer

this Question

...
I take care of my mom who has Alzheimer's. I feel badly that she is unable to feel useful. I try hard to think of things for her to do, but she just gets angry because she doesn't understand and becomes frustrated. I usually end up just sitting next to her all day wishing I could interact with her better. Does anyone have any suggestions?

By Patty from Palmdale, CA

Answers:
Activities for an Alzheimer's Patient
I believe the link below is just the web page you need. It certainly isn't an easy task that you have taken on. God bless you and the best of luck to you.
http://www.caring.com/articles/alzheimers-and-dementia-activities (07/31/2010)

By Fortunately
Activities for an Alzheimer's Patient
Some female Alzheimer's patients respond to a baby doll. They will hold, rock, and play with the baby or a stuffed animal.
Also, giving them a purse filled with "stuff" for them to sort through can occupy some time.
My husband has Alzheimer's, I know it gets very frustrating trying to figure things out. Good luck to you! (08/04/2010)

By Judy
Activities for an Alzheimer's Patient
My mom suffered also from this horrible problem. You really need to keep her motor skills active. One way is to play ball with her. A beach ball is best. Just toss it and let her catch it and throw it back. Tell her the Dr. ordered it to keep her arms agile if she complains. Also, try to get her interested in working puzzles or coloring like you did as a child. You can tell her you will use her work for greeting cards and then really do it. It will be a great reminder of her later.

Write down whatever she remembers and talks to you about this will be important for you. A journal is going to be your life saver later on. Recipes, funny stories she tells, anything that reminds her of her past. She can roll out cookies, cut biscuits, make salads, slice tomatoes; depending on how severe it is she can do almost anything that her mind will let her and she remembers how. Just remember this; she can't help it and it gets progressively worse. If you have siblings that can help, you will need a break. It is very important you keep your health up. Take it slow. God Bless you. Pat (08/05/2010)

Activities for an Alzheimer's Patient
My ex's grandma had this terrible disease. She had her purse full of things that she would sort through over and over again. She also liked to fold laundry, again and again. Small towels worked best. She also had baby receiving blankets to fold. She would note the different textures by rubbing the towels and the blankets against her face and anyone else's faces also. She was a very sweet lady before she got this disease. So sad. Hang in there. (08/05/2010)

By Dena Roberts
Activities for an Alzheimer's Patient
Dear Patty, If she is still able, and enjoys it, let her plant flowers, like petunias or small 6 pack plants. Whatever grows in Palmdale. Gardening is so relaxing to some. It gives them a sense of accomplishment. Let her water them 3-4 times a week in your area. In the heat you have that may need to be more often, early morning or early evening, so they can dry out some before night.

It might help both of you to go through her photos, read to her, look at magazines she enjoys, Birds and Blooms is nice for colorful pictures.

Be sure you take care of you in order to be there for her. May God bless you and give you strength to get through this nightmare. (08/05/2010)

By Vi Johnson
Activities for an Alzheimer's Patient
My mom had Alzheimer's and would ask for me to take her to see her mom. Instead of reminding her that gramma was gone. I would tell her to get dressed and off would we go. We would stop and get an ice cream and she was like a child all happy and then ask when we were going home she was tired. She liked short rides to see nature. And she loved helping grocery shop, putting dishes away, and to watch me cook.
Small things really help. (08/10/2010)

Activities for an Alzheimer's Patient
Oh my, what sweet responses! I have tears in my eyes. Thank you all for such great ideas! And thank you for your tender feelings and prayers! (08/11/2010)

By Patty
Read More Comments