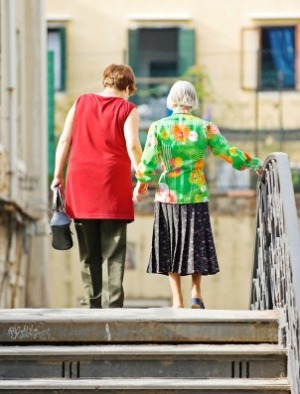 I am a CNA at a nursing home in Des Moines, Iowa. I take care of a 96 year old lady who is 90% blind and deaf. She is very restless, always calling out for help, and continually wants to return to the bathroom, but usually doesn't void. I think it's because she has nothing to do.
I've looked for activities to keep her busy, but it has proven difficult to find something for the deaf and blind. Not to mention she is 96 years old and frail. She's definitely bored, as before she came to us she was still living at home alone and busied herself with whatever she did there. She does still walk, but not far and she is a fall risk as she has proven herself to be very unstable. Any suggestions of how to keep her busy and not have toileting and meals be the only stimulation of her last days?
By Tabitha
Answers

April 2, 2012
1

found this helpful
Best Answer
Giving her something safe to hold on to might keep her entertained. Did she have something at her home that was a comfort item? A stuffed animal or blanket? What about something in Braille? Also, smells might be a calming thing for her. You could purchase a scented lotion and help her rub it into her hands. The stimulation of holding her hand and the smells may be good for her.

April 3, 2012
1

found this helpful
Best Answer
Contact the blind association about books on tape and see about headphones so that she can have the volume up loud enough for her to hear the narrative without disturbing others. A stuffed animal would be nice.
She if she likes dogs or cats and then if she does, mention this to the activities department and see if someone can routinely stop by with a dog or cat for her to hold with supervision.

April 3, 2012
1

found this helpful
Best Answer
Good thoughts. Plant(s) to care for too? One that has texture such as lambs ear (soft), herbs (provide texture and scent) and golden pothos (smooth) would stimulate her senses.
The golden pothos is vining with heart shaped leaves, can be started from a cutting in water (she may enjoy that process and keeping plant trimmed) and is easy to care for. All mine requires is watering and does not like direct sun. It is easy to find in the store too.
Look for a way to find out the things she enjoyed throughout her life: food, scents, activities, music. Get some scented candles that she can open (the ones in glass jars) to smell whenever she wants.
The National Library for the Blind and Physically Handicapped provides materials and adaptive equipment for those with impairments.
She could listen to music by feeling the vibrations through headphones with the volume turned up. There may be a way to find out her favorite music, either songs or styles for this activity.
Match her with another resident that walks to push her outside to feel the sun and breeze.
Also, check with Eden Alternative. Www.edenalt.org/our-10-principles

April 3, 2012
0

found this helpful
Best Answer
You might try letting her string beads. You can use large holed beads that don't require a needle. It doesn't matter what color goes where.. it will keep her hands busy and it's therapeutic. I own a bead store and have had several blind customers that bead.
They have someone mark the beads with braille and go from there! Very kind and thoughtful of you to care about her like that. Hope this helps Cindy beadlady

Nightsong
Bronze Feedback Medal for All Time! 121 Feedbacks
April 3, 2012
1

found this helpful
Best Answer
Try play dough or other types of clay. It is good therapy to just mush with hands or if she makes something it can be air dried then baked in a low oven (250-300 degree F) for about 15 minutes to make it more permanent. Plastacine or modeling clay is also good.

April 4, 2012
0

found this helpful
Best Answer
What did this old lady do for a job in the past? She may be able to get back skills from those days.
I have seen a 92 year old blind lady learn to touch type with screen reading software on the computer. Typing is very soothing.
She might like to clean her own room - or she may be offended at the idea because she is paying for that now. Each old person is different.
Do you have singing classes at the care home? Does she know how to play the piano, because you could plug headphones into an electronic keyboard and only she would be able to hear the noise.
Could she join in any activities that are going on - like art or cooking - at her own level?
Could you have animals to visit the old people?
She may be always calling for the toilet because she is afraid of wetting herself. My mother used to come back from the bathroom, turn round and walk back again straight away. It does test your patience.

Lizzyanny
Bronze Feedback Medal for All Time! 226 Feedbacks
April 4, 2012
4

found this helpful
Best Answer
Would it be possible to get some massage for her? Even if it is just gentle rubbing of her arms and legs.
It is tough to lose your senses one by one. Many good posts here...bless you for caring.
Answer

this Question
My mother is legally blind and handicapped with a left arm she is unable to use and a right arm and hand that will work but on a limited basis. She has been active all of her life and now sits in a nursing home where she is bored and wants something to do so that she feels like she is accomplishing something. I have gotten her books on tape which have helped but I would appreciate any ideas you can suggest. Thank you.
Christine
Answers

January 5, 2009
1

found this helpful
Best Answer
I was in a Nursing home for a bit recovering from an accident. I noticed that the residents really enjoyed and talked about all the time, their garden. The facility built a raised garden so the wheelchair residents could reach, and the others had a regular garden. They LOVED it!
During winter month, or if a garden isn't available..use pots. The then can take care of it, and you can help when you visit.
Some of the ladies really enjoyed scrap booking. Their family/friends would bring in pictures and they would use stickers, glue and construction paper to make little story or scrap books with the pictures. They loved to work on them and show them off. You could even do collages with or without pictures, or using cut out pictures from magazines.
See if your area has an art center...see if they are willing to donate their kiln to fire some homemade pottery, or better, have them do a class with the residents, paint the pottery and they have a keepsake.
Remember, anything you can do with them, is always the best!
By Carol in PA (Guest Post)
January 5, 2009
0

found this helpful
Best Answer
I would contact an organization for the blind. There must be some sort of governmental agency that covers that condition. Maybe you can have a blind person come to show your mom how to crochet or knit by feel.
Oh, I went back and read that your mom cannot use her one arm at all. I'd try to find a way for her to do things she always loved. Was it gardening? Was it cooking? Can she teach someone else how to do something? I think we feel best about ourselves when we are helping others to do something. Try something that will make her not feel useless. She sounds like she is similar to myself. I do not like crafts or busywork. I like to do things that make money or help others.
Her mind is good. Ask for her ideas. There is no one formula that will fit each person as in a nursing home. (This part is for people working in homes.) Each person is an individual and you can't find one idea to fit everyone. One size does NOT fit all. As a former teacher, I would say each elderly person has the same rights as anyone else and that is to be treated individually. Your plan has to be catered to each person just like a teacher has to meet the pupil where the student is in his/her formation. You have to find the person who lives inside that elderly body and further develop its potential. It's NOT used up. Elderly people need to learn new things. That is good for the brain and its good for keeping us young.
I studied nursing home administration in graduate school. When I read what those of you who work in nursing homes have written, I feel as if you want a quick and easy way for YOU to accomplish your goals. But that will not be the case. YOU will need to do the work of finding what motivates each individual person in your care. You will need to get to know them as people.
Warm regards and good luck to all. I care.
By Meghan F. (Guest Post)
January 8, 2009
2

found this helpful
Best Answer
I work in a retirement community in Vancouver WA as a kitchen assistant but I am slowly working my way up the ranks and this is a very interesting topic for me. Our activities director is kind of stuck in a rut and our residents end up doing the same kind of things every week. So these ideas are wonderful!
I know how difficult it can be for someone who was active their whole life to be confined to a room with nothing to do so my suggestions are as follows.
Firstly consider the kinds of things she liked to do before her accident and see if there's any way you can modify or simplify them. Such as gardening. Get her some dwarf fruit trees that she can plant in a pot and water and tend to with her one hand.
Help her find a buddy. Someone whose mind might be going but are still physically ok is PERFECT. They can help each other a lot. The mind and the body. Don't force it but help her make friend if you can.
Encourage her to get involved in whats going on where she lives. Even if she cant make her bed or wash dishes she can still voice her opinions and be an active human being.
Ask her what she misses doing and see if you can come up with a creative solution for her to continue doing it! If she gives you things she'd like to do but you cant think of any solutions I'd LOVE to help so just email me! Floyd0841 AT Yahoo.com <3 Meghan

December 30, 2009
0

found this helpful
Best Answer
I have been and Activity Director for the past 5 years. Here are some activities you could have you mother do and with others even if they aren't blind. Place several different items in a bag. Blindfold the resident taking the turn, have them to pull out one item at a time and try to identify it by touch. Keep track of how many they get right and separate the ones they didn't get, then take the blindfold off and let them see the wrong ones. Add or subtract items for the next person. Another is to get a couple of bags of cotton balls.
Open the bag and place on a table. Using a spaghetti spoon or large spoon, a large bowl or bucket, blindfold the person and see how many cotton balls they can get in the bucket. These games they don't have to see nor have use of both arms, and everyone is on equal terms. Something else I do, I have a large bulletin board that I post pictures of the resident on. I use scene setters for different occasions/holidays and take pictures of each resident, they love seeing them on the board, and so does the family. Add to their look, ex: using a western theme, put a cowboy hat & bandanna on the resident.
Usually there is a holiday each month of some kind, but if not come up with your own, Western Day, feed them barbecue and beans, Luau Day, Fun in the Sun- take a small patio umbrella, a camp chair, some beach towels, beach balls, cooler, summer hats set up a beach scene, give them snow cones. If you are half way decent with a camera, make your own glamour shots. Best done on day the beauty shop is open and the ladies just had there hair done.
I bought 6 different pieces of material 1 1/2 yards each. Put them around them like Sr. picture back in the 60's and 70's were done, make-up and add some jewelry, find good back drop, I use all kinds of plants, and you got it.
Have fun with it. Tell the resident " Come I want you to do this with/for me" and 99% of the time they will. If you ask them if they want to 99% of the time they will say no.

February 1, 2010
3

found this helpful
Best Answer
My Mom is blind also from strokes. She cross-stitched and can not anymore. She has made some 50 blankets since blinded in 2 years. They are tie blankets or no sew. I buy and cut and pin the pieces together then she takes the pin out and ties them she has made these for family and friends.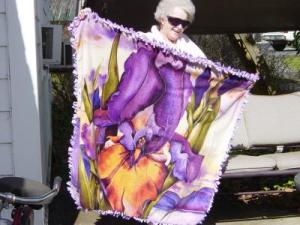 Answer

this Question

My mother has macqular degeneration, problems with incontinence, dementia, and cannot walk well. Any suggestions to stimulate her mentally and physically would be greatly appreciated. She is 93 years old.
By cpw2002
Answers

Louise B.
Silver Feedback Medal for All Time! 337 Feedbacks
July 29, 2014
0

found this helpful
Best Answer
When I visited my mother-in-law in the nursing home, I saw that those with multiple problems like your mom, who might not be able to enjoy bingo or crafts, really responded to music, especially live music - people playing old time tunes and dance music. There was a whole group that came to the home to play, sing, and dance old time dances. If that seems like something that you can't attend or arrange, perhaps one person singing and playing the guitar would be good.
Also, if one has been a church goer all her life, the ceremony of a regular church services is often comforting, even if dementia makes it problematic that the sermon is being followed.
I also know that people came regularly to read aloud to those in the dementia unit. I am quite sure that many didn't follow the story, although you never know, but the sound of the human voice seemed to be appreciated. This is by far the easiest thing to arrange, as you could read to your mother at your home, or at her nursing home, or wherever she is.
Answer

this Question