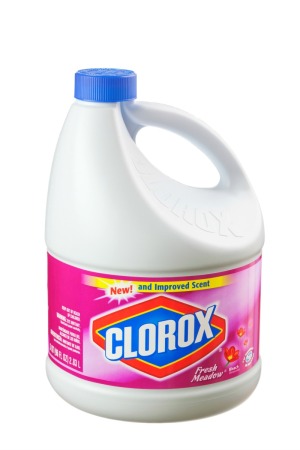 Chlorine bleach is a strong chemical and when used as a diluted cleaner can leave a strong odor. This guide is about getting rid of bleach smell.
Ad
---
Solutions: Getting Rid of Bleach Smell
Read and rate the best solutions below by giving them a "thumbs up".
If you are using a cleaning agent (called White King or Demostos as used in Australia) containing a chlorine base (chemical name Sodium Hypochlorite), use white vinegar on your hands and the smell will disappear.
By Spoilground from Portarlington, Australia
Editor's Note: Sodium Hypocholorite is also commonly known as bleach.
Give a "thumbs up" to the solution that worked the best! Do you have a better solution? Click here to share it!
Questions
Here are questions related to Getting Rid of Bleach Smell.
My brother recently cleaned a small chest type freezer with a very strong bleach solution. The smell of bleach lingers. What can he (we) do?
By Annelle from NE PA
Ad
---
---
Best Answers

By Downy12/20/2010
Just leave it open for about 48 hours in a room with good circulation. If the room is closed off, put in a small oscillating fan for same amount of time.
---
Best Answers

By Sharon Cross [12]12/18/2010
I would wash the inside of the freezer with straight white vinegar. Let it dry naturally. After it dries, wait about three to five days and wash the inside again with plain warm water. The vinegar will neutralizes the bleach.
---
Best Answers

By Jillian [1]12/18/2010
Only way I know how to rid the odor of bleach from something is to rinse, rinse, rinse, rinse and rinse some more with water until gone. That might be difficult since it's winter outside and the most convenient way would be to move the freezer outside. But if you have an area where you could swing it, that's what I'd suggest. Turn on the hose and blast that baby down. If it's taking a long time to rinse it out, let it air dry in between rinsing. While it is air drying, sprinkle it with baking soda. Then rinse again. Repeat until you do not smell bleach anymore. (I'd cover up my nose and mouth with a mask while doing this.)
---
Best Answers

12/18/2010
Try 1 tablespoon Bicarbonate Soda (UK) diluted in warm water. Wipe out the freezer with the solution. Leave the freezer unplugged and open for 24hrs. You can use BS safely and effectively to clean fridges and freezers. Detergents of any kind are not advised.

Bicarbonate Soda is also called Baking Soda.
I made a big mistake and poured straight up bleach all over my mattress cleaning a stain from dog urine. The bleach turned the top of my mattress a bit hard from the harsh chemical, but also I can't get the smell out. I just let it dry without water. I didn't want to add any more liquid to my bed so I thought it would be OK since a bleach smell usually disappears. This time it hasn't. Do I now add more water to the mattress to try to get the left over bleach smell out?
By Lauren from Austin, TX
Ad
---
---
Best Answers

By Louise B. [5]09/30/2010
Since you now have both bleach and urine dried into the mattress, I would try something like a rug or furniture shampooer, or a steam cleaner. The bleach would not have removed the urine smell, but merely covered it up. After you have diluted the bleach and the urine with cleaning with water, and then perhaps mild soap and water, you could try the enzyme cleaner for the urine.
---
Best Answers

By katrina [5]09/27/2010
What I would do if I were you is to get xo: it is an odor neutralizing cleaner that would have taken out the urine smell to begin with. This is what is used in nursing homes and hospitals; you can get it on www.qvc.com; go to Don Aslett's supplies; since it will cut urine smells and clean them I am thinking that it will do the same with bleach.

You can sign up to get emails and watch the presentations when he is on; or his products air; I was unable to find any locally so I ordered actually from his own site; I got the xo plus.
I just moved into an older house and had a friend shampoo the carpet in the main bedroom. The only problem is that he used carpet shampoo and bleach. Now it smells like bleach. I aired it for a few days, but still smell the bleach. How can I get that smell to go away? Or should I just rip it up and put new carpet in? Plz help.
By Dave M
---
Most Recent Answer

By Nicole B.02/23/2014
I completely disagree with Robyn. I followed another persons tip for removing beach smell from carpet and it worked instantly. I got hot water and filled my carpet cleaner almost to the top, then added half of a small bottle of vinegar and cleaned the carpet. It completely took the bleach smell away instantly.
I had my outdoor cushions professionally cleaned because they were too dirty for me to tackle. Now they smell very strongly of bleach. Is there any way to get the smell of bleach out of the cushions?
By destin39 from AL
---
Most Recent Answer

By Loretta [18]06/04/2009
As one person already mentioned, if you expose your bleach "scented" cushions to fresh air and sunshine, turning them often, then try a bit of Febreze, you should be happy with the results.
I just dropped a bottle of bleach, probably less then a cup spilled, but it left a really powerful smell that I need to get rid of. It's in my basement right next to the washer, so there's not really a way to circulate air though the room. I know you shouldn't use vinegar, how else can I get rid of the smell? I have pets so I'm looking for something nontoxic
How to I remove the smell of bleach in my sink?
By Nabeeha from Markham, Ontario
A whole gallon of bleach got spilled on my laundry room floor which is tile. I have been airing the room out and cleaning the floor going on 3 days and still the smell is there and the smell is going into my bedroom. Help, how can I get rid of the smell?
By GG B
I washed my plastic persiennes with some stuff that has 5 percent chlorine bleach. Now I can smell it in the flat. Is there any way to neutralize that chlorine smell or do I have to wash the persiennes again?
By tomislav from Croatia