Dinner was perfect up until the wine glass flung itself onto the tablecloth. Spills happen, but removing red wine can be difficult. This is a guide about removing red wine stains from a tablecloth.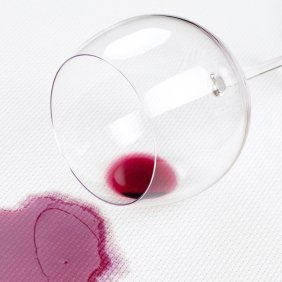 I have a giant wine stain on my favorite tablecloth. It's a cotton table cloth with a floral pattern but it is pretty light so the stain will look really bad if I can't remove it. I didn't really know how to treat it so I put it in a bucket of water to keep it wet. Does anyone have any tips for removing it? Thanks, Christine in CA
---
Most Recent Answer
By guest (Guest Post) Flag
December 28, 2008
I let my wine stain sit overnight, and dunno what to do to get it out now. Any of you know?
---
By Leslie 1
Do you need to get rid of wine stains? Or any other juice stains for that matter? This is a tried and true solution:
Stretch stained fabric over a colander and place it in the sink.
Bring plain water to a boil.
Hold the teapot or pan approximately 2 feet above the fabric and pour water onto the stain.
I know this sounds crazy, but it actually works like a stain eraser. No chemicals needed. This works on all types of juice stains. Try it!
By Leslie from Falls Church, VA
How do you get red wine stains off white or pale colored table cloths? Either linen or synthetic fabric.
By Beverly
---
Most Recent Answer
By Elaine 173 890
For a red wine stain, place the cloth item over a large bowl so it is stretched over the rim. Boil water in a tea kettle and pour over the fabric from about a foot away. Keep the cloth item stretched tight so it doesn't go to the bottom of the bowl.
The force of the water, combined with the heat takes out the stain. I once did this on an antique crocheted tablecloth that my grandmother made it and came out beautifully!
Source: My mother
By Elaine from Belle Plaine, IA
The best solution I've found for red wine stains is whole milk. I just soak the stain in milk and rinse with cool water. Sometimes it takes more than one application and it won't work on old stains, but it usually works with fresh ones. I've even used this trick to get grape juice out of beige carpet.
By Jen from Lancaster, PA
There are two things that work for me. You can pour white wine or club soda water (not pop or soda pop) on the spots that have the red wine, let it set for a bit and wash the tablecloth. Or if you can, hang the tablecloth out in the sunlight, it too helps to get rid of the stain.
You can take it from me, as a winemaker, I have spilled lots of wine on numerous items, especially dinner tablecloths.
By Elayne from Dalhousie, Nova Scotia
By Kay G. 1
The first solution for removing red wine stains is to always have white wine on hand. Dilute the spot with white wine, and then flush with cool water and apply salt. If no white wine is available, sprinkle heavily with salt and flush with club soda or cold water.
I have also removed red wine stains, by just pouring the soda water onto the stain, and then, blot, blot, blot, with paper towels, or a thick washcloth or small towel.
Source: Credit to "The Queen of Clean". Author of many cleaning solutions, and more.
By Kay G. from Lincoln, NE
Use club soda to get wine stains out of linens and clothes.

By Teri