I have an unframed mirror in my bathroom that I would like to "dress up." Does anyone have any ideas, other than making a frame out of wood for it?

Karen
By Karen Duncan
Ad
---
Recent Answers
Here are the recent answer to this question.

By Martin, C10/15/2012
We thought about framing but preferred the look of mosaic tiles. My husband spent a total of six hours on our guest and master bath mirrors. We purchased the mesh squares at Home Depot. Yes, we had to peel them off, cut off the excess mesh with a box cutter, and even trimmed off a few tiles that didn't fit quite right. He also replaced the top screws with the plastic clips-used washers instead. The bottom clips were flattened out and then stuck the tiles directly on the mirror with silicone adhesive-no grouting. It was all worth it!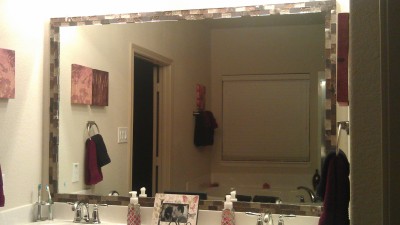 By Kim Courtney08/20/2009
I tried the mirror edge. Did not work, the frame broke. How do I remove from mirror and how can I get the glue off of the mirror?

By Jennifer04/17/2009
There is a great company I found that has really beautiful frames for very little money... the shipping is not bad either. www.ReflectedDesign.com.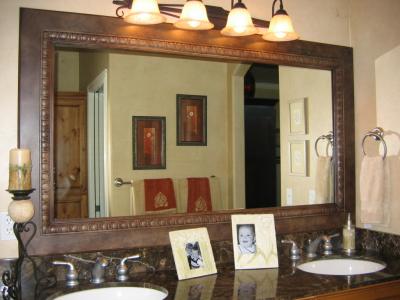 By Cari D. (Guest Post)12/16/2008
There is this wonderful product call Mirrormate. They have forty styles and colors that are custom-cut for each mirror. I have a backsplash that it works with and it covered my clips! It was so easy and inexpensive I wish I had more mirrors in my house. It is a great high quality product! There website is www.mirrormate.com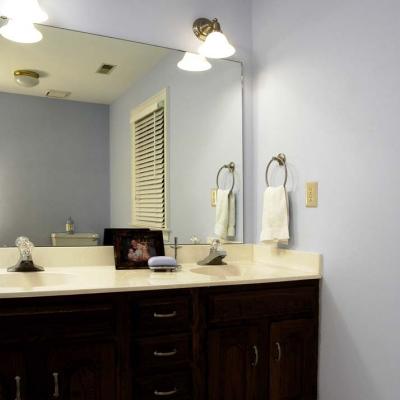 By cissydel@tampabay.rr.com (Guest Post)10/11/2007
Can you glue with a "clear glue" like fingernail glue to affix flat marbles or glass tiles around the mirror and use no grout?


By Florence (Guest Post)04/09/2007
There's a do it yourself framing system called mirredge that you can get at Lowe's that's fantastic for this kind of the thing. They have a website too...www.mirredge.com

By pam munro [447]03/29/2007
I have hung a colored picture frame (pink to match the pink tile around the back of the medicine chest/mirror - & then hung decorative things/pictures in the space between the frame & the medicine chest (It's off center because I have had to make room for the electrical outlet on the right side.) Oh, & I also covered the shiney chrome edge of the medicine chest mirror with black tape to match the black accents in my pink tiles. As it's a rental apartment, everything is easily removed.

By Mike (Guest Post)09/20/2006
Mirr Frame is a product at home depot. It cost about $40 and takes only a few minutes.

By Mark (Guest Post)04/21/2006
http://www.blinds.uk.net/ - Online advice on how to use the bathroom blinds for home improvement solutions and sun protection.

By pam munro [447]04/11/2006
I have put things ON the sides of the mirror - like angel figures - and have stacked framed flower pictures up against the side of the mirroron the shelf beneath it. I also hung a painted frame AROUND the old medicine frame box of my mirror in the bath room in a color to match the tiles.

By (Guest Post)03/18/2006
In an HGTV segment of "I want that" we saw a product that was a stick-on frame to dress up bathroom mirrors. We have not been able to find out any additional information on where to find this product. Any help would be appreciated.
Thanks,
My email address is wjkinder @ comcast.net (remove spaces)

Editor's Note: I couldn't find anything like you described but there is a product search on HGTV:
http://www.hgtv.com/hgtv/pac_ctnt_988/text/0,,HGTV_22056_41625,00.html


By Angellfire (Guest Post)09/02/2005
At home depot you can find wooden moldings with all kinds of very pretty patterns - all kinds flowers can be painted different colors, leaves can be painted green and the rest of the border whatever . Cut with mitered corners and retouch paint to suit you. Around the area where the mirror is enclosed by the wood, look for same narrow washable wall papering vinyl borders, and place (with mitering-by-hand with scissors) on edges where mirror joins wooden border.Should be very pretty. also can use fabric and glue it to that area. or get some decals you really like and use them as a border in that area. Try to coordinate the colors of paint and borders with bathroom. if you like cats or dogs or whatever, you can find some really nice raised and unraised stickers of all sizes if you look for them in different stores which will stick on as you wish. Get tired of the stick ons - use a razor very soft and carefully to take them off and change. Be creative. I suggest you use painters blue pull off tape to designate border area for decals etc. makes it more professional looking.

By Holly [349]09/02/2005
Hang a boa or a garland on it with colored netting underneath.

By Michele (Guest Post)09/02/2005
Karen, my mother has a large mirror similar to what you are explaining. We took some wall paper border that matched her theme and cut it to fit the mirror as a border. I just wet it the same as when you apply it to the walls. I used the wide at the top and bottom of the mirror. Then on the sides I cut out the 'border' type part of the border and attached it to the sides of the mirror. I hope this helps. You can also cut out things from pics ect and glue them to the mirror. Good luck.

By Barbie (Guest Post)09/02/2005
if possible go to thrift stores and find a already made frame that will fit the mirror...... simple easy done!!!

By brenda newton [6]09/02/2005
re: mosaic tile and grout

If the mirror has a very strong nail and is in a stud in the wall behind it then "mosaic"ing the mirror would be great and would look gorgeous. But...if the mirror is glued onto the wall and is loose at all or is not 100% solid, don't. Mosaic tile and grout can be heavy.

By Can'tTakeItWithU! (Guest Post)09/02/2005
I would make a mosaic frame using colorful broken glass, or sea shells or both. All you have to do is get a tube of calk and sort of glue them in place. Use a wet finger to smooth the calk after it has set some. You could also use tile grout. I am making a mosaic window frame right now.

By Regina Arlauckas [26]09/02/2005
Use some fabric and get a window curtain bracket, mount it above the mirror like it is a window. and swag the fabric over it and down each side just like you were doing for a window. Easy to take down and wash, or change seasonally. Also works well with silk flower vines/ivy and a more decorative curtain rod.

By wANDA09/02/2005
Use the colors in your bathroom OR.. If you have a "theme" in your bathorom, like Fish or Floral, Go Get some material (cotton) that incorporates the same color scheme OR that has the Fish or flowers, and either ...cut strips of the solid material or cut out the fish or flowers and spray adhesive them to the edges of your mirror. I advise spraying the fabric while it's on the counter on top of newspaper, before putting it onto the mirror. that way you have a "frame" that co-ordinates!
Questions
Here are questions related to Dressing Up a Bathroom Mirror.
I found a beautiful frame that fits my bathroom mirror perfectly. I have two problems/questions. First, how should I affix it to the wall? I don't want to damage the frame as it is pretty ornate. Can I use Liquid Nails? Secondly, there is a small gap between the frame and mirror. There is no way to make the frame come off the wall less without damaging it. Can I caulk that and paint it to match the mirror? All suggestions appreciated. :)
By Stephanie
---
Most Recent Answer

By Noberly01/24/2015
You could add a small piece of 1/4" square wood that you can pick up cheap at your local home improvement store to fill the gap. Hopefully the rabbit,(gap), in the frame will accommodate it. Measure very carefully the inside opening. Cut thetop from side to side, the sides allowing for the top piece, to go to the bottom, and the bottom to fit between the two sides. Pre paint the pieces, glue in with wood glue. You can attach the finished frame with your E6000 glue, or depending on the frame profile, attach 2 small angle brackets at the top. Paint to match the wall.
Answer This Question
Add your voice to the conversation. Click here to answer this question.