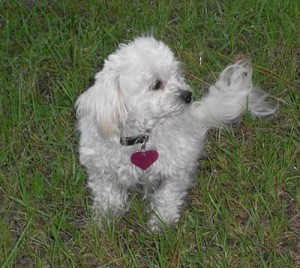 If your pet travels with you, like my little miniature Peke-a-Poo does, and especially if you live in the South, here is a tip that could possibly save your pet's life in the summer. I bought some of the little Gladware containers with the blue snap on lids that are about the size of a pudding cup. By filling them with water and freezing them, I have the perfect way to keep my dog hydrated without a mess. They sit perfectly in my cup holder and the ice melts at such a rate that she has something cool to drink at any time during a trip into town. When she is through, I just snap the lid back on and set it back in the cup holder. If we are out of town, the container can be filled with ice from the hotel ice machine.
If you have a larger dog, you could fill several, freeze them, and add them to your cooler. They will cool what is in the cooler and be a replacement whenever one is empty. But please, hydrated or not, NEVER leave your pet in the car!
By dollyslaffn from Darien, GA
Getting dog to drink water when they are dehydrated.

Tatum
March 2, 2015
0

found this helpful
I stuck a chicken breast into a boiling pan of water for 20 minutes. Voila! My mini pin drank about 8 oz. of it without stopping! I have plenty left for later and can use the chicken.
May 10, 2015
0

found this helpful
My puppy is whining a lot as if in pain. He is wobbling a lot mostly his head and he won't drink water.
May 11, 2015
0

found this helpful
Taking to most Vet's will Always end up with her being pumped full of antibiotics. I found that is worse than doing nothing but home cures. They make more sense and often work better that vet. I just tried the "chicken in water" boiled then gave water only. Worked like a charm. my dog was adopted a few weeks ago. Im not sure if she had the "drinking" no water then or not.
Otherwise she seem very healthy and now settled and happy. My vet large animal Dr. that I took her to for constipation did NOT give her antibiotics. So I am very happy to find this site. Good Job. to all you small dog lovers Thank you thank you thank you. For the suggestions. Ps dont give bullion cubes they are nothing but chemicasl and salt. No Good for dogs or people.
May 12, 2015
0

found this helpful
hazellvzsjay2015 Your dog is showing signs of poisoning. Take him to the vet right away.
May 12, 2015
0

found this helpful
hazellvzsjay2015 In the future, please don't submit your concerns about your dog on other people's threads. I missed yours for two days and I feel your dog is really ill. If you have questions or concerns in the future use the "Get Advice: submit a question" button at the top of the site. It will start a new post just for you. Okay?
Read More Answers
How can I get my 6 yr old Shih Tzu to drink? I have tried chicken broth, mixed broth with her food, tried some milk in the water, and tried coaxing her with peanut butter. She won't touch it. I have had her to the vet 4-5 times this month. I am waiting for her second blood tests to come back. The 1st test looked like it might be kidney failure. She just threw up, and she will not drink anything. Not anything!
By Jacob's G.
April 22, 2015
0

found this helpful
Your Vet can do fluids under her skin to keep her from being dehydrated. 6 years old is very young for kidney failure. Stay in touch with your vet because dehydration is a very real concern and could do some damage. I hope she gets better soon.
April 24, 2015
0

found this helpful
I agree with Lizzyanny. Take her to the vet for sub-q fluids. They'll tell you how to administer this yourself at home.
August 5, 2015
0

found this helpful
I make a homemade dog food and add to reheated chicken no bone broth that has been kept in fridge. Be sure to add a few drops to 1/2 capful of apple cider vinegar. The broth is too "sweet" otherwise to urinary tract infection causing bacteria. Dogs drink if there is a little food in bone broth. Cottage cheese, a tablespoon in about 1/4 to 1/2 cup of bone broth, works for snacks and rehydration but I really just use the main diy dog food. I make sure after adding food it gets reheated to be warm( ice cube can cool it if too hot from microwave). One dog eats food first from my hand then drinks broth food was just warmed in. The Ottawa valley dog whisperer's blog I got recipe from explains why she uses ingredients and common misconceptions. 2 cups cooked diced chicken, 1 cup cooked rutabaga chopped fine, 1 cup cooked turnip chopped fine, 10 oz thawed frozen spinach, 1 cup cooked chopped kale, 1 cup cooked Granny Smith apple minced and important to remove seeds which contain arsenic, 2 cups cottage cheese. I use food processor to chop up cooled cooked food. Mix together with about 1/4 tsp each of basil, rosemary, parsley and store in fridge. The blog has tons of info. I would Google it if link below doesn't work. My dogs stopped drinking after the death of our samoyed. I found the recipe afterwards and wish I had it for her. Lifesaver and they smell better and fur is silkier! http://ottawava cipes-grain.html
August 5, 2015
0

found this helpful
Oops my auto correct, should read. . .[I make a homemade dog food and add to reheated chicken bone broth that has been kept in fridge.]
Also the diy recipe is very thorough. I left out below 1/8 cup coconut oil which she has. The food is in highly digestible small pieces and the oil keeps it from sticking to throats and goes down smoother. Also if you have a larger dog and reading this post for long term rehydration and want to do combo of diy food and broth, taurine is an essential amino acid for labs and other similar weight breeds. Helps for healthy heart and wasn't added to food like Science Diet til after the 80s. They were having heart disease. I add about 1 pill size once a day to food. Can't overdose taurine, it flushes out of system.
So I give my medium size dogs about 1/4 - 1/2 cup of reheated bone broth plus about 3 tablespoons of diy Ottawa valley dog food rewarmed if once added to broth is cold. I have someone who helps me give them hospice care so they get it about every 4 hours during the day and more if nose is dry. Dogs dehydrate very fast over 24 hours. I have senior dogs who stopped drinking while mourning the death of another dog.