Ointment to Get Earrings in Easier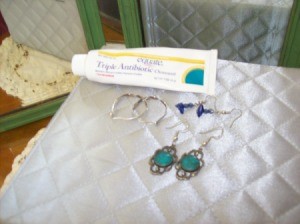 My pierced ears tend to "close up" if I go without wearing earrings for a while. And putting earrings in again can be difficult and painful. I found a way to slip them right in and keep them from hurting after I've had a lengthy earring lay-off. Dip the ends of the post or the part that goes through your ear in an antibiotic ointment. Then insert as usual.
They should go in with a lot less trouble, or no trouble at all. Plain petroleum jelly works too, but I like the added insurance of keeping infection at bay that the ointment provides. If the earrings have a separate back piece, dab a bit of ointment on it too. This should take care of any icky seepage that tends to get crusty when you haven't worn earrings in a while.
By Gloria from upstate NY
Feedback
Read feedback for this post below. Click here to post feedback.

By
02/21/2013
It's such a simple solution, and yet...I never thought of it. I just jabbed those posts in there and felt the pain for hours. I plan on using some Cortizone 10 so it will ease any possible pain too.
Post Feedback
Add your voice to the conversation.
Related Guides
Related Posts