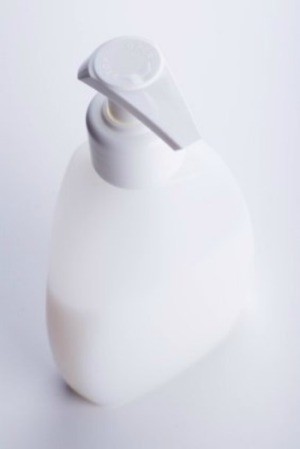 Using Foaming hand soap is a great way to get a quick effective hand washing. It can get expensive if you use it often, especially with children in the house. This is a guide about making homemade foaming hand soap.
Ad
---
Solutions: Making Homemade Foaming Hand Soap
Read and rate the best solutions below by giving them a "thumbs up".
Just remember: do not use soap that is antibiotic; when it gets into our water it kills anything that grows. Also it apparently doesn't work; it has to be on your hands much longer than the time you spend washing them.
By wggmn3
I absolutely love foaming soap for the bathroom. My husband loves it too. I discovered that the foam is caused by the dispenser. So I reuse the dispenser by putting something like Dawn liquid in it and add some water to it. It still is antibacterial and comes out as a foam!
By marmatink from Cape Girardeau, MO
Instead of buying foaming soap refills, try this: Buy one container of foaming hand soap. When it's empty, refill with 2 Tbsp. liquid hand soap for every 1 cup water. So simple, so easy, and cheaper. I haven't tried this yet, but I'm thinking the same recipe should work for foaming dish soap. I'll try it when my refill soap runs out.
While I like the Lysol No-Touch Hand Soap Dispenser, I do not like the price of the refill. My husband drilled out a large hole on the top of the original dispenser so I could use my own recipe of the hand soap. The refill is made of hard plastic so he drilled a number of holes to make a circle and then cut it out. I remove the dispenser off the base when refilling.
The Lysol dispenser I use at the kitchen sink is a diluted liquid dish detergent. I fill the dispenser with three quarters of very warm water and the rest with the detergent. Add both slowly so it doesn't bubble up much. I stir it slowly and thoroughly using a handle of a fork inside the container. It is a watery mixture but you can add less water if you want it thick. Since the detergent is concentrated it still cleans well even if the mixture is thin.
I cover the hole on the top of the dispenser plus down the sides with one piece of tape . The tape I use is a white plastic type tape. I use this tape because it's what I had and it is easy to lift off when I need to refill plus it doesn't leave any residue. You could use electrical tape instead, I just liked the color. Make sure the top of the dispenser is dry before applying the tape.
I like this dispenser in the kitchen because there are times when I need a bit of dish detergent on my kitchen dish cloth to wipe counters, etc. and it dispenses just enough. I also use the dispenser as hand soap. I must add that I do buy a good quality dish detergent, Dawn Hand Renewal, that is easy on the hands.
For the bathroom, I use the same recipe except I substitute the detergent with liquid hand soap, bubble bath or shampoo. You don't have to dilute the hand soap. If using antibacterial soap, it won't have any antibacterial properties if diluted. I don't believe the antibacterial soap is necessary for our household. Also, when our kids were young we didn't use any antibacterial soap and they were healthy. I just made sure they washed their hands when needed.
I have read that others have pried off the bottom of the original refill container to refill it but I didn't want to take any chances with it leaking. The Lysol No-Touch Hand Soap Dispenser uses four double "A" batteries. They did not have to be replaced for almost a year in our house.
By Mike from NE PA / USA
My son is always adding water to my soap dispensers. He thinks they are toys, I guess. One day, he poured bubble bath into my empty foamy dispenser and added water. Nothing came out, but I decided to try to add more water and (viola!) I had foamy hand soap. I have tried making foamy soap with liquid soap and it didn't work, so the trick must be using bubble bath. I'd guess it was a 50/50 mixture of bubble bath and water.

By Sandy from WI from Stoughton, WI
In the days of counting pennies, this will help if you buy the hand soap pumps like I do. Once that pump is empty, I make my own for pennies using 1 Tbsp. dish soap (any kind will do), and 1 tsp. of bleach. Fill slowly with water and shake gently. You have a great hand soap that kills germs for pennies, compared to buying new pumps or the refills for them.
Give a "thumbs up" to the solution that worked the best! Do you have a better solution? Click here to share it!
Questions
Here are questions related to Making Homemade Foaming Hand Soap.
How do you refill foming soap?
By Angel
Ad
---
---
Most Recent Answer

By lavonneann [6]05/24/2013
I use any liquid soap. About an inch or so then fill nearly to top with warm water. Shake it up leave it sit for bit.
How do I make foaming handwash?
By Pam from GA
Ad
---
---
Most Recent Answer

By eileen [3]02/08/2010
If you don't have the foaming container, buy one that already has foam soap in it. When that is finished, make your own with any liquid soap, shampoo or body wash.

The ratio of soap to water depends on your preference, and the strenth of the soap. However, 40/60 or even 30/70 is adequate.

It doesn't have to be antibacterial. Recent studies have shown that you just need to get stuff off your hands, and not necessarily by antibacterial agents. Let your man know that foam is just as effective to wash with.

Since it washes off faster, you'll save on your water and heating expense with foam. RVers and campers will appreciate this feature. A plus in drought-affected areas also,

If you want antibacterial agent, use antibacterial lotion or liquid.
Can you refill the Lysol battery operated dispenser without buying another bottle?

By Karen from Winona
---
Most Recent Answer

By Dominic P.03/15/2013
I cut the top off a cheap water bottle and cut a hole in the top of our lysol bottles. Just remove the lids to refill with soap and close when done. No tape or random holes. Just make sure you leave enough plastic on the bottom of the neck part of the water bottle that it can get shoved into the hole.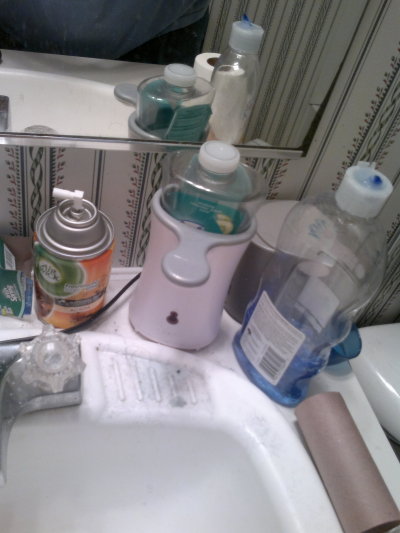 A short while ago there was a tip for making a foaming hand wash. I did not copy this and now I'm asking for a request. But I also want to wish each and everyone a Merry Christmas and a Happy New Year.

Rudy from MA
---
Most Recent Answer

By Lori (Guest Post)01/09/2005
http://www.readersrequest.com/tf869652.tip.html
this is one for making a handsoap to put in a pump.
I am making foaming hand soap from a solid goat's milk base with added water. My soap bubbles with the foaming pump rather than foams. What can I do?
By Linda K.
---
Most Recent Answer

By edward1956 [1]08/30/2011
Wow, I've never heard of such thing. Good luck with that one, bud.
Archives
Thrifty Fun has been around so long that many of our pages have been reset several times. Archives are older versions of the page and the feedback that was provided then.
Is there a way to make a homemade version of foaming hand soap as sold in the stores?
Linda L from Vista CA
---
Big Batches
Find a smell you like in any kind of soap (dish soap, liquid bath gel, hand soap, baby soap, shampoo, etc.). I make mine in big batches so I don't have to keep making it when it runs out (the kids actually wash their hands now!). I get an old gallon water container add 1/10 soap, 1 bottle of alcohol (if you want anti bacterial), and fill the rest with water. (give it a couple of inches with just air in the bottle so you can shake it) Shake it. Refill your "foaming container" and store the rest for later use!-Misty (04/26/2006)
By marstonmd
Buy a Dispenser
I like the foaming hand soap as well and I make it on a regular basis. In order to get the soap to foam you need to purchase the dispenser (Wal-mart $1.99). Once you have used all the soap in it all you need to do is pour some of whatever soap you like and add water. I don't know the exact measurements but for the dispenser that I had 7.5 fl oz. it was about one part soap five parts water. I hope this helps. I also buy the refill jugs of soap. The kids love it. (04/26/2006)
By mcb5
My Method
When the gallon liquid hand-soap refill bottle is empty, keep it. Buy a full gallon liquid soap refill. Pour the amount you want into the empty gallon jug, add water, turn over until mixed. Use this dilution to fill the foaming soap pump. So much easier to have a gallon of ready made "foaming soap" on hand to just pour into the dispensers than having to mix it each time. (04/27/2006)
By kidsNclutter
Dispenser
The foaming action comes from the dispenser, not the soap itself. I purchased a commercial foaming bottle in the liquid hand soap pump dispenser section (I forget which brand, but there are several), and then for refills I use a mixture of 1/4 liquid soap (any kind will do) and 3/4 water. Don't use straight undiluted liquid soap because it will clog the foaming dispenser. (04/27/2006)
By sunhat
My Recipes
A combo bottle of shampoo/conditioner makes a wonderful hand soap! My favorite is Suave's 2 in 1 in the opaque green bottle but all those tried have been good; this one rinses off quicker so you save water.
Dilute by guesstament... about 1 part shampoo+conditioner to 4-5 parts of water. It mixes better if the water is warm but that's not necessary; few bubbles form if you add the shampoo after the water. For the foaming soap dispenser, the mix has to be 'thinner', like 1 part shampoo to 6+ parts water.
Marbles kept in each dispenser make mixing easier... the clear ones here were found in the crafts section of WalMart.
Ordinary dish detergent concentrate also works well; just dilute it more. In the kitchen, just for dishes, one dispenser has a lower ratio of water to detergent or shampoo, like 1:3-4.
The 'thinner' the mix of detergent or shampoo will be the easiest and fastest to rinse off. (05/07/2006)
By gator10tx
Germs
To those who are put off by the 'germ' post. I work in health care and have to say... ALL soap kills germs. You don't promote growth of e.coli or salmonella by cutting your soap with water. Unless you've put salmonella or e.coli carrying objects INTO the bottle/water, you are fine. Major water supplies have CHLORINE in them to prevent that kind of growth.
If you are very worried, just add 1 or 2 DROPS of chlorine bleach to your mixture. It WILL keep any germs from populating your soap, IF and only IF you are worried.
Scare tactics to keep people from saving their hard earned cash...how quaint. (06/28/2006)
By Julie-Health Care Professional
About Soap
Yes, SOAP is naturally antibacterial. I.E., real soap that is made from water, fat and lye (sodium hydroxide, NaOH). However, correct me if I'm wrong, but liquid "hand soap" is not soap, but a detergent. And detergents are not naturally antibacterial and require an additional agent (like alcohol or bleach or Triclosan or Chloroxylenol, etc.) to be so.
And regarding that post about E coli and salmonella in the water... If you're on a municipal water source in developed nation like the United States, you DON'T have to boil your water. Please don't spread bad information and fear about our water for those of us fortunate enough to have it? You have the absolute BEST in the world! (08/10/2006)
By Heather, one-time home soap maker and non health professional
My Recipe
I also make my own foam soap refill: 1 part liquid soap, 2 parts HOT boiling water. Make sure you cool BEFORE you put it in your dispenser! I use CLEAR liquid hand soap as the creamy ones clog the dispenser. I haven't tried baby shampoo yet, but I am sure that will work great too! (12/04/2006)
By momofthree
Liquid Soap
Liquid soap can be real soap; it is made with potassium hydroxide rather than sodium hydroxide (lye). Potassium hydroxide has bigger molecules and thus, the soap remains in liquid form; paste usually I think, which is "thinned" with distilled water. Just began studying making liquid soap; been making cold-process lye soap for 3.5 years now. (12/30/2006)
By Cheryl
I would love a healthy way to make my own foaming hand wash. My daughter is OCD and washes her hands constantly.