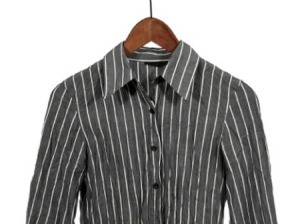 Laundry starch can be removed from clothing fairly easily. This is a guide about cleaning starch from clothing.
Ad
---
Questions
Here are questions related to Cleaning Starch from Clothing.
How do you get starch out of blue jeans that have been starched so stiff they can stand up by themselves? They've been through the wash at least three times and they are still stiff. The jeans were from my husband's nephew, who likes them starched that much.
By CJ from Rural NM
Ad
---
---
Most Recent Answer

03/12/2010
Have you tried adding fabric softener to the rinse cycle and then just let them soak for a few minutes before continuing the final spin cycle?
I have spray starch burnt onto my iron. I burnt the spray starch and then ironed it onto clothes.
How do you get the burnt spray starch off clothes?
Thank you.
By Mai from CA
Ad
---
---
Most Recent Answer

By Vicki [21]03/17/2011
This is a tough one. First of all, try never to iron unless your iron is spotlessly clean. Prevention :). Now, as to the ironed on crust stuff, about the best way to get it off is to pick off with your fingers, tweezers or a knife (carefully) most of the crusted stuff and then spray and wash, or other cleaner, scrub with your fingers and then hope for the best. It might take some repeated tries to completely get if off also. It will also eventually come off in the wash (repeated washes) if it wasn't a huge amount to begin with.
I sewed a ladies' jacket and used spray starch. Is there a way to get the starch removed without washing? Please help, thanks!
By E W from Saskatchewan, Canada
Solutions: Cleaning Starch from Clothing
Do you have knowledge about this guide topic? Feel free to share a solution!