What is liquid starch? My niece wants to make silly putty and it requires it.

Nalia from Providence, RI

Answers:
What is Liquid Starch?
I think you can still purchase a bottle of Sta-Flo liquid starch in the laundry detergent aisle of your local grocery store.
In this modern day if any one still irons they would most likely use the spray starch. (11/24/2008)

By Marjorie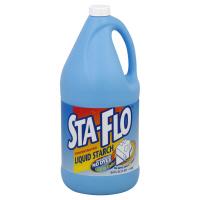 What is Liquid Starch?
It is available in the laundry section.
I bought some last year in a half gallon container. If you can't find it, try the craft section as liquid starch is used in a lot of craft projects. Also, could you please post the silly putty recipe? I have a recipe for GAK, but not silly putty. Thanks! (11/24/2008)
By Carol