Homemade Vegetable Wash Recipes
It is important to wash your vegetables and remove any pesticides and dirt form their skin. Making your own vegetable wash is simple and affordable. This page contains homemade vegetable wash recipes.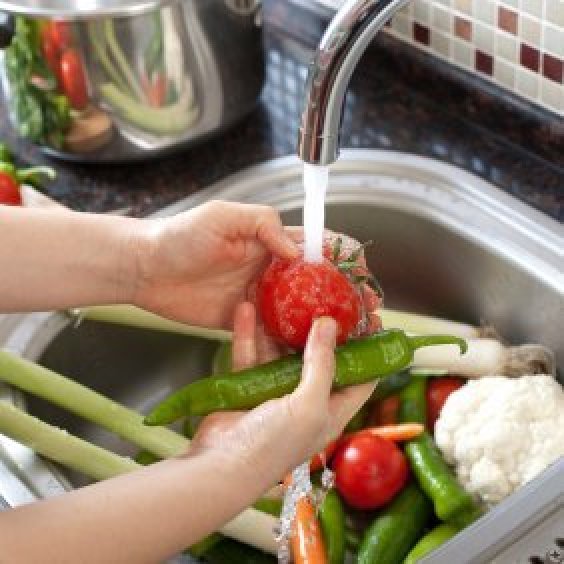 Filter

: All Articles
Sort

: Relevance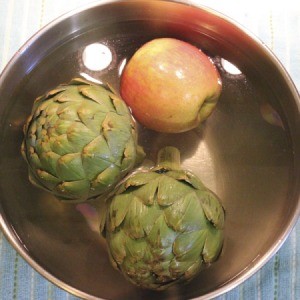 Washing your produce before you eat them is an important food prep step. But there is no need to waste your money on expensive vegetable washes when you probably have all the ingredients you need sitting around your house.
Ingredients:
1/4 cup white vinegar
2 Tbsp. salt
large bowl of water
Directions:
Add vinegar and salt to a pot of cool water. Soak fruits and vegetables in it for 5-10 minutes. Then, rinse the produce once or twice before using.
It is important wash your produce, especially if you are not using organic produce because pesticides stick to your fruits and veggies. Even if I splurge on organics, I will still wash my produce before using, to get any dirt or bugs off. The vinegar helps remove any pesticide residue and the salt helps kill any bugs that are hanging out.
By StellaBell from Manchester, WA
I need an economical fruit and vegetable wash.
By Hannah from Las Vegas, NV
April 28, 2011
0

found this helpful
Water and a light swish or scrub (depending on what you're washing) is all you need. If you don't think simple water is enough then use a vinegar and water solution but keep in mind that unless it has a hard non-porous skin like an apple the vinegar will seep into the pores of the fruit or vegetable.
September 10, 2011
0

found this helpful
I use a solution of 3% peroxide, 1 tablespoon peroxide per gallon of water. Soak two minutes, then rinse.
August 5, 2012
0

found this helpful
Have you noticed that green grocers always have a fine mist spraying on the vegetables? Then, why do "they" tell us to wash and "dry thoroughly" before storing? Why? So it will spoil and you need to buy more!
I began to wash and store mine in a large baggie, add two TBS cold water (or two ice cubes), push all air out before sealing. This give cold moisture and no oxygen to fresh produce, even sliced pieces. I can keep all fresh for a month.
No more gray moldy onion halves. no more rotting tomato slices, no more brown lettuce/spinach, no more slimy green onions and cut green peppers. Whole vegetables stay crisp and look like the day you bought them. Each time I open the bag to use something, 2-3 times per week, I simply pour out the water and add a dash of fresh cold water, push the air out and seal again. Try it!
Anyone have a recipe safe to spray on veggies and fruit fresh from the market? I wash all fresh produce before putting it away as it eliminates fruit flies, dirt, pesticides, etc. I have been using antibacterial spray from the store then rinsing with water, but would like to make my own if possible.
By patvan from MO
April 30, 2012
0

found this helpful
Use a gallon of distilled (or boiled and cooled) or filtered water. 1/2 cup of hydrogen peroxide and 1/2 cider vinegar (white is ok also). Let the veggies sit inside the water about 5-10 minutes. (Don't use the whole gallon necessarily, pour into a bowl what you need). Rinse and use.
April 30, 2012
0

found this helpful
I failed to notice you said "spray on". I am sure you could also spray this on, rinse and use.
What is the homemade recipe for cleaning vegetables. Long ago there was something called Fit. I can not find the recipe I had. If anyone has this recipe I would appreciate it very much if you would share it.
Thank you.
By Jodi from east TX
Cleaning your fruits and vegetables before using them will help remove any residual dirt or other contaminates they might have picked up. This is a guide about washing fruits and vegetables.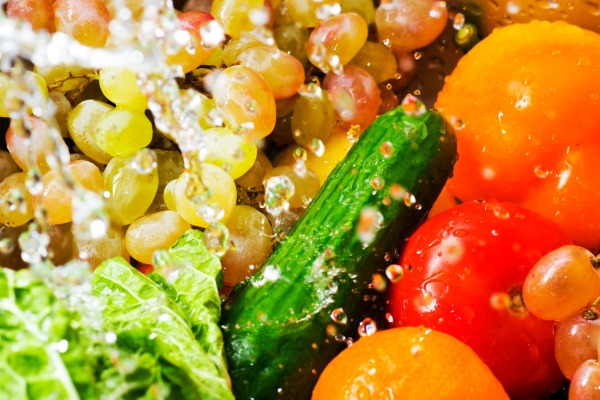 I need a recipe for cleaning fruit and vegetables.

By Betty B from McAlpin, FL
Answers:
Make Your Own Vegetable Wash
Good old running water and a soft bristle brush are really all you need to clean veggies. If you are washing melons, a little dish soap wouldn't hurt to help get any dirt off the rind before you cut them.
Previous posters are recommending a bit of vinegar in the water and that'd be fine too, but really it is the physical act of washing/rinsing that takes care of the surface gungies. (03/23/2011)

By MooseMom
I am looking for a recipe to use for washing fruits and vegetables to remove spray residues.

By Ben from The Plains, OH
Answers:
Make Your Own Vegetable Wash
I would not trust the FDA and any of their suggestions for the life of me. Vinegar and water is what I use. I'm hesitant to pay the extra price for organic produce because I wonder if it really is. The only sure way to know is to grow it yourself if you have the space, time, and patience; which I don't. (12/22/2010)

By TXBetty
Make Your Own Vegetable Wash
A cup of simple vinegar in a sink full of water and then rinse. It's best to not wash any fruit or veggie that doesn't have a thick skin until just before using unless you are going to completely dry them before storing otherwise they go bad more quickly (example: lettuce, green onions, berries, etc. go bad more quickly if they are damp). (12/22/2010)

By Deeli
I am interested in making my own veggie wash.

By Kristine from Hailey, ID
Answers:
Make Your Own Vegetable Wash
Use the Find link at the top of this website, I think you'll find the answer. (11/14/2010)

By MCW
Make Your Own Vegetable Wash
Apple cider vinegar diluted with water. Rinse/rub/scrub any actual dirt off if you see any, then soak for a few minutes in a solution of water with apple cider vinegar. That helps remove anything that is on the vegetable and decrease oils/waxes etc. Organic is better, but regular will do. (11/16/2010)

By threehorses
What do I use to make a vegetable wash?
I'm looking for a recipe to make a homemade veggie and fruit wash, as opposed to buying the expensive bottles in the produce sections.
When you use vinegar for veggie wash, what kind? White or cider?
How to wash your fruits and vegetables with a simple solution using items you can find in your pantry.
Does anyone know how to make a natural, inexpensive vegetable wash?
Related
© 1997-2016 by Cumuli, Inc. All Rights Reserved. Published by
ThriftyFun
.
Page
generated on August 22, 2016 at 1:54:54 AM on 10.0.0.66 in 5 seconds. Use of this web site constitutes acceptance of ThriftyFun's
Disclaimer
and
Privacy Policy
. If you have any problems or suggestions feel free to
Contact Us
.