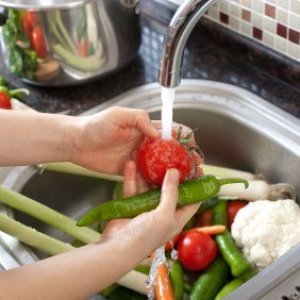 It is important to wash your vegetables and remove any pesticides and dirt form their skin. Making your own vegetable wash is simple and affordable. This page contains homemade vegetable wash recipes.
Ad
---
Solutions: Homemade Vegetable Wash Recipes
Read and rate the best solutions below by giving them a "thumbs up".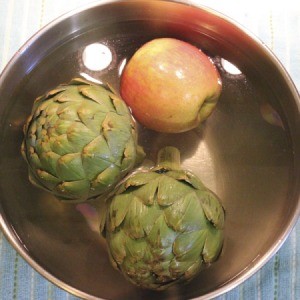 Washing your produce before you eat them is an important food prep step. But there is no need to waste your money on expensive vegetable washes when you probably have all the ingredients you need sitting around your house.
Ingredients:
1/4 cup white vinegar
2 Tbsp. salt
large bowl of water
Directions:
Add vinegar and salt to a pot of cool water. Soak fruits and vegetables in it for 5-10 minutes. Then, rinse the produce once or twice before using.
It is important wash your produce, especially if you are not using organic produce because pesticides stick to your fruits and veggies. Even if I splurge on organics, I will still wash my produce before using, to get any dirt or bugs off. The vinegar helps remove any pesticide residue and the salt helps kill any bugs that are hanging out.
By StellaBell from Manchester, WA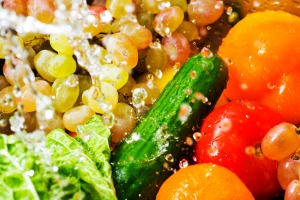 Cleaning your fruits and vegetables before using them will help remove any residual dirt or other contaminates they might have picked up. This is a guide about washing fruits and vegetables.
Give a "thumbs up" to the solution that worked the best! Do you have a better solution? Click here to share it!
Questions
Here are questions related to Homemade Vegetable Wash Recipes.
I need an economical fruit and vegetable wash.
By Hannah from Las Vegas, NV
AnswerWas this interesting? Yes No
Ad
---
---
Most Recent Answer
By Avis [15] 08/05/20120 people found this helpful
Have you noticed that green grocers always have a fine mist spraying on the vegetables? Then, why do "they" tell us to wash and "dry thoroughly" before storing? Why? So it will spoil and you need to buy more!

I began to wash and store mine in a large baggie, add two TBS cold water (or two ice cubes), push all air out before sealing. This give cold moisture and no oxygen to fresh produce, even sliced pieces. I can keep all fresh for a month.

No more gray moldy onion halves. no more rotting tomato slices, no more brown lettuce/spinach, no more slimy green onions and cut green peppers. Whole vegetables stay crisp and look like the day you bought them. Each time I open the bag to use something, 2-3 times per week, I simply pour out the water and add a dash of fresh cold water, push the air out and seal again. Try it!
---
Anyone have a recipe safe to spray on veggies and fruit fresh from the market? I wash all fresh produce before putting it away as it eliminates fruit flies, dirt, pesticides, etc. I have been using antibacterial spray from the store then rinsing with water, but would like to make my own if possible.
By patvan from MO
AnswerWas this interesting? Yes No
Ad
---
---
Most Recent Answer
By Vicki [24] 04/30/20120 people found this helpful
I failed to notice you said "spray on". I am sure you could also spray this on, rinse and use.
---
What is the homemade recipe for cleaning vegetables. Long ago there was something called Fit. I can not find the recipe I had. If anyone has this recipe I would appreciate it very much if you would share it.
Thank you.
By Jodi from east TX
AnswerWas this interesting? Yes No
---
Most Recent Answer
Archives
Thrifty Fun has been around so long that many of our pages have been reset several times. Archives are older versions of the page and the comments that were provided then.
Does anyone know how to make a natural, inexpensive vegetable wash?
Fruit and Vegetable Wash:
1/4 cup Vinegar
2 Tablespoons salt
Fill a clean sink with cold water, a plastic dish pan works wonders, and add vinegar and salt and let sit 15 minutes, rinse. The vinegar cleans the fruits and vegetables, while the salt draws out any critters, dirt and anything else undesirable. It doesn't effect the flavor at all and vinegar helps take care of the sprays and wax they tend to use. Wash all fruits and veggies before putting away. Even the ones where you peel the skins.
By Dee
---
RE: Make Your Own Vegetable Wash
Let the fruit and vegetables sit in a strong salt and water solution for 30 minutes and rinse. (09/28/2006)
By Willem
RE: Make Your Own Vegetable Wash
That Coconut tip got my attention. Is that one posted under Beauty tips, as well? As I was taking a course in Homeopathy, I found that about an 8th of a spoonful of bleach, in a full sink of water, will take care of anything that might hurt you. And for the fears of drinking bleach, it sounded wrong to me, too. I'm told that many water-purifying systems are essentially doing the same thing. "Such a minute amount is not harmful." (11/27/2006)
By abbiegrrl
RE: Make Your Own Vegetable Wash
I personally think the safest, easiest way to clean veggies and fruits is with a combination of peroxide and vinegar. I keep them each in spray bottles. Just a few squirts to cover the produce and let sit for a minute. Then I rinse them completely in distilled water. These two substances can effectively kill germs and residue from foods and do not harm or change the produce. You can also use this combination to clean counters. I have read several studies that they are just as effective as chemical cleaners.
As to the question of when or what produce to wash, whether you buy organic or not there is a great risk of buying dirty or contaminated produce. Everything must be washed before eating raw or cooking. Avoid anything that is bruised, browned or has broken skin as it will be contaminated inside the item. It is quite easy to take a few simple precautions with fresh produce, and no different than then necessary steps for handling raw meats, fish or eggs. Please note that using water alone is not effective at all for killing germs or removing residue from your hands, counters or produce. Soap is not recommended to be used on food items because of the possibility of being taken inside the item or not being rinsed completely, ingesting soap will cause diarrhea or vomiting. (10/08/2008)
By Sue W.
When you use vinegar for veggie wash, what kind? White or cider?
By ceeann from OK
---
RE: Make Your Own Vegetable Wash
You don't need to use anything to wash fruits and vegetables other than soap and water, washed hands and fresh, clean water. Fruits and vegetables are porous and will absorb any "wash" whether it be soap, bleach, or vinegar. Also, many stores are now touting "special washes". Save your money because the "washes' are simply a money making ploy. A tip: Do not wash fruits and vegetables until serving, because washing before storage causes the produce to spoil more quickly. (06/02/2009)
By Deeli
RE: Make Your Own Vegetable Wash
There are three very safe and healthy ways to wash veggies and fruits.
Lugol's iodine, a few drops in a bowl will kill all bacteria.
Ozonate the water. Ozone is similar to oxygen and will kill all bacteria. You need to buy a machine to produce ozone. You can also ozonate water to drink, very healthy. An inexpensive ozone machine can be used for this. Simply put the ozone bubbler in the bowl of water and set the timer for 5 minutes.
Hydrogen peroxide. About 5 drops in a bowl of water will kill all bacteria. It is most important "not" to use the drug store kind, this is 3% and has some added chemicals not good for human health (good for external use only). Instead buy 35% food grade. This is a concentrate and one pint will make 10 pints.
http://www.dfwx.com/h2o2.html?OVRAW=35%20hydrogen%20peroxideandOVKEY=hydrogen%20peroxideandOVMTC=advanced
With all of the above, no rinsing is necessary as all are healthy for humans and no chemical additives to worry about. Jim in Jax (06/05/2009)
By smartfell-r
I'm looking for a recipe to make a homemade veggie and fruit wash, as opposed to buying the expensive bottles in the produce sections.
What do I use to make a vegetable wash?
By Neal from Leawood, KS
---
I am interested in making my own veggie wash.
By Kristine from Hailey, ID
---
RE: Make Your Own Vegetable Wash
Use the Find link at the top of this website, I think you'll find the answer. (11/14/2010)
By MCW
RE: Make Your Own Vegetable Wash
Apple cider vinegar diluted with water. Rinse/rub/scrub any actual dirt off if you see any, then soak for a few minutes in a solution of water with apple cider vinegar. That helps remove anything that is on the vegetable and decrease oils/waxes etc. Organic is better, but regular will do. (11/16/2010)
By threehorses
I am looking for a recipe to use for washing fruits and vegetables to remove spray residues.
By Ben from The Plains, OH
---
RE: Make Your Own Vegetable Wash
I would not trust the FDA and any of their suggestions for the life of me. Vinegar and water is what I use. I'm hesitant to pay the extra price for organic produce because I wonder if it really is. The only sure way to know is to grow it yourself if you have the space, time, and patience; which I don't. (12/22/2010)
By TXBetty
RE: Make Your Own Vegetable Wash
A cup of simple vinegar in a sink full of water and then rinse. It's best to not wash any fruit or veggie that doesn't have a thick skin until just before using unless you are going to completely dry them before storing otherwise they go bad more quickly (example: lettuce, green onions, berries, etc. go bad more quickly if they are damp). (12/22/2010)
By Deeli