Dealing With Toy Aggression in Dogs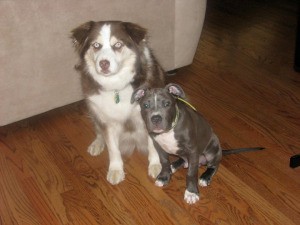 I have 2 dogs. The first is an Australian Shepherd mix (female: 2 1/2 years) and the other is a Pit Bull (male: 4 months). They get along for the most part, but the older dog gets somewhat aggressive when it comes to sharing toys. They will play good together for about 5-10 minutes, and then she wants to play by herself. We have actually had to pull her off of the puppy twice. How can I stop this behavior? She is normally a very well behaved dog. Please help me!
By Kimiko
Answers: Dealing With Toy Aggression in Dogs
Answer This Question
Add your voice to the conversation. Click here to answer this question.
Related Guides
Related Posts