I have a 2 year old male pitbull. He has recently became aggressive towards people. I will not have him killed. He isn't neutered and I wonder if I have it done, will it help? I live in Ohio. He has already bit my arm but I still will not give up hope.
Or is there any sanctuary places that can help me by taking him and will not kill him but help him to no longer attack. My heart is breaking and I feel like I just hitting brick walls with no help. Please help me.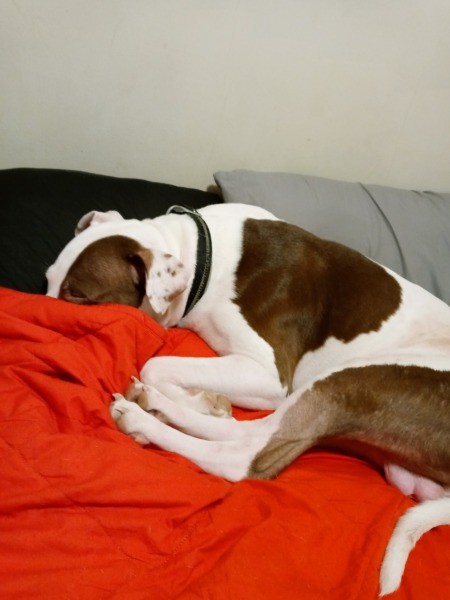 Iceskater
Silver Answer Medal for All Time! 320 Answers
October 13, 2021
0

found this helpful
Best Answer
Your dog is acting naturally by asserting dominance. If training is not an option (either because of cost, availability, or your level of discipline to maintain), neutering may help.
Please make sure doggo is getting lots of supervised exercise and stimulation too!

DianaHM
Silver Answer Medal for All Time! 440 Answers
October 14, 2021
0

found this helpful
Best Answer
Pit Bulls are very intelligent, surprisingly sensitive dog and inherently friendly, especially toward humans. They need to be handled and trained properly. Aggressiveness must be treated promptly.
Neuter your dog. An unneutered male dog is 2.6 times more likely to bite.
Remember that physical punishment can hurt an animal and increase aggression.
Always make sure that your pit bull is receiving the adequate amount of physical activity it needs. By not exerting its energy, a dog can accumulates anxiety and will often show aggressiveness, hyperactivity or repetitive behavior. Try a canine sport.
Pit bull dogs should receive mental stimulation.
They need to nibble, so avoiding these games and not providing them with toys encourages unwanted behavior.
Teach your pit bull to inhibit the bite and release objects.
Consult the regulations of potentially dangerous dogs in your country and remember to comply with the legal regulations when walking with your dog.
It is essential to be aware of your pit bull's routine to explan of this behavioral change and help to know what to do in this situation.
Some pathologies and / or hormonal problems may be able to explain why a pit bull is becoming aggressive.
A dog can appear and act aggressive when experiencing high levels of pain or weakness. Therefore, if your pit bull presents any sudden behavioral alteration, do not hesitate to go to your veterinarian immediately. A vet will be able to analyze the dog's state of health and rule out any possible pathological causes.
Visit your vet every 6 months and respect your animal's vaccination and deworming schedules.