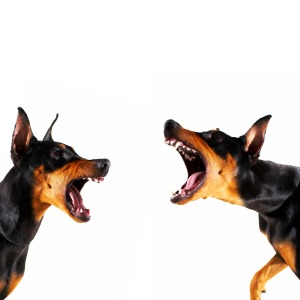 Our dog, Honey, is very protective when strangers come to the door, especially repair or delivery people. We usually put her in the back yard or a bedroom and then listen to her bark her head off until the person leaves.
Today, we had our washer repaired. My husband was home to deal with the repair. When I saw the van pull up outside, I got Honey's leash and took her for a walk. She is very good about not barking at people on the leash so she didn't even notice him. After we walked around the block, I just took her on my afternoon errand to school and the store. The washer was fixed and the repairman was gone by the time we made it home.
I figure that sitting and riding in the car was more interesting than being locked in the bedroom. It was certainly quieter. Of course, it was a cool spring day, not the height of summer or I wouldn't leave her in the car for any length of time.
Other ideas to divert your dog's attention might be to schedule a vet or grooming appointment during those times, or even a "doggie daycare". There are some places that offer drop in playtimes by the hour or 1/2 day.
By Jess (TF Editor) from Hillsboro, OR
Comments
Read More

Comments