Our dog, Honey, is very protective when strangers come to the door, especially repair or delivery people. We usually put her in the back yard or a bedroom and then listen to her bark her head off until the person leaves.
Today, we had our washer repaired. My husband was home to deal with the repair. When I saw the van pull up outside, I got Honey's leash and took her for a walk. She is very good about not barking at people on the leash so she didn't even notice him. After we walked around the block, I just took her on my afternoon errand to school and the store. The washer was fixed and the repairman was gone by the time we made it home.
I figure that sitting and riding in the car was more interesting than being locked in the bedroom. It was certainly quieter. Of course, it was a cool spring day, not the height of summer or I wouldn't leave her in the car for any length of time.
Other ideas to divert your dog's attention might be to schedule a vet or grooming appointment during those times, or even a "doggie daycare". There are some places that offer drop in playtimes by the hour or 1/2 day.
By Jess (TF Editor) from Hillsboro, OR
Comments
April 6, 2011
0

found this helpful
Top Comment
How you handled the comfort and safety for all involved here is so sweet, Jess, and I'll venture to bet that Honey appreciated the fun jaunt so much more than having been upset being couped up! ;-)
April 8, 2011
0

found this helpful
Top Comment
Your Honey sounds a lot like our Hannah! Thumbs up for your plan on repair day.
Like your dog, ours is also great on the leash and doesn't bark or show any aggression to people or animals when out for a walk. Also as you did, we had a barkfest whenever delivery people came by.
UPS man, FedEx man, garbage man, recycle man--mail carrier--anything big on wheels would set her off. The barking drove me nuts inside the house; and letting her outside to continue to bark is a no-go in our neighborhood. We have an elderly neighbor with no tolerance for a big dog barking more than a few moments.
One day when I'd had enough, I mulled over what would be an even stronger distraction for her than those "intruders". In our case, Hannah has a ton of ball drive--she'll carry a ball around all day long and wears us out playing catch. So, when I heard the mailman coming down the street, I took her out in the yard to play catch until he passed our house.
And--it worked! That was about six months ago, She has gotten to the point at which when she hears the trucks coming, she finds her ball and heads to the back door.
Don't know if this may help you, but anyone out there with a protective, territorial barker that also has a love of ball or frisbee play may find a little peace and quiet this way. :)
I have two things I do when strangers or maintenance people come into my home. Putting my dogs and cat in the bedroom is one of them. The other is I have a large dog cage (my dogs are small breeds) that I keep in the living room. If the repair is being done in the bedroom or master bath and the person will be going in and out, I put all 3 animals in the cage. That way they are secure and not under foot, and I also don't have to worry about them running out.
If my husband is at home, I might take the dogs outside in the back yard for a while depending on the weather. But if he's not and I'm here alone, I keep them in the bedroom.
By being in the cage, the dogs can also still watch what's going on and don't get as upset as they would if they were closed off in another bedroom.
By Cricket from Parkton, NC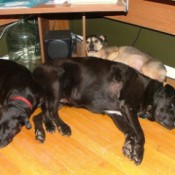 I have 3 large dogs that are protective of me and more so since I'm learning to walk again. When I set up any sort of visit for the phone or cable, I always leave directions for the Service People to call me first at least 5 minutes before they arrive so I can safely secure my dogs without them charging the front door. This way, I don't get knocked over and have better control of the situation.
By Pritchard C. from Pompano Beach, FL