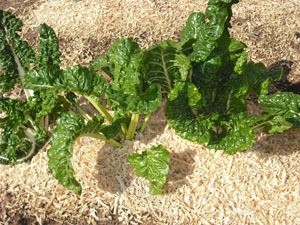 Place wood shavings around your plants to prevent them from getting sandy from rain or watering. This also retains moisture, conserving water, and prevents weeds from growing through. Wood shavings can be bought at many garden shops. They may also be available from cabinet builders or wood workers.

By Marilyn from Colfax, LA
Recent Feedback
Feedback about this article is posted here. Want to contribute? Click above to post feedback.

By Pamela Rochelle Woodworth03/25/2010
Lookin' good, I think though, that the wood takes nitrogen to break down-which comes from the soil over a period of time-so you just amend the soil with compost, if there is a problem with snails or slugs-that would deter them too. I vote yes.

By Mary03/25/2010
If you live in areas where termites abound, I believe that the only kind of wood shavings that would be appropriate would be cedar or dark redwood, and I am not sure how cedar would affect the PH of the soil. Other woods would definitely attract termites which would be very ill advised.

By William H. Young03/25/2010
Marilyn- You mention wood shavings; what about sawdust? I'm a woodworker, but have been hesitant to use sawdust in the garden.

By luvzminis03/25/2010
I believe pencils contain graphite; not lead. We also have to remember our super hyper media likes to make a major case of everything they can, including the dangers of lead. You would have to sit and literally eat "real" lead for a long time before it would cause damage.

By Wyncia03/05/2009
I know that pine shavings will rob the soil of nitrogen, though the saw dust is awfully inviting to add to the compost ile. Also avoid treated wood for edible crops. Arsenic and old lace...remember the story?

By Glinda Marine03/05/2009
My husband worked in wood for 20 years, and he said with the wood shavings idea, you need to beware of what kind of wood you use. Some wood, like Oak, has a lot of acid in it. He said that Walnut would be dangerous to use in your garden when around horses, they eat it, and become ill or die. I know with all the ice storm damage in KY we've got a lot of wood shavings now from cut up damaged trees. So, those folks would know what kind of wood they are using. Do the packaged wood shavings tell what kind of wood it is? Might need to research it first.

By Kim Churchman03/05/2009
Second problem: your plants will turn yellow if you don't use extra nitrogen. As the wood decomposes it hogs all the nitrogen. Other than that, it is a pretty good mulch. It will weather to a nice gray.

By kelly03/05/2009
There is one problem with using wood around your home. You take the chance of inviting Termites.
Post Feedback
Add your voice to the conversation. Click here to post feedback.