I want to lay down self stick tiles on top of linoleum in the bathroom. Can it be done successfully?

Grandma D. from Colorado
January 17, 2008
0

found this helpful
Thank you all for your input :)!
January 17, 2008
1

found this helpful
Yes , it can be done. Just be sure and take some tough sand paper and rough your old linoleum floor. Also BE SURE and use some glue under each tile. Even though it says PRE_PASTED or SELF_STICK. My husband and I made the mistake to just pull the back off and stick ours down. Had to take piece by piece up and apply glue under it. Has stuck ever since. We used linoleum glue and just applied it with a knife, as we laid each self sticking tile. It doesn't take but a VERY thin layer of glue.
January 17, 2008
0

found this helpful
I have laid the self stick tiles over linoleum before and had really good luck and it's much easier to do than laying one sheet unless you are a pro I'd think.
January 18, 2008
0

found this helpful
more than likely it wont. the vinyl underneath probably doesn't have a smooth texture. my husband lays floors for a living and he has to level the area out with floor patching (like a cement that you put on with a trial) that evens the area. If you don't do this, then every single ripple or dent will show through. It may look pretty rough. The best thing to do would be to take the underlying floor completly up. To get waht you can't get up by hand, you can get a tool at the harware store(H. Depot or lowes) that looks like a big razor blade on a long stick, like a rake or a broom.
In my husbands experience, the self stick vinyl has not been successful. I would check into other options before I started. If money is the problem, then you can look around at flooring stores that sell remnants off of bigger jobs that were unused and are the perfect size for bathrooms or small closets
January 19, 2008
0

found this helpful
I hate my inlaid linoleum in my bathroom! I would like to replace but would like to avoid ripping up the current stuff. Can I put new peel and stick tiles over it? How about ceramic tiles?

Thanks for your help,
Monica from Northeast, PA
July 11, 2007
0

found this helpful
Use a leveling compound, found in the home centers, to even out the floor or lay a thin plywood for substrate, before adhering either tile. The ceramic tiles will adhere if you use an additive, professionals call it "milk," made by Laticrete, to the thinset. You shouldn't have a problem.
LATICRETE 333 Super Flexible Additive
Create highly flexible thin-set mortars with superior bond strength with this incredible liquid additive. Mixes with all LATICRETE pre-bagged thin-set mortars for installation over concrete, brick, block, portland cement backerboard, existing ceramic tile, cement terrazzo, exterior glue plywood*, gypsum wallboard*, vinyl tile*, linoleum*, plastic laminates* and non-soluble cut back adhesives*. Ideal for remodeling projects. ASTM C627 Rated for Extra Heavy Service.
*Interior only
July 11, 2007
0

found this helpful
We just laid new linoleum over our old and found a wonderful brand at Lowe's--it's more expensive, but there is no glue involved, just cut to size (carefully) and put it in, it 'adheres itself' to the floor, just put some sticky tape around the edge(Purchased at Lowe's for this purpose) Sorry, can't remember the name, but it's about twice as thick and feels ABSOLUTELYLUXURIOUS to walk on, even barefoot. You can tell which it is when you go and look at the samples. I would recommend this over anything else. Kim
July 12, 2007
0

found this helpful
I hated my bathroom floor, also, and, after measuring the widest parts of the bathroom, I purchased a piece of 6' x 8' carpeting (they come in different sizes) at Menard's, made a template of the floor using newspaper taped together, turned the carpet upside down, put the template on the carpet back and cut around the template with an Xacto knife. Voila'! A "custom" carpet for the bathroom that fits nice and snug and feels great under bare feet. Using carpet cleaner now and then keeps it looking great. It's been in my bathroom for almost 13 years.
July 16, 2007
0

found this helpful
As long as the linoleum you are covering is still securely glued to the floor, with no gaps or places that have lifted, it is my understanding that you can use it as a subfloor and put another floor over it - such as ceramic or peel and stick tile. You do have to make sure that the floor is thoroughly cleaned and stripped of any old wax, etc. There are some sites on the internet that are helpful. Take into account that since you are adding layers instead of replacing them this could affect transitions into other rooms off of that room.
January 5, 2009
0

found this helpful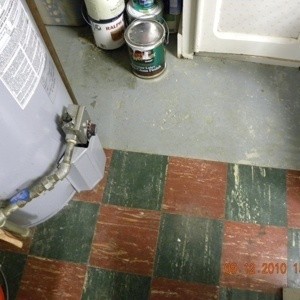 My home was built in the 40's. In the utility room in the basement the concrete floors were covered with I think linoleum tiles. They appear to have been laid around that time. The red and green square tiles however, do not completely cover the concrete floor so it looks unfinished.
I want to put a new floor down to cover the entire floor (linoleum and concrete) in the utility room and don't want to pull up the old tiles. I'm thinking of updated vinyl tiles. Because of the unevenness of the floor is there a product I can use to pour or lay over the concrete to even it up to the existing tiles?

Thanks.


By Kathleen from Alexandria, VA
September 25, 2010
0

found this helpful
You can buy floor leveling compound at a store like Home Depot or Lowe's. Both places are good at giving you advice, they can tell you what type of flooring would be best to use, etc.
September 26, 2010
0

found this helpful
If you should have tear up the old tiles be careful because old tiles made in the the time period you describe will have been made from asbestos. Asbestos fibers are something you don't want to breathe in. You can have someone come in and test the tiles for asbestos. If there is asbestos in the tile and you want or have to have them taken out, you will have to call in the experts to remove them.
September 26, 2010
0

found this helpful
Kathleen,
There are multiple issues here. First is asbestos. Removal will probably be expensive. It's best to leave it there if possible.
Secondly, it sounds like you have an irregular floor. This can probably be repaired by an experienced floor layer. If a floor layer is hired and he determines that he is able to even the concrete so that he is able to lay over it thus covering the asbestos tile you would most likely find that to be the most cost effective solution. You may still find this project to be more costly than you like.
I would call a reputable floor company a bid should cost you nothing. Request a bid be careful of anyone that will only give you an estimate unless they are a person that you know and trust. ;o)
Rygobus
September 27, 2010
0

found this helpful
Thank You for the responses. I didn't even think about asbestos. I will definitely not remove it but try the floor leveling compound first before contacting a pro. I think I've seen it done on a DIY program.
Can I tile over a linoleum backspash? If so, how do I do it?
By Chris from Long Island, NY
January 30, 2011
0

found this helpful
Hi, I have done several home improvement jobs including tiling just about everything, floors and walls!. It's my experience that you should only put tile on a waterproof backer board. You wouldn't want to tile over the existing tile because it's possible that at some point in time, the linoleum mat loosen up and then your tiles will fall off because the weren't glued to a stable backing to begin with. So you have two options, either remove the old tiles right down to the bare wall, or put up some waterproof backerboard to allow for a stable surface to attach your tiles to. Good luck!