For many do it yourselfers it seems easier to lay new vinyl tile down over the existing linoleum tile. This is a guide about installing vinyl tile over old linoleum tile.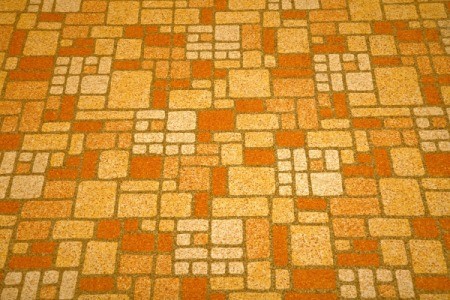 I want to lay down self stick tiles on top of linoleum in the bathroom. Can it be done successfully?

Grandma D. from Colorado
---
Most Recent Answer
By guest (Guest Post) Flag
January 19, 2008
We had linoleum in our kitchen that had a diamond shaped pattern on it. We put down the self stick tiles right over top of it. It looked good for a couple of months, then the pattern from the linoleum started to show through. I would take the linoleum up first if I were you.
---
I hate my inlaid linoleum in my bathroom! I would like to replace but would like to avoid ripping up the current stuff. Can I put new peel and stick tiles over it? How about ceramic tiles?

Thanks for your help,
Monica from Northeast, PA
---
Most Recent Answer
By guest (Guest Post) Flag
January 5, 2009
I would consult with a building inspector or flooring contractor re: ceramic tile. When I had my house inspection for my 100+ year old house, I asked the inspector if I could put a ceramic tile floor in the up stairs bath -- which has a wooden floor that is crumbling. He explained that a tricky process called a float would be needed. I decided that since linoleum is as historically correct as ceramic tile, that I would go with linoleum . . . when I find a job!
---
By Kathleen 1 1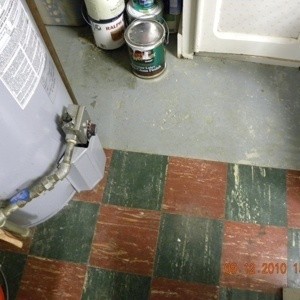 My home was built in the 40's. In the utility room in the basement the concrete floors were covered with I think linoleum tiles. They appear to have been laid around that time. The red and green square tiles however, do not completely cover the concrete floor so it looks unfinished.
I want to put a new floor down to cover the entire floor (linoleum and concrete) in the utility room and don't want to pull up the old tiles. I'm thinking of updated vinyl tiles. Because of the unevenness of the floor is there a product I can use to pour or lay over the concrete to even it up to the existing tiles?

Thanks.


By Kathleen from Alexandria, VA
---
Most Recent Answer
By Kathleen 1 1 Flag
September 27, 2010
Thank You for the responses. I didn't even think about asbestos. I will definitely not remove it but try the floor leveling compound first before contacting a pro. I think I've seen it done on a DIY program.
---
Can I tile over a linoleum backspash? If so, how do I do it?
By Chris from Long Island, NY
---
Most Recent Answer
By Barb House 2 13 Flag
January 30, 2011
Hi, I have done several home improvement jobs including tiling just about everything, floors and walls!. It's my experience that you should only put tile on a waterproof backer board. You wouldn't want to tile over the existing tile because it's possible that at some point in time, the linoleum mat loosen up and then your tiles will fall off because the weren't glued to a stable backing to begin with. So you have two options, either remove the old tiles right down to the bare wall, or put up some waterproof backerboard to allow for a stable surface to attach your tiles to. Good luck!
When we bought this house, it had blue vinyl peel and stick tiles in the kitchen that did not go with our decor. We asked the guy who was laying our carpet if there would be a problem if he laid down some peel and stick tiles that we liked over them. He said "no problem"! He used a black tarry glue between the old and new tiles.
Within a couple weeks we saw this stuff between some of the tiles. We asked him about it and he said that problem would go away in about 3-6 months.
It has been 9 years and it still comes up. We have used WD-40, Goof Off, and a scraper to clean it off. It looks good for a couple weeks and then this black gunk oozes out again. My husband curses this guy every time we have to go through the cleaning process because he asked him if there would be any problems with this.
Is there any thing we can use that will stop this problem?
By Carole