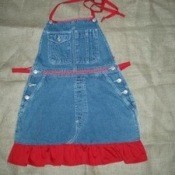 Two unique and fun aprons from one jean overall.
Approximate Time: 1 hour
Supplies:
1 pair jean overalls
assorted embellishments
scrap fabric
lace pieces
thread
sewing machine
scissors
Instructions:
Cut off the legs below the crotch, split the crotch seam and lay flat overlapping topstitch down. Take off the fasteners, save for another use. Cut side seams so you have a front and back. Bind or finish off the edges anything works, let them fray, that's ok too.
The red trimmed apron is the front of the overalls, I sewed on some trim and made red ties for the back and neck, I tied them on the button fasteners and sewed to the sides, then I took a small piece of red fabric and hemmed 3 edges and gathered it the bottom. For the lacey apron, take the straps and sew them together in the back, trim the edges with lace and doilies. Anything goes for these aprons. These both sold within hours of making them!
By Jackie from Middleton, WI.
February 19, 2009
0

found this helpful
Very clever!! Makes me wish I had some overalls stashed away.
Tracey in Jacksonville, FL
February 20, 2009
0

found this helpful
Such a cute idea.
February 20, 2009
0

found this helpful
I just love these! I wear aprons a lot. I'll be on the lookout for overalls at the thrift stores.
Thank you for the great idea.
February 21, 2009
0

found this helpful
Really cute! I wish I could sew.
February 21, 2009
0

found this helpful
Great idea! I love it! This would make a great flea market item to sell! Have you done that?
Related Content
(article continues below)
February 22, 2009
0

found this helpful
I really like your idea and the finished products! I'm thinking this could be done with adult or children's size overalls. Good job, Jackie :D
Peace and Blessings
Joan from Dilley TX
February 23, 2009
0

found this helpful
LOVE IT! I think I just found a few gift ideas for a few friends! Thanks!
February 26, 2009
0

found this helpful
That is so cool. It's a great gift idea. The denim would be extra protection from spills. A+
March 1, 2009
0

found this helpful
How cute! I've got to try this. I did something similar with some old jeans of my hubby's. Here's how: Cut the legs off about crotch level. With the "shorts" you have left, cut along the side seams (and cut crotch apart); use the front (lap) section and the back (fanny) section as two apron bottoms, and cut the legs apart into desired shapes for the apron tops. Stitch with heavy-duty needle to attach tops to bottoms, and voila!
Embellish as your imagination (and scrap bag) permits; maybe use old cloth belts for neck and waist ties. If you want frayed edges, just stitch about 1/4" inside the cut edges, and you'll have a nice fray after they're washed. Easy, fast re purpose for old pants!
March 3, 2010
0

found this helpful
Hi Jackie, I really want to thank you for this craft. I have slit and cut so many overalls already. Everyone received an apron for Christmas and now I am working on second requests! This has been so popular. The first set took me some time, but now it is so easy.
(I did find I need to use my hand crank sewing machine because the denim is thick.) This craft is wonderful for guys. They love barbecue aprons!