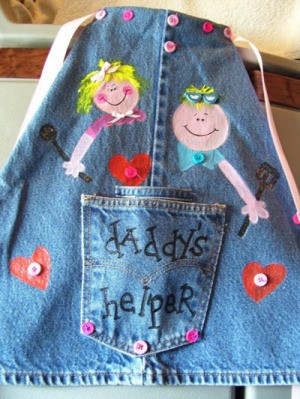 Don't throw away those outgrown jeans! Recycle them into a piece of clothing. This is an apron I made for my granddaughter's birthday. She is going to be 3 soon and is quite the little "helper" and a wee-bit the daddy's girl. My son barbeques a lot and I thought this would make a cute gift for her.
Approximate Time: 2 hours plus drying time
Supplies:
adult pair of jeans
fabric paint
grosgrain ribbon
needle and thread
Instructions:
Since I made mine while traveling, I hand stitched this apron. You can shorten the time by using a sewing machine.
I used a man's pair of jeans. Just follow the 8 easy steps and you will have an adorable apron to give to a child.
Cut pant leg off.
Cut down pant leg removing seam.
Cut at an angle along dotted line. (see diagram)
Fold edges into the shape desired and sew.
Sew on ribbon for ties.
Cut pocket off jeans along outside of pocket seam and sew onto front of apron.
Decorate with fabric paint as desired.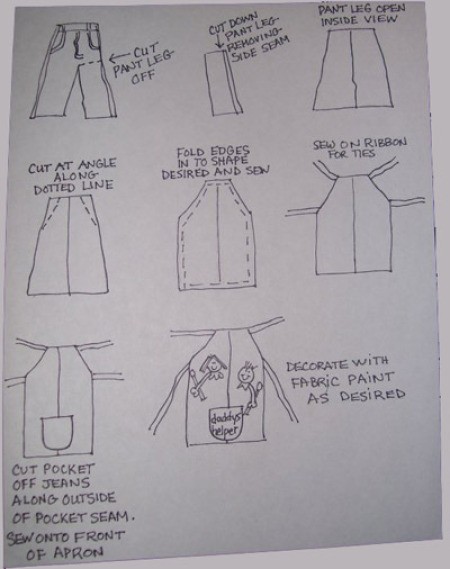 I also used puff fabric paint, but I brush it on. Just squeeze some out on a paper plate and use a paintbrush to apply. Some colors will take a few coats. Denim is a little harder to cover than other lighter material. It does not puff when used this way and you can also mix colors to achieve different shades.
I chose to sew little bows on the girl and a tiny pair of wood sunglasses on daddy. I coated them with clear nail polish first.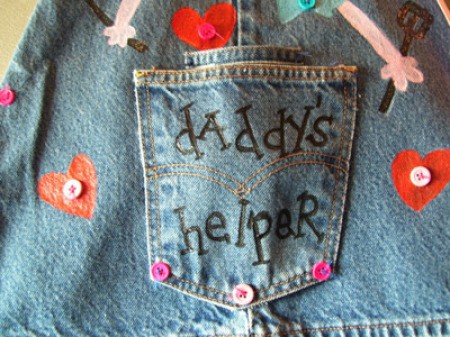 The apron only takes one pant leg and pocket so I had another set left over. So I took the pocket and cut it off along the outside of it's thick seam. I then cut a piece of denim the same size as pocket and stitched these together, leaving the top open.
I cut the thick side seam off the pant leg and sewed it on for a handle. I then took a narrow strip of denim from the leg and rolled that into a rose for a flower. I stitched that on the front and trimmed the edges with silver glitter glue. Now she has a little purse also and both projects came from just one pair of unwanted jeans!
By Mary from Palm Coast, FL
Read More Comments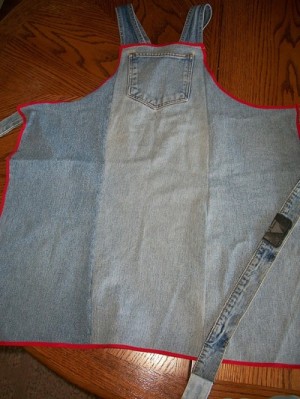 This is a quick apron to sew together for backyard grilling.
Approximate Time: 2 hours
Supplies:
denim jeans
scissors
sewing machine
thread
pins
seam binding
steam iron
Instructions:
Use the legs and seats of the jeans and sew together to make the width of the apron. Cut side curves.
Use a waistband of the jeans for ties and one for the neck. Add the seam binding before sewing the ties and neck piece on. Sew the ties and neck pieces on.
Press and you are done.
By Monica from Cortez, CO
Read More Comments