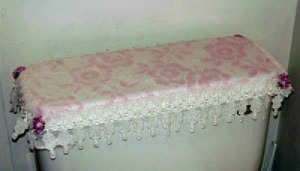 If you can sew, crochet, or knit you can make toilet tank and lid covers to dress up the bathroom. This is a guide about making toilet tank/lid covers.
Ad
---
Solutions: Making Toilet Tank/Lid Covers
Read and rate the best solutions below by giving them a "thumbs up".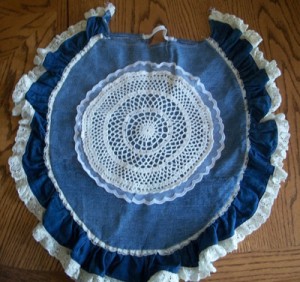 This is a denim toilet seat and tank cover set I made from some lightweight denim scraps I had, combined with an old doily and some scraps of lace.
Approximate Time: One afternoon
Supplies:
scraps of denim
scissors
sewing machine
sewing thread
misc. lace and trims
one old doily
steam iron
paper patterns of toilet seat and tank lid
5 inch piece of thin elastic
Instructions:
li>First, trace your toilet seat lid and tank lid on a piece of newspaper. Add about 1 1/2 inches all around on each pattern for the seam allowance before cutting your pattern out of the newspaper. (The seams won't be 1 1/2 inch, but smaller as you choose.)

Take the patterns and lay over the toilet seat and tank to see if they look accurate to you. If you are satisfied with that patterns, lay onto the denim remnants and cut your pieces.

Cut one piece for the front of the lid cover and one for the back. Cut one piece for the tank lid cover and set aside. Pin the doily to the front piece and sew into place. Make sure the doily has been blocked, so it won't pucker when washed.

Next, pin your lace between the front and back pieces. If you want to include a ruffle, cut an 8 inch piece for that now and make it three times as long as the diameter of the lid. Sew a basting stitch along one end of the ruffle and pull the thread to get the desired ruffle and pin to the "sandwich" of the front and back pieces and sew in place. If lace is desired on the hemmed edge of the ruffle, it can be added as it is hemmed.

Note: Remember to press pieces as you sew with a steam iron. Turn rightside out, and press again if necessary.
I realized at this point, I had forgotten to allow for extra fabric so the thing would fit over the widest part of the lid! It wouldn't go on, so I cut a slit up the back and hemmed the sides where the cut was and attached a piece of elastic so it would have a snug fit at the bottom most part of the cut. It "fixed" my mistake. This was more of a challenge to myself to see what I could make with the scraps I had. Sometimes, even a mistake can be corrected so as not to spoil the finished project!
Next, sew the tank lid cover. Cut a ruffle the same width as the other ruffle and sew a basting stitch all around it. When you are satisfied with the ruffle, attach the lace between the ruffle and the top, sewing into place. Press with a steam iron and you're done!
By Monica from Cortez, CO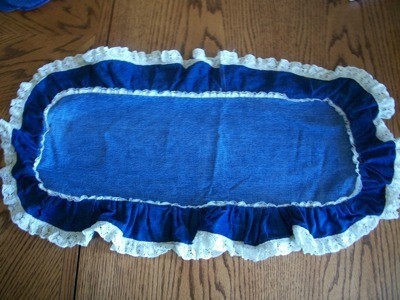 Pretty up your powder room with a lace toilet tank topper.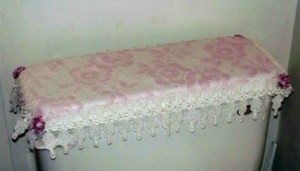 Materials
used lace curtain
1.5 yards lace
Aleen's OK To Wash-It
4 small flowers
sewing machine
Directions
Measure the top of your toilet tank lid. From a lace curtain, cut a piece the same size as your measurements, but adding half an inch on all sides.
Cut your lace in 4 lengths to match each side of the lace, adding 1 inch extra to each piece. Sew your lace to all 4 sides.
Put a dab of Aleen's Ok To Wash-It on the back of each flower. Wait 5 minutes, then place each flower on a corner.
Let dry for 24 hours, and you have yourself a beautiful and unique toilet tank topper.

By Susie from Crawfordsville, IN
Give a "thumbs up" to the solution that worked the best! Do you have a better solution? Click here to share it!
Questions
Here are questions related to Making Toilet Tank/Lid Covers.
I need advice on how to sew a toilet tank cover. Not the top, but the large piece that holds the water. I have made a pattern for the seat cover and tank cover, but not quite sure about the actual tank. Thanks in advance.
By Beverly from Phoenix, AZ
AnswerWas this interesting? Yes No
Ad
---
---
Most Recent Answer
By connie 2 4 11/04/20090 people found this helpful
I was trying to 'quickly' do the same thing. I came up with this idea, which saved time, and let me change tank covers as often as I wanted.(which is at least once a week, to keep my hubby crazy!) Measure around tank from one side to the other, where you want cover.
Make sure your tank is clean and dry. Using 'superglue', glue velcro down each side(or at least in 2 spots). Use fabric glue(or sew) the opposite velcro pieces on your fabric. You can then put in on/off in seconds, and it washes well!
---
I need to know how to make a cover for the top of a toilet tank. I am making a cover of fabric for the lid to match a cover for the toilet seat, which I have already made. Thanks.
By Jodie from Kerrville, TX