Removing Scuff Marks on Walls
Care must be taken when removing scuff marks from painted and unpainted walls to prevent damage to the finish. This is a guide about removing scuff marks on walls.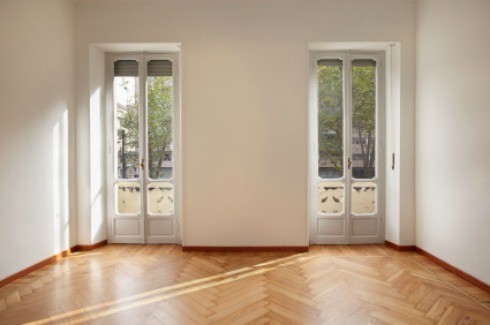 Filter

: All Articles
Sort

: Relevance
Any ideas on how to remove scuff marks (from furniture not shoes) off a painted wall? I tried the Mr Clean Magic Eraser, it worked a little, but took paint off the wall.
By Scuffmarked for Life? from Orange County, CA
March 6, 2008
0

found this helpful
Best Answer
Do not use Magic Eraser on matte walls; it is just too strong. It will strip the paint and leave you with dark marks that don't match your paint. I have not figured out a better solution than a mild cleaner and two buckets: fill 1 bucket with your cleaner and water and fill the 2nd with just clear water for rinsing. Grab 2 of those cellouse sponges and don't forget your elbow grease-you'll need it! I also find its good to go from bottom to top to catch all the drips- if not you 'll have streaky walls.
December 25, 2008
0

found this helpful
Best Answer
Try using toothpaste and a sponge. It did wonder. All you have to do is apply the toothpaste on the mark and scrub!
May 28, 2010
0

found this helpful
Best Answer
Hello,
Please try a pencil eraser.
July 28, 2016
0

found this helpful
I came across this looking for help with scuffs and I found; Magic Eraser doesn't work, toothpaste doesn't work, toothpaste + baking soda doesn't work. I probably would've tried Dirtex first but didn't have any on hand. Good old-fashioned TSP works just fine. Didn't strip the paint & left the wall beautifully clean.
September 11, 2016
0

found this helpful
Yes, the pencil eraser worked on a scuff that has irked me ever since our repaint a year ago..Thank-you.
Some of the doors and walls in my home have black scuff marks on them. I have tried everything I can think of to get it off. Please help.

Susan from Arizona
February 21, 2009
0

found this helpful
Just tried the toothpaste suggestion, and it works!
July 3, 2009
0

found this helpful
Using toothpaste to remove scuff marks worked really well. Thanks a lot for the tip!
July 19, 2010
0

found this helpful
Tried the toothpaste and it did not work on my tan, textured walls. Also tried Magic Eraser to no avail as well. Finally got my scuffs off with a little rubbing alcohol.
Be aware that it does take off paint! What I did was add just a dab on a white cloth and dab it onto the scuff and then wipe with a clean part of the towel. Scuff came right up!
October 28, 2010
0

found this helpful
Magic Eraser removed scuff marks from painted woodwork, after I read the directions and wet it first!
November 24, 2015
0

found this helpful
Goo Gone will take the latex paint right off the wall, if you're not careful.
I'm looking for a tried and tested method of washing walls to remove scuff marks as part of a spring clean! I live in a rented flat so just repainting the walls isn't an option. I don't want to wash the existing matte paint off by scrubbing too hard! Thanks :o)
By Amanda
January 5, 2012
0

found this helpful
I was also going to suggest using an eraser.
January 6, 2012
0

found this helpful
Try using a Mr. Clean Magic Eraser. I regularly use them to get scuff marks, handprints, even ink off walls and other painted surfaces. I generally rinse the area with a damp rag after using the magic eraser as it sometimes leaves some residue.
January 6, 2012
0

found this helpful
Everyone here is right. Magic eraser, I use them on walls and many things. Even my son had a long streak of paint from another vehicle on his white car and it took it right off. They are awesome.
January 7, 2012
0

found this helpful
I love Mr.Clean Erasers also. I however have a thrifty, low cost scrub I make that works wonders. Take 1/2 tooth paste with 1/2 baking soda making at light,nonabrasive scrub (cleanser). I use it on walls, base boards, even tennis shoes. It always works and does not remove the paint. You can make a container of this and with a lid, keeps nicely.
Any tooth paste will work so the cheaper the better. No need for the whitening kind unless its the cheapest. I was told this by my grandma and have used it for years.
Good luck!
January 9, 2012
0

found this helpful
Thanks everyone, think I will give the toothpaste one a try first as I have those bits to hand, if not then I'll be hunting down some of these magic erasers!
Try using a pencil eraser to remove black smudges from white walls.
Related
© 1997-2016 by Cumuli, Inc. All Rights Reserved. Published by
ThriftyFun
.
Page
generated on September 20, 2016 at 7:51:14 AM on 10.0.1.89 in 5 seconds. Use of this web site constitutes acceptance of ThriftyFun's
Disclaimer
and
Privacy Policy
. If you have any problems or suggestions feel free to
Contact Us
.