Eventually as your plants grow you will need repot them to give the roots more room or remove depleted potting soil. This is a guide about transferring plants to larger pots.
I often shop the discount plants at nurseries and big box stores. I have gotten many bargain plants that have thrived in my garden despite their shaky start. When buying plants such as these, as well as the full price stock, you are likely to take home one that is root bound. You can recognize these plants in a couple of ways. The dry, droopy plant with roots growing out of the bottom drainage holes is root bound, and likely severely so. You may want to just pass on this one, even if it is on sale. If you decide to go for it anyway then the information in this tip, based on my own experience and supporting information found on the internet, may help save that bargain plant.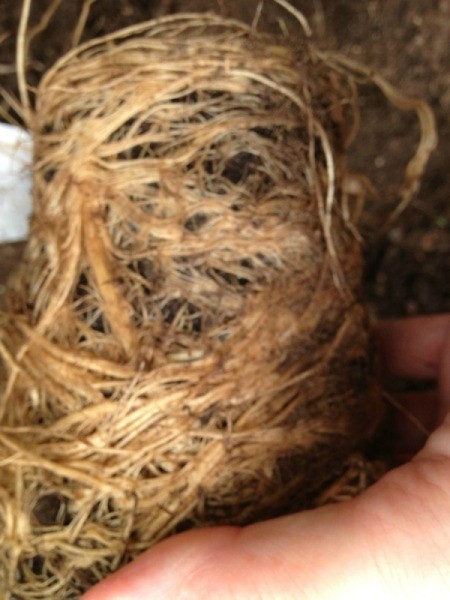 Root bound means exactly that, the plant's roots have outgrown the container and have begun to wrap around on the inside of the pot. Some plants are only slightly root bound, allowing you to carefully tease the root mass apart and gently spread them when transplanting into your garden.
Other times you may encounter a plant that is so badly root bound it is difficult to even remove it from the plastic nursery pot. Often in such cases this is when you will see the roots protruding from the drainage holes. In this case, if the pot is flexible you can squeeze it a bit all around and loosen the root ball allowing you to remove it. If this does not work you will need to cut the pot away from your new plant.
Once removed you will likely see a plant with a root ball similar to that of these Shasta daisies, that I rescued from the half dead plant rack at Lowes. You will probably not be able to loosen the roots in this case.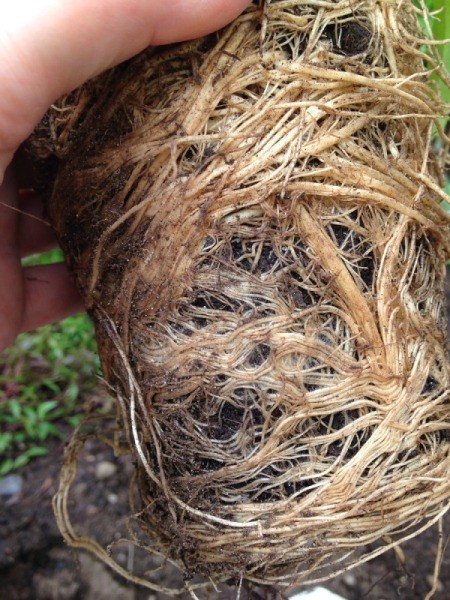 To improve your plant's chances you will need to make 3-6 vertical cuts (depending on plant size) with a sharp, sterile knife around the ball. You may also want to cut an X in the bottom of the root ball.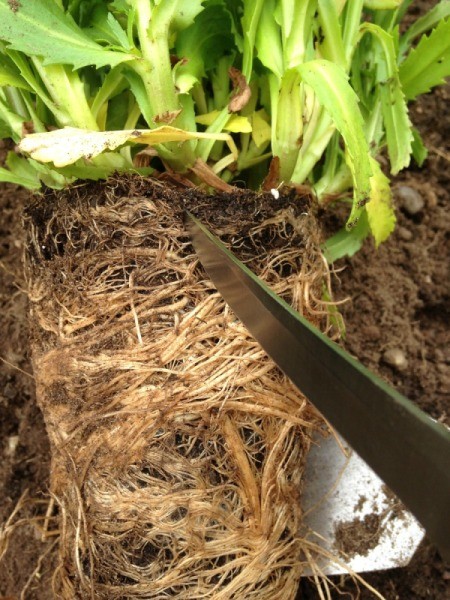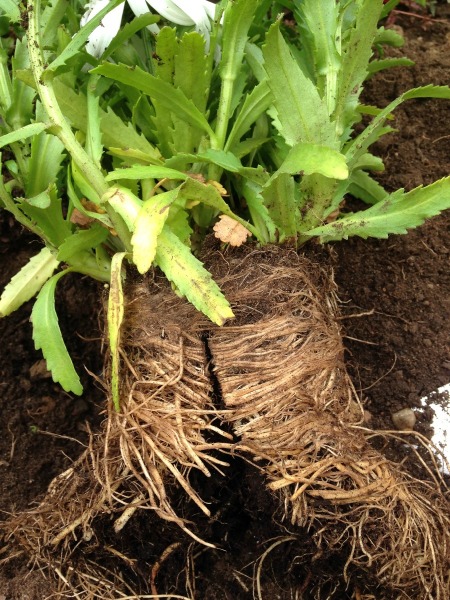 Place your plant into the prepared planting hole, spread the roots of the ball apart, if possible. Now add your soil, gently packing it down to remove air pockets.
Water slowly and deeply to hydrate the plant and its roots. This method will also help the soil settle around the roots. Water regularly until your plant is established and then as directed for this particular specimen. You might also want to include a plant growth hormone with the watering to stimulate new root growth. Some gardeners will also consider pruning back some of the plant's foliage to encourage root regrowth success.
Keep close watch on your new plant, as it as been doubly traumatized, first by being root bound and now by your efforts to save it. Keep it moist and you may need to provide a bit of shade if it is planted in a sunny location.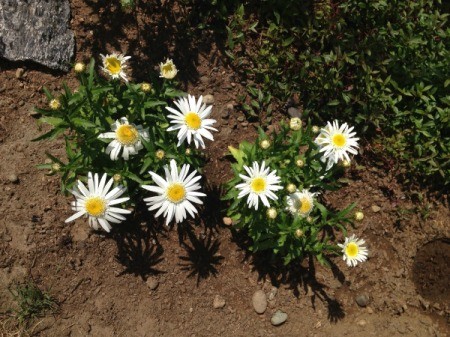 Happy gardening.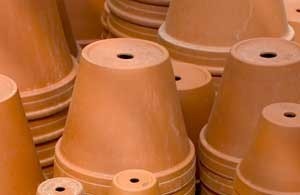 The roots of some plants prefer the wide open spaces of living in a large-sized pot. For other plants' roots, a tight, cozy pot where they can reach out and touch the walls feels more like home. No matter what their preference is, sooner or later just about every plant outgrows its pot. And even if it never does, it will probably need repotting anyway. So how do you know when it's time to repot your plant? Here's what to watch out for:
Five Signs Your Plant May Need Repotting
Water flows too quickly through the pot when watering.
Soil is so hard and compacted that water cannot easily permeate.
Roots are coming through the soil's surface or growing out the drainage holes.
Growth has slowed down drastically (or new leaf growth is small) despite all other conditions remaining the same.
The lower leaves turn yellow or the plant wilts immediately after watering.
When To Repot
For the majority of houseplants, the best time to repot is in the spring and fall when growth is slow and the plant is either heading into dormancy or just waking up. This is the best time for plants to recover from disturbances in their environment. Spring blooming plants should be repotted in the fall, evergreens in the spring or fall, and spring flowering bulbs in the fall. Summer flowering bulbs can be repotted in the winter or spring. Although it's usually not necessary, annuals in containers can be repotted as needed during the growing season, preferably before the first flush of flowers.
When Not To Repot
Never repot sick plants or plants that are just beginning to flower. For plants in extremely large or heavy containers, do not attempt to pot them without assistance. In most cases, they can be kept fresh by removing the top 2 or 3 inches of soil every few years and topdressing with new mix.
Potting Up or Pruning?
If your plant has outgrown its current pot, select a new pot that is only 1 or 2 inches wider and deeper than the original. If you want to control the plant's growth but need to repot it to amend the soil, prune the plant's roots and return it to its original pot. To do this, use a shears to trim away 1/4 to 1/3 of the roots. If the roots are tightly bound, trim 1/4 inch off of the bottom of the root ball in several places. After trimming the roots, prune the top growth back a bit to maintain a good balance between foliage and roots.
Repotting Technique
Prepare a new pot: Use small pieces of broken pottery or stoneware to cover the drainage holes. This will prevent the soil (and accompanying nutrients) from washing out every time you water. If the pot lacks drainage holes, either add some using a cordless drill with a ceramic bit (don't forget the safety glasses), or cover the bottom of the pot with an inch of horticultural grade charcoal or coarse gravel.
Remove the plant: Remove the plant from its pot and gently disturb the roots to loosen up the root ball. If necessary, carefully score an X in the bottom of the rootball with a sharp knife to loosen them.
Transplant: Fill the new pot with a well-drained potting mix so that when the plant is placed in the pot, the top of the rootball will rest within an inch of the rim. A good mix consists of equal parts peat moss, vermiculite or perlite, and sand.
Set the plant into the pot and gently fill in around the rootball with soil. As much as possible, avoid adding soil to the top of the pot. You don't want the rootball to end up deeper than originally planted. Tap the pot gently on a hard surface to encourage the potting mix to settle in around the plant and water the pot thoroughly until water runs freely through the drainage holes. Continue to add water and soil around the plant as needed, but do not tap the pot on a hard surface once you've watered it, or you'll only compact the soil. Do not resume fertilizing for several weeks.
Frequency of Repotting
Expect to repot most plants every two or three years. Extremely fast-growing plants may need to be repotted annually, whereas plants that prefer to be rootbound may only need repotting occasionally when soil conditions call for it. Seasonal container plants like annuals or vegetables generally do not need repotting during their single season.