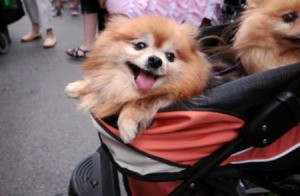 You can save money by converting a baby stroller that your child has outgrown, or one from a yard sale into a pet stroller. This is a guide about converting a baby stroller into a pet stroller.
Ad
---
Solutions: Converting a Baby Stroller Into a Pet Stroller
Read and rate the best solutions below by giving them a "thumbs up".
One possible idea is to remove all the fabric from an old twin baby buggy, except for the canopy (hood). Leave that in place for rain protection. I'm now examining the stripped-down chassis to see what can be done. I'm considering attaching a 'hammock' of very strong material such as canvas (like those hammocks that one attaches across the back seat of a car to protect it from dog fur and/or wet paws), from the handle of the chassis to the metal bar at the footrest.
The canvas can be punched through with several strong metal grommets along the top, bottom, and sides. Then strong nylon rope can be fed through the eyes and the hammock can be securely attached with hooks to all four sides of the metal framework of the chassis, obviously in areas where the hooks don't slide down the metal tubing of the framework. The hammock shouldn't be too taut because it should 'belly' down enough to support a sturdy dog-carrier. Nylon rope with hooks attached can be threaded through the grommets and then attach a dog-carrier to sit securely on the hammock. I have started this process. I've stripped my twin baby buggy down to the chassis and hood, now I'm at the stage of trying to select one of my large pet carriers.
Safety is paramount with a home-made pet buggy. Depending on the shape of the chassis (if the metal frame has one or two horizontal crossbars in the right positions to support the weight of a pet-carrier), a possible option would be to "securely" and "safely" attach a strong, commercial pet-carrier directly to the stripped down chassis. I don't think the shape of the metal frame of the chassis I'm using lends itself to attaching a pet-carrier directly to the framework, so I'm probably going to have buy a piece of strong canvas that fits, but overlaps the framework. I will then glue down all the edges to get a tidy look, and buy one of those gadgets that can punch holes through canvas while simultaneously inserting metal grommets into the holes. Then I'm going to attach the canvas to the chassis and the carrier to the canvas.
In theory, this should work, and I should end up with a pet-carrier attached to a strong canvas on the very strong framework of a used baby buggy. It's worth a try because any pet buggy that has a chassis as strong as a baby's buggy would cost a fortune.
By EvaT [1]
Give a "thumbs up" to the solution that worked the best! Do you have a better solution? Click here to share it!
Questions
Here are questions related to Converting a Baby Stroller Into a Pet Stroller.
I have been looking at the new pet strollers. They are all so expensive. I think I may try to convert a baby stroller. All I have to do is figure out how to enclose it so my cat doesn't get out. I can buy a baby stroller used at the childrens' consignment shop for about $25.00. I have spent hours searching the internet and I cannot believe that I can't find any information on this.

Has anyone else done something like this so you could take your cat for a walk?

Thanks.
Karen
Ad
---
---
Most Recent Answer

By G BELLE08/06/2011
I am now converting a graco, windsor stroller into dog stroller for my 50lb basset. They have some net laundry bags at dollar tree I will use for netting. They have heavy duty zippers at jo an fabric. Problem is she is so long, she does not fit. I have to extend the front of the seat outward. I was thinking of attaching some thin plywood. Then pad it with fiberfill, recover it.

I will post a photo when I am done.Remember you have to get a stroller that goes flat when reclined. Craigs list has cheap strollers.
When I take my 2 Poms for a walk, our 8 year old Pom boy gets tired quicker. I am 68 and not it's not easy to pick him up and carry him the rest of the way. Any ideas? Wagon. Pet stroller. Used child's stroller? I can't spend much so I would like a good, economical idea.
By Sharon from Lima, OH
Ad
---
---
Most Recent Answer

By Jarron [7]03/30/2010
I have two Poms also, and if I were you I would look at yard sales, consignment shops, used baby clothing/furniture stores, Good Will, etc... though I myself had no luck finding one anywhere I looked!

When I could not find a used stroller or anything else suitable (After a few weeks of hard searching), I finally ended up buying one from Drs Foster and Smith about 5 years ago, before they caught on and became expensive. I only paid around 35.00 for mine and now they are 100 or more.

http://www.drsfostersmith.com/product/prod_display.cfm?pcatid=12195

And yes, People laughed at me, but I will tell you it was ONE of the BEST investments I have made for my dogs, and considering that against the cost, it soon became a "Thrifty" purchase!!
1) I was able to easily and quickly transport them from my car to the hotel room when I had to evacuate during a hurricane.

2) I am able to go on walks and enjoy myself without worrying about the health of my senior dog, who was turning my walks into "Drags", literally! lol

3) I was able to go on vacation two years ago to a 5-star hotel, and not make a spectacle of myself herding them through the lobby on tangled leashes.

4) I have saved my back a multitude of troubles!