By p (Guest Post)
August 9, 2005
1

found this helpful
Best Answer
Try one of the umbrella-style children's strollers (I bought one a couple of years ago at a yard sale for $5...and KMart sells them new for $12 or so) and combine it with one of the soft pet carriers that have recently been showing up at discount stores (saw some the other day at Big Lots, for approx $12-$14). Remove the fabric seat from the stroller and somehow affix the pet carrier to the stoller frame. Plastic cable ties would probably work, if there are some type of attachment points already affixed to the sides of the pet carrier. Good luck. Training your cat to walk on a leash might also be a viable alternative.
By Kathy K. (Guest Post)
August 8, 2005
0

found this helpful
I have a dog, not a cat...but...
How about putting a padded cage on a small red wagon??
By Katie (Guest Post)
August 8, 2005
0

found this helpful
they have pet strollers @ LTD Commodities. Go to their website and enter your home business (if you don't have one make one up). They're 29.95
By (Guest Post)
August 9, 2005
0

found this helpful
Why in the world would you want to put a cat in a stroller??? Makes no sense to me. If it is an indoor cat and you want to take it out for a walk, you can get a harness and put the cat on a leash, and take iot for a walk.
If you take the cat out in a stroller, the cat doesn't get any exercise at all.

July 23, 2017
0

found this helpful
My 11 year old shitzu gets tired quickly on my long walks but wants to come along, so I, for one believe the stroller works for pets like her. Maybe its the same scenario for the cat.

August 9, 2005
0

found this helpful
You could possibly take netting and velcro it around the sides of the stroller to keep kitty inside, although it's beyond me why someone would want to push their pet around in a stroller.
My cat used to enjoy going for rides in my daughter's doll carriage, in the family room. He also wanted to go for rides in the wheelbarrow outside, when she was a teen. The utmost care was taken.
A cat could ride in a stroller without netting, etc., if the cat is harnessed and a short leash is attached to the stroller handle and harness, care being taken for the cat's safety.
People that need to take their cat to the vet's and do not have transportation, can do so quite easily with a stroller.
I used to put my cat on a leash and try and take him for a walk. He used to walk part of the way, all over the place and never in a straight line. Then, he would get tired of it and lay down and refuse to get up. He got carried the rest of the walk :)
By Augie (Guest Post)
August 16, 2005
0

found this helpful
My wife and I run a small pet boutique and have a site that specializes in pet strollers. Thought I'd comment on a couple of things about pet strollers based on a lot of experience:


Lots of people are asking why use a pet stroller. Many of our customers don't feel comfortable walking a cat or have a cat that refuses to use a harness and leash. There are dozens of other reasons.

We tested the $29.95 model that someone referred to at LTD commodities and decided not to carry it. We won't offer a stroller in which we wouldn't trust our own pets.

Some of our customers have had mixed results with trying a baby stroller. Some customers have tried using an open baby stroller while keeping their cat on a leash but have found they need to keep things out (such as aggressive dogs) as much they need to keep their cat in. So, netting around the stroller is recommended. Also, be sure to create a comfortable area for your pet to sit or lay using a blanket or pillow. A blanket also helps so your pet can burrow underneath it in the event he or she wants some private time.
By STEPHANIE (Guest Post)
August 16, 2005
0

found this helpful
Karen,
You can find a pet stroller at www.abcdistributing.com for $29.95 plus tax / shipping / handling...comes out to about $40 more or less.
By Maxine (Guest Post)
August 29, 2005
0

found this helpful
I was browsing the Costco website for something else & came across this:
www.costco.com/.../Product.aspx?Prodid=10024029&whse...
and remembered seeing your post. Costco usually has more in their store than on the website, so I imagine they sell the bench separately in store, probably no more than $20-25 I would guess.
You could line the bottom with a soft blanket, and attach a longer push handle. Could also double as a car carrier if you have a van.
By shaggy (Guest Post)
November 4, 2006
0

found this helpful
I have been trying to figure this out myself.If you find a used stroller or buy one the key is to make sure it reclines so that the bottom is straight,coz some only recline half way.Then you can cover the part where the childs feet would go ,up to the front cup holder tray with material,even fun designed ones, and wrap it around the front and attach it to the sides.Then you can add mesh to the top visor and pull it down over the tray part.If you add velcro to the bottom of the stroller you can put the pet in like a baby then put the mesh over the top pulling it tight over the front and side and velcroing it on the bottom.The inside you can pad with a small bed or go to the craft store and buy cushion and cover it.

November 8, 2016
4

found this helpful
Best Answer
I just made a dog stroller yesterday! I got a Graco stroller for $20 from Craigslist and it came with the car seat. I laid the stroller down as flat as it would go, then wrapped some inch thick styrofoam with the fabric I took from the car seat. I just duct taped it on the backside to hold it in place and put it in the stroller bed to make the bottom level. Then I added a thin dog bed, just to make it more comfortable for my geriatric Boston. This particular stroller had a piece folded down on the seat area, that when I popped it up, provided a front for the stroller, effectively blocking the child foot area. I looped an old halter around the snack tray and attached a tether so my dog won't jump out, and I bought a yard of "sport mesh" fabric which I velcro'd to the hood of the stroller.
It hangs down like a curtain, the dog can still see out but it acts as a deterrent to jumping out and as my family put it, others won't think I have an incredibly hairy child. I can also roll it up and clip it with a chip clip when I don't want it down. We went for a walk yesterday and he loved it. This is a dog who rode on a golf cart on our farm for the first 5 years of his life, so he had no fear of this new ride. My other Boston, though, will take some time to get used to staying away from the wheels as he walks alongside.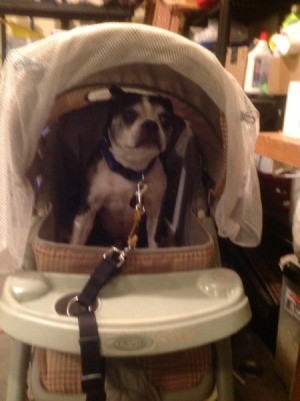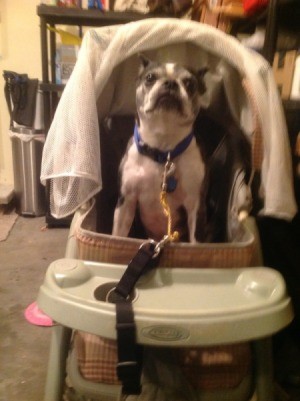 March 14, 2009
0

found this helpful
Has anyone else tried to do this? Converting baby stroller to a pet stroller? I am attempting to do this. I am going to buy a stroller that reclines all the way and try to accomplish this. For $25 used baby stroller, it comes with great suspension on the wheels unlike the dog stroller that you can buy for $100 isn't even great quality.
June 16, 2017
1

found this helpful
Bought my graco at a yard sale today for 12.00. It does lay flat so that's a good start. I'll see what I can do with it tomorrow. Our little Yorkie is 14 and we don't like to leave him home all day if we can take him along. This will be great for festivals, flea markets or at Oak Island. Too hot to carry him around, if he's walking I'm always afraid someone will step on him. This is going to be great for him and us.

August 6, 2011
0

found this helpful
I am now converting a graco, windsor stroller into dog stroller for my 50lb basset. They have some net laundry bags at dollar tree I will use for netting. They have heavy duty zippers at jo an fabric. Problem is she is so long, she does not fit. I have to extend the front of the seat outward. I was thinking of attaching some thin plywood. Then pad it with fiberfill, recover it.
I will post a photo when I am done.Remember you have to get a stroller that goes flat when reclined. Craigs list has cheap strollers.