I need food ideas that are easy to put together. This is for a surprise party for our pastor, right after Sunday morning service. There will be about 70 people there.

Goodday
By barbara day
Ad
---
Recent Answers
Here are the recent answer to this question.

By guest (Guest Post)05/20/2005
I'd recommend 2 large turkeys, (maybe a few extra packages of turkey legs) dressing (cooked separately) gravy, 2 large spiral cut hams, cut thin, 12 lbs sweet potato casserole, ask several people to bring salads, rolls and desserts, paper/plastic utensils.

The turkey, ham and salads can all be served room temperature. Only the gravy and potatoes would have to be heated.

I reciently catered a wedding for 70 guests and this plan (augmented a bit) worked nicely

By badwater [242]05/20/2005
Make up a big bowl of pimento cheese spread, maybe another bowl but with chicken or tuna salad. Have a variety of dinner rolls, so everyone can fix their own. Fix a big bowl of fruit salad. 5 Cup Ambrosia is really simple (1 c. each of mini marshmallows, pineapple, mandarin orange segments, sour cream, & nuts, stir & chill). Grab some chips & tubs of ready prepared dip. Pitchers of tea and lemonade, almost everyone likes. If you have fruit, you won't have to have cake or cookies, let the fruit go as either salad &/or dessert. Don't forget the paper plates, napkins, drinking cups, plastic cutlery, might as well make it as easy all the way around for everyone.

By Sharon,Ky (Guest Post)05/19/2005
I am assuming that since it's after church it will be a sit down Dinner. Bake and slice a couple of hams,make potato salads (mustard AND plain) macaroni salad,Baked beans. I'm not talking small bowls.It will need to be in one of the big aluminum containers that you get at Dollar Tree stores! Maybe a pasta salad. You get the idea. ALL this(and ROLLS) can be made in advance,and refrigerated - a no fuss meal. Pick him up a special cake and make punch. If it's a Pastor Appreciation thing, spread the word around that each person can bring an inexpensive gift for him. We did this one time and he got books, homemade cakes, and someone even brought him a big supply on his favorite candy bars.Keep tha meal simple so that its HIS DAY not just another church potluck.

By Jen B. (Guest Post)05/19/2005
The above idea is great! Another way to go would be brunch with an egg casserole--e.g. eggs, milk, cheese, crumbled sausage, and torn pieces of bread. Serve with sliced ham, muffins, biscuits, fruit, juices, and coffee.

By (Guest Post)05/19/2005
Bagels, scrambled egg casserole, sausages, donuts, coffee cakes, cookies, coffee and tea and orange juice.
By Monique [100]05/18/2005
Hello, what about an English themed 'High tea'?
That is basically an afternoon where scones and cakes and light sandwiches are served with pots of delicious English tea.
Keep it simple. Ask around for people to bring something for the table so you don't have to do everything.

Traditional English sandwiches are squares of sliced bread with the filling.Then the crusts are cut off and criss-cross cut into 4 triangles. Then displayed on a platter (usually with paper doilies-or paper napkins underneath) then turned up with the point of the triangle sandwich upwards. Like a Toblerone bar.

Fillings are light. Ham and French mustard (it's milder). Grated cheese and tomato. Egg and chopped cress & mayonnaise. Cucumber sandwiches are a tradition too. Not sure if you have heard of these. Peel the green skin and cut into thin rounds. Lay onto the sandwich and add a dash of salt. They are quite nice actually.

Have lots of little cakes- big enough for a couple of bites each, and not messy. Delicious biscuits and perhaps a flan and Trifles. You could include some quiches, individual ones or present some larger ones cut into slices.

Don't forget to serve traditional English scones with clotted cream and dollops of jam. (Raspberry or Strawberry are best).
And of course, lots of hot English tea served in cups not mugs. Have some coffee for those who won't drink tea.And for the children-make up beakers of squash (Dilute with water type).

Here's a site to give you some more ideas:

http://www.myhouseandgarden.com/English_%20Afternoon_Tea.htm

or try here:http://www.joyofbaking.com/EnglishTeaParty.html

Best of luck. I am sure it will be a great success whatever you decide to do.
Monique x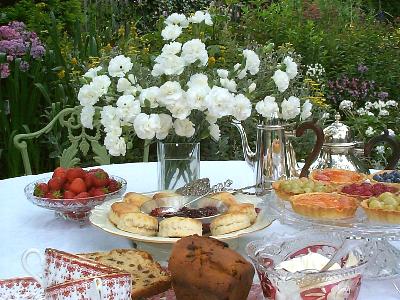 By (Guest Post)05/18/2005
We used to prepare just a big pot of curry/gravy to go with a big pot of fried noodles/pasta coupled with some finger food, salads and desserts/drinks.
Answer This Question
Add your voice to the conversation. Click here to answer this question.