W.h.i.s.p.e.r. (Persian Cat)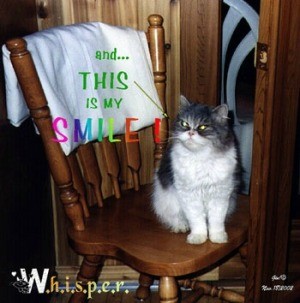 W.h.i.s.p.e.r. is a sweet stray, approx. 4 yrs old. She looks like a pure Persian according to vet. She adopted us. Stopped at our door and was in desperate need of care. She found the right home : )
She likes to play with moths, flies and any flying insect. This is usually done in a dim lit room. She also loves her tiny rubber ball and knotted cotton rope. There's NOTHING funnier than her 'wicked smile' ; ) A very quiet lady she is; barely whispers when she 'talks', hence her name.
By CanaGin from Canada
By CanaGin
Feedback
Read feedback for this post below. Click here to post feedback.

By
02/10/2007
ThanX for all the nice posts, folks!

I am doing just fiiine this winter with an incredible mane!

W.h.i.s.p.e.r

By
07/18/2006
She is precious. What a gift for you! Sometimes blessings come our way when we least expect it. What a cute name for her.

By
07/07/2006
Isn't it funny when she "talks"? I had one who did the same thing.

Whisper is so cute! Oh, and very beautiful. She did know she wanted to adopt you. Congratulations to the both of you!

Thank you so much for sharing her story and adorable photo.

Jennifer
Northren Virginia
Post Feedback
Add your voice to the conversation.