I need a creative, romantic, non expensive way to ask a girl to winter formal.
By Shaun from Cicero, NY
Ad
---
Recent Answers
Here are the recent answer to this question.

By liz01/15/2011
For formal, I got asked in the cutest way ever. When I opened my locker there was a giant sign saying "I though i would butter you up" with a stick of butter in it. Then when i was going home there was another sign in my car saying "before i popped the the question" surrounded by like 10 popcorn bags. When I got home there was yet another sign on my bedroom door saying " I'll let you sleep on it" and on my bed there was a pillow he had decorated with Formal? written all over it. I loved it!

By AVERY04/26/2010
So my boyfriend picked me up from my house out of no where wearing sweat pants and a sweatshirt and blindfolded me once I got in his truck. and told me it was a surprise. Him being my boyfriend, I trusted him. We drove around for a while and once we stopped he picked me up out of the truck and we walked for a while. Then when he told me to take the blind fold off. I was standing on home plate at his schools baseball field and around home plate outlines in flower pedals was a huge heart and he was all dressed up wearing a black shirt and tie and had flowers and said to me" hit it out of the park and be my date to senior ball?". And he had his buddy's playing fireflies by owl city in the background. I cried :) So creative. Oh and I said of course.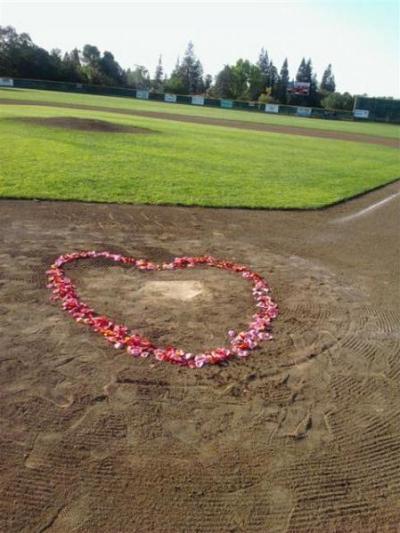 By Dena Roberts [31]12/08/2009
Yes, just ask! Save the flowers and chocolates for when you pick her up! Flowers for her, chocolates for her Mom.

By Kelsey12/05/2009
If your a musician or know a musician you can write her a song or have them write the song. Then get her a bouquet of flowers and chocolates and make her a big poster asking the question and have her friends take her somewhere where you'll be waiting and as soon as you see her start the music. My boyfriend did this for me for valentines day. I loved it.

By Joan [13]12/05/2009
I have to agree with Suntydt. So many people think you have to do something unusual, but there is nothing wrong with the old fashioned way.

By Suntydt [75]12/04/2009
The cheapest and most effective way is just to ask. "I would be honored to have you accompany me to the Winter Dance."
Archives
Thrifty Fun has been around so long that many of our pages have been reset several times. Archives are older versions of the page and the feedback that was provided then.
I need some ideas on a sweet way to ask a girl to a formal dance. Any help?
I need some ideas on a sweet way to ask a girl to a formal dance. Any help?
Josh from Riverside, CA
Answer This Question
Add your voice to the conversation. Click here to answer this question.