Here are some great ideas from previous years on how to ask a guy to a formal dance. Each school has it's own name: Sadies, Tolo, Sweethearts, Morp, etc. but usually the girl is supposed to ask and pay for everything. Over the years, the ways to ask have gotten more and more elaborate. Post your own ideas below but be sure that they are not too expensive, complicated, messy or dangerous.
Scavenger Hunt
My son just asked a friend to a dance using a treasure hunt. He placed clues in different locations: at a friend's house, a movie theater where he knows the manager, a park, and included a riddle in each one that sent her to the next location.

After she had gathered all the clues, she went home where he had left a poster asking her to the dance, but she had to use the clues she gathered to figure out the poster.
The clues were:
a piece of rope with two knots in it (for Knots)
a small stuffed bear holding a scrabble tile E (for Berry)
a stuffed snowman (for winter)
a matchbox car same make as my son's car
a little dancing girl figure (for dance)
The girl responded by baking a cake with a message in it that sent my son to a line on a page in a specific book that said "Behold, my answer is Yes!" He loved it.

Other ideas:
One of my son's friends rewrote the lyrics to a song and recorded himself singing it to ask his date to prom
Make a cookie the size of a pizza, use Nestle dough and a pizza pan. Write your invitation on the cookie in frosting
Create a candy-gram on a poster board using candy to make the message ("Since you are such a [have a Big Hunk bar]...) Use any candy that works: Sweet Tarts, Kisses, Starburst, etc.)
Have fun.

By Gwen
Just Ask!
This young man is going to be flattered that you are asking him. Don't try and be creative, Just be your self. You are perfect as you are.

By ang
Shower Him With Roses
There are many cute ways to ask guys to dances. But it all depends on how close you are to him and how you feel about him. For example, cover his room with rose petals and tell him "Now that I have showered you with roses, will you dance the night away with me?" This one is fool proof and has a 90% success rate. Be yourself and have fun. Good luck.

By Hailey
Some Great Ideas
I know lots of ways to ask guys to dances:

You can send a rose to each class and then at the last one be there with the last rose and ask them to the dance
Write it in chalk on their driveway
Write in on their car
Get a police officer to give you a ticket or something, and leave the note on their car, that way when they get to their car, they'll think they have a ticket, but really you're just asking them to the dance
Announce it on the intercom
Scavenger hunt
By songs about jane
Wash And Find Out
One time when I was asking a boy to a girl ask guy dance, I took a plain white shirt and covered it with names of a ton of girls at my school, then on the poster board that said "Will you go to Sadies with me?" there were the instructions telling him to wash the shirt and find out who is asking you. My name was the only one written in permanent marker. He loved it.

By Katy
Fortune Cookie
Get a fortune cookie, stuff a note in it that says "A beautiful young lady (or handsome young man) will ask you to (name of dance.)" Hand them a single rose and pop the question.

I've heard that if you microwave a fortune cookie, you can get the original fortune out and stuff your newly printed fortune inside it, but I've never tried that method.

Successful Ways To Ask
Hey these ideas are way good. Here's some I have used.

Get a box of Lucky Charms and write on it. "I'd be the luckiest girl in the world if you went with me!"
Cut out pieces of paper in heart shapes and say "I'd have a heart attack if you didn't go with me!"
Give him a box of Swedish Fish and say, "Of all the fish in the sea, will you go with me?"
Hope that helped some of you guys because your ideas really helped me. Have fun on your dates.

By Em
Key to my Heart
I went to my junior prom with a guy I wouldn't have gone with just because he asked me in such a sweet way that I thought, "Hey I'll give the guy a chance". If he pays this much attention to me now, imagine what he'd be like if I got to know him.

He went to every locker in the hall and put a heart he had cut out of red construction paper over the lock. So it fit like a light switch plate. Then he left a note with the key to his locker and a rose taped to my locker. It said, "Maybe you might have overlooked me in the halls in the past. But take this key and follow it to find me and unlock my heart." I took the key and tried it in every locker, being cheered on by the entire school, who took just as much interest in finding out what was going on. When I got to his locker, it of course opened. There was a tape player that said "Play me". It was playing the classes Prom song. He was standing behind me and tapped me on the shoulder. And said, "Can I have this dance? And if I promise not to step on your toes will you go to Prom with me?"

Well I had already been thinking about going with a guy who had asked me months ago, but he was so charming I said yes. We had an amazing time and I don't regret it for a second. Just be genuine and you'll be liked for who you are.

Keep It Simple
The best way to ask him to a dance is to ask him straight up. Men (boys) are a little slow sometimes and may misunderstand you any other way. With the guy I asked to my school's dance, I tried a creative way of doing it and he got confused. After I asked him plain and straight, he understood me and said yes. This is the best way to go. Good luck.

By Sara
Easy, Fun Ideas
I asked a guy by playing hangman once. Another time, on his birthday, I got him a pinata and had him bust it open with his favorite candy and a note asking him to the dance. Never ever got a no.

By Shay
Cute Sayings
Alright so I read this in a book, but I thought these were the cutest ideas (the first idea being the best, which I will soon try with my bf):

Write "It would be Mounds of fun to go to (prom) with a Big Hunk like you. I'm Bursting to know your answer. Don't Blow it, and give me a call." Leave your name and number. (** CANDY-MOUNDS, BIG HUNKS, STARBURSTS, and BLOW POPS.**)
My sister asked a guy out by putting cinnamon rolls in a toy dump truck and then she attached a note that said, "I'd like to haul your buns to the Sadie Hawkins."
My cousin asked her date to prom by stapling a pair of Superman underwear to a poster and writing on it, "I'll be brief, come with me to the dance."
Put a baby chick in a basket with a note that says, "This chick would love to go to prom with you."
Hope this helps and good luck girls.
By Lauren
Asking A Friend
"I'm not looking for kisses,
I'm not asking for hugs,
Just a sparkling night
with one of my buds."
Then you get Hershey Kisses and Hugs, a bottle of sparkling cider, and a rose bud. Then you put your name as one of the papers in the Hugs or Kisses. Make sure to leave a hint of where you hid you name.

By Alison
Any Questions?
One day in chemistry, my teacher was finishing up a lecture. Before the class ended he asked if anyone had any questions. This kid in my class raised his hand, stood up, turned to the girl to his left, and said "Well, actually, I was wondering if Sara would go to prom with me" I thought it was sweet. Oh, and she said yes.

By Yugi
A Bunch Of Great Ideas
Here are a few ideas that my friends and I have used in the past:

I made the guy a CD and on the front cover I had a list of all the songs. The first letter of each song spelled out "TURNABOUT?" vertically.
I had the office send a pass to the guy during classes that said he had to go see the principal. Of course, he was totally freaked out. When he got to the office, I had set up balloons in our school colors and there was a big sign asking him to turnabout.
My friend used tweezers to take the fortune out of a fortune cookie and insert her own fortune that said "Confucius says that you should go to turnabout with ___." She put it in a Chinese carry-out box and had it delivered to his class.
Another friend taped a bunch of Smartie candies to her pants. The guy she asked is super smart so she went up to him and he was totally confused as to why she had candy on her pants, then she said, "If you're really as much of a smartie pants as everyone thinks you are, you'll go to turnabout with me."
Also, my guy friends like it when A. girls decorate their rooms B. girls bake them food that spell out "turnabout?" and C. when it's totally unexpected

Good luck with that.

By Anastasia
Prince Charming
This one worked for me. Make a card and in the front write "Prince?" And when he opens the card, write:
"Every Princess needs her own Prince Charming
Won't you be mine,
Well just for one night?
Winter Formal?"
By Sarah
Slip Him A Note
These are some great ideas! Here's what I did last year for homecoming:
I liked this guy, and we both worked at the local movie theatre, where we have to add up whatever the customer orders in our heads, so I knew all of the prices for everything. Well, I was too shy to ask him in person, so one night, when my mom and I went to a movie, I got the exact change for my concessions, and wrapped up a note in my money that said "I know it's kind of cheesy, but I would totally love it if you went to homecoming with me!". The next day, after marching band practice, he said yes.

By Amanda
Answers:
Asking a Guy to a Formal Dance
This is a cute way to ask a guy to a dance.
Have a day where you and the guy hanging out and then play thumb war and say "1234 I declare a thumb war, 5678 will you be my snowball date". (11/10/2007)

By Sally
Asking a Guy to a Formal Dance
This is what I did my freshmen year. I got a huge box and put pink balloons with pigs drawn on them. Then on the top of the box I put a cute little sign that said "my mom said I could ask you to sadies, the day pigs could fly", then when he opened the box, the balloons with the pigs on them flew up. On the bottom of the box it said, "Look at that pigs are flying". He totally loved it and had no other choice, but to say yes. (11/23/2007)

By RaCC
Asking a Guy to a Formal Dance
One way I asked a guy to a dance was, I sent a stick of butter to 3 of his classes. Nothing special on it, just the butter, then his last class of the day I gave him popcorn and on it, it said, "Now that vI'e buttered you up, I wanna POP the question. Will you go to sweethearts with me?" Then I hid my name in the popcorn. It's just kinda a fun way to ask. It worked, he said yes. (11/27/2007)

By pinkjade
Asking a Guy to a Formal Dance
Last year I asked my boyfriend to morp by using sticky glue and glow in the dark stars on his ceiling above his bed spelling out morp. When he turned the lights off he saw it and left it up for about a year. (01/02/2008)

By Jackie
Asking a Guy to a Formal Dance
This is an awesome way. Put a bunch of balloons in the trunk of this car, and a sign inside that says "will you go to the dance with me?" so when he goes to unlock it the balloons fly out and he sees the sign. (01/11/2008)

By alybee101
Asking a Guy to a Formal Dance
If he's on a sports team, while he's running laps, put signs up along the track or field saying "Name", "WILL", "YOU", "GO", "TO", "SWEETHEARTS" "WITH" and instead of just putting the last sign up, stand there holding the "ME" sign (01/11/2008)

By Claire
Asking a Guy to a Formal Dance
My boyfriend is really into playing the guitar, so when turnabout came up last year, I decided to make a guitar-shaped cake (they have guitar baking pans) and decorated it like his favorite guitar. I then attached a sign to the plate saying "it would rock my world if u went to turnabout w/ me" and I put my name. He absolutely loved it. (01/12/2008)

By Katie
Asking a Guy to a Formal Dance
I once asked a guy to girls choice by making 4 little cards. On the front there was the MasterCard symbol and on the back each one said something different:
said "dress; $87.00"
said "shoes $65.00"
said "tickets $30.00"
said "going to girls choice with you; priceless?"
He said no though, but it was cute.(01/14/2008)

By Claire
Asking a Guy to a Formal Dance
I was a little upset over a recent love issue and my Sadie Hawkins/Winter Formal came about. Instead of moping around over the loser guy, I decided to just ask a friend, but make it really platonic.

I bought a bag of Dum Dums and wrote on them, "Don't be a Dum Dum, go to winter formal with me".
He loved it, and now all of us girls are making up cute ideas to ask our guy friends/boyfriends. I say just really have fun with Sadie Hawkins, it doesn't have to be a romantic night, just ask a friend and dance the night away. (01/16/2008)

By Courtney
Asking a Guy to a Formal Dance
I was at my soon-to-be-date's house just hanging out. I decided to have a friend distract him and I went upstairs, wrote in lipstick on his bathroom mirror "turnabout?" xoxo_____. I then suggested we play hide and seek. I told him he was my partner and ran to hide in the bathroom. When my friends found us, they switched on the lights and he saw it. He was so flattered.

Another friend asked by putting a note that said "turnabout" inside a balloon and taping it on his bedroom door. On the outside of the balloon it read "Pop me", so he did the the note popped out. (01/16/2008)

By Emma
Asking a Guy to a Formal Dance
If you have a dress to wear to the dance, buy a tie that matches it. Write a note to the guy that says "here's a tie to match my dress, will you go with me to Winterfest" or another cute rhyme. Then pack the tie up along with the note and mail it to his house. My sister did this and I thought it was adorable, her boyfriend was surprised. (01/17/2008)

By Codi
Asking a Guy to a Formal Dance
My boyfriend is into extreme hairstyles, and sometimes it tends to be on the messy side. So for homecoming I bought a box of "Honeycomb" cereal, put his picture on it, tied balloons to it and wrote under "Honeycomb your hair cause we're going to Homecoming!" He loved it. (01/19/2008)

By Princess 1989
Asking a guy to a formal dance
Here's a couple ideas:
Get one of those tubs of butter and mix it up so it looks like you put your name or something inside. Then put a note with it that says "Search the butter to find out who's asking you to the dance." Later have someone give them popcorn and a note saying "Just thought I'd 'butter you up before I 'popped' the question!" When I did this I just gave the popcorn to him myself, he knew it was me anyways. It was funny because he had to change his shirt; he got butter all over looking for my name.

If they have a seminary class talk to their teacher and ask them to make the person you're asking to read the scriptures for the devotional. Assign a scripture to read that doesn't exist. When they tell the teacher it's not there have him say (with his scriptures out too) "Oh really? Cause it says here, 'And it came to pass that [your name] asked [their name] to the upcoming dance'." Or something along those lines.

Go to their math teacher and have them ask a "math" problem in the middle of class while they're lecturing everyone. Have them say "If [your name] were to ask [their name] to the dance, how long would it take them to respond?"

My sister's friends were driving once when a cop pulled them over. The cop told them to get out of the car and started to handcuff them. They were almost in tears until he shoved a contract in their face making them sign it saying they would go with these two guys.

Buy a whole bunch of plastic knifes and stick all of them in the person's yard. Make a huge sign saying "Let's 'cut' to the chase. Will you be my 'knife' in shining armor and go to the dance with me?"

Give them a box of Honeycombs that say "Honey, comb your hair 'cause we're going to the dance!"

Buy Goldfish or Swedish Fish and the game of Go Fish. Write your name on the cards with the order they go in on the corresponding card. Have a card that says "Out of all the fishies in the sea, will you be the one to go to Sadies with me? To find my name you have to 'Go Fish!'"

To respond to someone give them a jar of Skittles that says "Count all the Skittles. If there's an even amount my answer is yes. If it's odd, eat one."

Another way to respond is give them a football with a note that they have to decipher. Have it say "Did you think I would 'pass' to go to the dance with you?"

I can't remember exactly how this one was done, but cover a phonebook on a plate with frosting and stuff so that it looks like it's actually a cake. Find your number in the book and circle it with red. Have a note saying something along the lines of "Will you go to the dance with me? My number is in the cake!"

I had an Austrian exchange student last year, and I got to help her ask a kid to Sweethearts. We wrote her name down and cut it up and mixed it up in a package of flour. She drew a flower over a picture of wheat, and added an S so it said FLOURS. She had a note that said "I heard I should buy flours for the dance so I went to the store and asked for some." It worked for her because English was a second language for her (she spoke it incredibly well though. Oh well).

My friend gave a guy a captain's hat with a rolled up paper attached to it. It said "X marks the spot, just look for DJL." She wrote DJL (Davy Jone's Locker) and a big X all over her locker, and rigged it so that you could open it without a combination. He just so happened to walk by the locker later that day and looked inside. She had made a treasure box filled with "gold" coins and an eye patch (the patch was an inside joke). Inside was her name and a note that asked him to the dance like "ARRR you available for Sweethearts?" I'm not sure exactly what it said.

My friend asked this kid who in return drew a penguin (her favorite animal) with a quote bubble that said "YES." He made it into a puzzle and gave her all the pieces to put together except for the one piece that had his answer. There was a riddle that he gave her that told her where to look for the last puzzle piece to know his answer.
I have a couple more ideas, but I think this is definitely enough. Good luck ladies. (01/20/2008)
By Emerlie
Asking a Guy to a Formal Dance
OK, so take chalk and go to his driveway and outline your body on the driveway and then get those orange cones and caution tape and put it around the outline of our body. (like a murder scene) Then write "I'll die if you don't go to turnabout with me."
(01/27/2008)

By Random
Asking a Guy to a Formal Dance
Those are adorable. However if your asking a guy, I think you should get chocolate kisses and shower his room with them like on the floor and bed and on poster board write: "Now that I have kissed the ground you walk on and showered you with kisses, would you go to ________dance with me?" (01/29/2008)

By Rachael
Asking a Guy to a Formal Dance
So all I did was make a t-shirt. On the front, it said the guy's name and on the back its said "turnabout" with a question mark. (02/02/2008)

By he makes my day
Asking a Guy to a Formal Dance
Make him a cake and spell out turnabout or whatever, but make it in a heart shape. He'll love it. (02/03/2008)

By baby
Asking a Guy to a Formal Dance
Just come out and say it. Guys don't need all the bells and whistles of courting and wooing them. Just ask them out. They won't say no. They will be so surprised and glad you asked.
(03/28/2008)

By Audree
Asking a Guy to a Formal Dance
I asked my boyfriend to a dance by making a book about a fairytale and leaving it on his car with balloons and bells on his antenna. The book said "Once upon a time there was a princess named ____ and she had the most wonderful boyfriend in all of the land, prince _____". The next page said: "There was a ____ dance ball to be held on _____ and princess _____ desperately wanted her prince charming ______ to attend this special evening with her". Then it said: "If prince____ accepts, he will wear this crown and come to her doorstep tonight". (I got a plastic crown and attached it to the back of the book).

He said yes, of course and showed up with a single red rose, the crown on, and the cutest part was that he had one of those horses that is on a stick. It was the cutest thing ever, he is truly my prince charming. (04/19/2008)

By Blair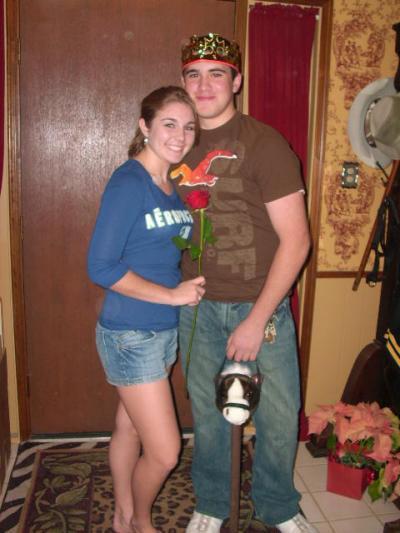 Asking a Guy to MORP
Get pieces of red paper and roll it to look like dynamite then glue them together, put your name into one of them and on the outside of them write "It would be a BLAST if you went to ___ with me!" and have them take apart the "dynamite" to find your name. (07/15/2008)

By NO!!!
Asking a Guy to a Formal Dance
I've got an idea for you that my friend did. It's so cute.
He went to Build A Bear and made her a bear and put a voice box in it and said "will you go to homecoming with me?", dressed it in a tux and put a name tag putting his name and bought a Bulid A Bear dress and a sign that said "now the only thing that's missing is you! and going without you would be un'bear'able." Totally the cutest thing freakin ever. (09/10/2008)

By yeah
Asking a Guy to a Formal Dance
When I asked my good friend to winter formal and he loved it. Our winter formal is in December so I did like a little Christmas story. I bought fake snow like cotton and stuff and put it all over his front yard and I had his best friend be like the narrator of the "story". His friend was dressed up like Santa Claus and there was a huge box in his front yard, that's where I was, inside the box. It was wrapped like a present.
The story was like: "once upon a time a girl and boy became friends in elementary school". And then he said, "Their senior year she gave him a huge present". And the "Santa" told him to go open the present and I popped out with a piece of posterboard that said "winter formal?" and he said yes. It was so cute.(10/01/2008)

By Elayne
Asking a Guy to a Formal Dance
Super cute idea: You laminate a note that says : "now that you've melted my heart, will you go to formal with me?"
Then you freeze it in a heart shaped pan so when the ice melts they get that note. That's what I'm doing. (12/08/2008)

By Elisha
Asking a Guy to a Formal Dance
My boyfriend asked me to homecoming last year by writing "H C ?" in candles on my driveway. At midnight told me to go outside of my house. I was really confused so opened up my door and walked outside to find my boyfriend standing in my driveway with the candles. It was so adorable. I was so surprised and of course I said yes.
(01/02/2009)

By Carly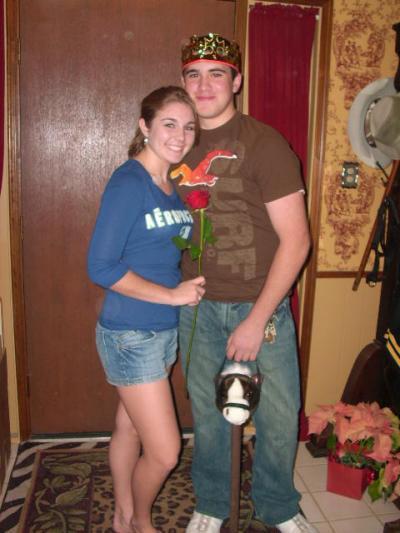 Asking a girl to a Formal Dance
He put a mirror in my locker and and said "mirror, mirror on the wall, you would be the best homecoming date of them all" and had two arrows and I was looking at me, ha ha. It was so cute I loved it. (01/05/2009)

By CHELSEY
Asking a Guy to a Formal Dance
To ask a guy to a dance I went around town taking pictures of me doing funny things and put them on a poster that said "now that I've shown you all my sweet skills will you go to the dance with me?" (Napoleon Dynamite reference) (01/19/2009)

By Makenzie
Asking a Guy to a Formal Dance
So to ask my boyfriend to winter formal at my school, I got a bag of his favorite chips and cut the bottom open and took out all the chips. Then I re-stuffed it with pieces of paper that said "will you go to formal with me?" and resealed the bag with glue so you couldn't tell it had been opened.

When I gave him the bag, he ripped it open and reached inside, but instead of his favorite chips, he found my notes to him. He gave me the biggest smile ever and hugged me tight saying it was the best bag of chips he'd ever gotten and he'd love to go with me. Good luck girls. (01/28/2009)

By Bailey
Asking a Guy to a Formal Dance
A few ways to ask a guy/girl are:
Get a cardboard cut out of Arnold Schwarzenegger and then get a sign and write "come with me to ____ if you want to live." Kinda weird, but still funny and catchy.

Set up a table thing kind of like a lemonade stand and have a little circus/fairgrounds game set up (like knock down the pins or ring toss) have potential date play game then once completed offer him/her a choice of prizes, like a teddy bear, a cookie, or mystery dance date. They'll most likely pick the date and the person working the "booth" reaches down and pulls up the date. The asker should be holding flowers or something. (02/01/2009)


By Kelsii

Asking a Guy to a Formal Dance

So a whole bunch of girls asked guys to Sadie's and they spelled it out in rocks on the street. Then they said come give me the rock with your answer on it. Then the girls wrote "no" on a huge rock that they couldn't lift and "yes" on the smallest rock. (02/02/2009)


By guest