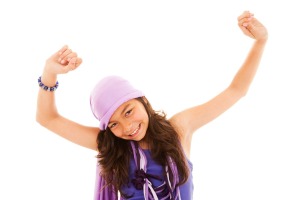 We are having a dance at my school on May 4th. I am chairperson of this dance and that date is my birthday. I want this dance to be the most fun yet. It is 6th-8th grade dance. I don't want a Cinco de Mayo theme or a formal. Does anyone have any good ideas?
Nikki from Sacramento, CA

Answers:
Dance Theme Ideas
Just a two suggestions for your dance:
luau type theme
blast from the past (sock hop, 50s, 60s, 70s, or 80s, etc.)
Hope this helps some. Have fun and enjoy yourself.
(04/12/2007)

By Darlene
Dance Theme Ideas
I am having a Grecian themed party for my 15 year old son in one week. Everyone, with proper undergarments, will wear a sheet, we will have columns placed randomly, finger food, soda, and water. I have collected prizes for the best toga, a dance contest and things like that. I asked the teens what they wanted to do and that ensures that all will have fun. (04/13/2007)

Dance Theme Ideas
I was thinking maybe a "What I Want to be When I Grow Up" dance. You could come as a teacher or doctor or any profession, and make it fun too. If someone wants to be a lawyer, they could carry a briefcase and "talk on their cell phone". A doctor could go around diagnosing everyone. You could ask the chaperons (do they still have them?) to dress as the profession that they wanted to be when they were your age. You could have fun with this, I think. Anyway have a great party.
Heather
(04/13/2007)

Dance Theme Ideas
Since "Dancing with the Stars" is big right now that could be the name. And fill the room with twinkle lights (white Christmas lights) all over the ceiling, etc. You could also make big elaborate stars to hang everywhere. This could really help keep it simple and affordable. (04/14/2007)

By Sarah
Dance Theme Ideas
My son's church just did a dance for the youth with the theme of Super Heroes. They decorated the room with different super heroes and kids came dressed as their favorite one. (04/16/2007)

By threegetts
Dance Theme Ideas
Dances are extremely fun, even more so when they can be really pretty. A great theme is "Starry Starry Night" or "A Night on the Town", or "The City at Midnight", (only without all the creepy characters like muggers). All of the focus is mainly the same. Lots of stars around and black and blue streamers, white Christmas lights and twinklie (once again not a word, but I'm almost done) things.
The planning board (or at my school it's student council ) can make small buildings with lights and bridges and stuff out of cardboard, paint them black with white and yellow windows. It's extremely easy to make, just takes a bit of extra time. (06/27/2007)
By Withheld
Dance Theme Ideas
Starry Night was used a lot this year, but I think fire and ice colors would be cool. I hope that helps a lot. (12/21/2007)

By Jamie
Dance Theme Ideas
Have an "school name" Idol theme dance. Students enter, ask them if they'd like to fill out a ballot to sing in front of everyone like they would on American or Canadian idol. On the hour, one person preforms and then 3 representatives from student council could be Simon, Randi, and Paula. They get judged. At the end there can be a prize for the "school name" Idol. Cool decorations and stuff all around and an autograph table at the end for the participating people. It'd be a cool night. (02/04/2008)
By jaypraught
Dance Theme Ideas
Black Out dance
Marti Gras
Hollywood Night (have like a red carpet)
Hawaii theme
Night in Paris
(02/27/2008)
By Susie
Dance Theme Ideas
My school had a Black Out Party and it was so much fun. We did all Black streamers, balloons, and we even blacked out the windows. And in the middle we had one Gold panther (our school mascot.) (04/18/2008)

By Hannah
Dance Theme Ideas
I live in Australia and I have a dance coming up in May sometime, our theme is "Aussie, Aussie, Aussie". But these themes are great. I'll let you know how it goes.
Gender swap (man, I love this one)
Emos and Barbies
Superheroes and Villains
Nerds and Jocks
Rockstars
Old School
Bring back the 80s
The Haunted Mansion (people can dress up as ghosts and zombies and all that)
The Future
Greasers (like the people off the musical Grease)
Our school has done all these and I have been to every single one of them, and I have to tell you they are all great fun. I recommend all of them. (04/29/2008)

By Linden L.
Dance Theme Ideas
A good idea for junior high dances is to have a member of the high school student council be your DJ and have a computer hooked up to speakers. Let kids request songs and play edited versions off You Tube. It works great because everyone gets to dance to their favorite songs. (05/06/2008)

By metoknow
Dance Theme Ideas
Well, we have church dances and here are some themes we do:
Blast from the Past
Summer Fun
Western
Hollywood
movie themes (High School Musical, etc.)
Or you could do school colors, look online for random holidays, and country themes like France, Cuba, Canada, etc. I hope I could be of some help. (06/20/2008)
By Olivia B.
Dance Theme Ideas
We did the Olympic theme last year and it was amazing. All the kids came dressed in their favorite sport attire. We even had the principle run into the school to the theme music with a torch to light the fire and start the dance. We had pictures and info of previous and current Olympiads all around for decorations. The Olympic training center in Colorado Springs lent us some wonderful banners and great giveaways. One of our best events yet. (09/24/2008)

By Heather
Dance Theme Ideas
Dirty dancing
Guys and Dolls
Saturday Night Fever
Strictly Come Dancing
Blues Brothers
Clowns
Genies
(12/02/2008)
By Stephen
Dance Theme Ideas
Cinco De Mayo (Spanish for fifth of May).
Have a fiesta. (12/09/2008)

By Erin L.
Dance Theme Ideas
Well our school has done:
Mardi Gras
Masquerade
Geek
Glow N the Dark
Old School
N.Y Fashion Week
Night in Paris
Disturbia
Black and White Party
(02/14/2009)
By Ryan
Dance Theme Ideas
We did:
Beauty and the Geek
Sadie Hawkins
Winter Snowflake Dance
Spring Fling
(03/30/2009)
By Kitty-Kat
Read More

Comments

I am in charge of my middle school (6-8 grade) dance and I have a lack of ideas for the decorations, games, and what should be played. Keep in mind this is a Halloween dance.
Answers

Ana
Bronze Post Medal for All Time! 140 Posts
September 6, 2019
0

found this helpful
Because this is fall time,have carnival type games and decorations.Think state Fair(coin tossing,ball and pins,darts for prizes,dunking tank,and maybe a dance off for prizes!

Judy
Gold Post Medal for All Time! 677 Posts
September 6, 2019
0

found this helpful
We have this in our school to have a safe Halloween. Some schools do a trunk Halloween. Parents put candy in their car trunks and kids go from car to car. Make sure you have plenty of great music, too.

Pghgirl40
Bronze Feedback Medal for All Time! 196 Feedbacks
September 7, 2019
0

found this helpful
This sounds like fun!!
I would keep it all simple and kid appropriate. Kids are not much for a bunch of decorations and gee gaws. They just want to have fun and be with their friends. These are awkward years so if you keep it low key and approachable, the kids will love it!
I would focus mostly on the food (finger foods like chicken fingers and tater tots), veggies and dips, chips, and apples (very fallish!), Also cute cupcakes or Halloween style cookies.
For decorations...maybe some colorful mums in pots that the chaperones can take home after (as a thank you for their help).
For games....if you can get things like corn-hole boards that may work...where you toss a bag filled with dried corn into a target (like skeet ball). This may be a regional thing where I am, so if you don't know what it is, post back and I can find you some examples. Offer prizes for high scores.
The other thing they may like are not games, but a photo booth where they can get silly (get a bunch of fall themed things for them to dress up with and either use the new Polaroid cameras or have someone with a digital camera take and print them on the spot. We were at a party where they rented a real photo booth machine and we got bookmarks with our photos (it was very cool)! The line among the kids was crazy long (these were 13 year olds).
You could also set up little booths with whichever electronic games kids like these days--(you know the consoles on a screen). Have prizes for the highest scores for each round. Maybe some of the parents could bring their home systems and then volunteer to watch the booth and chaperone.
Post back what you decide!! Thanks for asking!

September 8, 2019
0

found this helpful
Youtube Halloween music. "Monster Mash" comes to mind, of course.
If there's enough room, maybe you could make a mini-haunted house. I'd go for scares, but no blood or gore, but that's just me.
Answer

this Question