I just moved in to my new home but I have a problem. The hard wood floors are super slick! They are the original floors and great when you wear rubber soled shoes but we have a house rule of no shoes in the house.

Seeing as how the house is rented, how (besides resorting to sanding the floors) can we give our floors more grip. I found some nice half area rugs (the old display ones for the store) at the goodwill in Bakersfield and was wondering how can I keep them from slipping out from under us?

Marisa from Santa Maria, California
Ad
---
To keep your area rug in place you can buy rug liners meant to go between a rug and a hard surfaced floor. Both Lowes and Home Depot sell them.
By (Guest Post) 03/01/2008 Flag
A very inexpensive solution might be to purchase gripper socks (just like the footies they give you in the hospital to avoid slips). They are likely on clearance now as they seemed to be more of a seasonal item in the sock department. You may even want to purchase several extras and keep them in a cute baskets by your exterior doors for guests. I know I would be grateful to any hostess who might offer them as opposed to a slip and fall.

Do explain the reason for the offer first however, as if you hand a guest gripper socks without an explanation, one might assume you care more about floor protection than safety. Also, don't wear panty hose or nylon socks as they are very hazardous on hardwood. I learned this the hard way walking down our finished wooden staircase.

In the summer, buy everyone in your household a pair of cheap flip-flops for indoors only, so you don't soil the bottoms of the soles,outdoors or just go barefoot. I do not have a wise answer for summer guests except to offer that you don't mind if they go barefoot to avoid slipping. Hope this helps. K
By Corrie Wilder 1 03/10/2008 Flag
Hi, i apologize in advance if this seems like spam, but I recently invented a product called GRIPPIES that totally solves your problem... (it's in my profile, http://www.grippiesonline.com/home.html) When adhered to the bottoms of socks, tights, stockings, whatever, GRIPPIES makes a non-slip surface much like those pre-made grip socks, only they're better--because they provide traction on slippery floors, but are not too sticky to slip into a shoe comfortably.

We've been getting great feedback so far, if anyone would like to try it, go to the site and please use coupon code MOTC10 for 10% off 2 or more sheets of GRIPPIES. Any feedback is so helpful as we are always trying to improve upon our product. Thanks!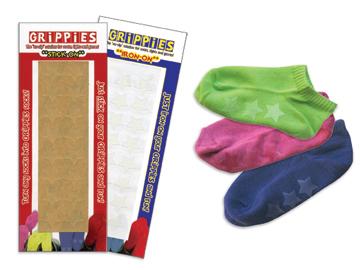 By June (Guest Post) 03/28/2008 Flag
My elderly mother had her hardwood floors polished with Armorall by mistake. Talk about slippery! this happened almost one year ago. She is managing with rubber soles but the poor dog, who is also getting on, is slipping and falling all over the place. We've tried vinegar without any success. Any suggestions?
By Susie (Guest Post) 04/03/2008 Flag
Dear All, I have product which calls add a grip, quality made proven of Australia. It is simply mop over on wooden floor once a week. For more info, please visit www.floorsafe-indonesia.com or you may contact us at info AT floorsafe-indonesia.com
HI,

I have good product which is simply to be installed. It calls floorsafe add a grip. It is specially made to prevent slippery problem on wooden and vinyl floor surface.

or visit the website www.floorsafe-indonesia.com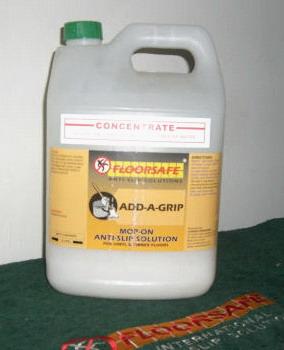 Archives
Thrifty Fun has been around so long that many of our pages have been reset several times. Archives are older versions of the page and the comments that were provided then.

My wooden floors upstairs have suddenly gotten very slippery (even I've had a fall!) I've tried cleaning with soap liquid in warm water and just water on its own - but no luck! Any ideas?
Sue from UK
Answers:
RE: Slippery Wood Floors
Try using equal parts of good Ole' vinegar and water. Spray and mop.
Good luck!!!! (03/29/2006)

By Lorraine
RE: Slippery Wood Floors
Be careful about using furniture polish on your furniture. If it sprays over onto the floor it makes the floor slippery. Also, spray starch or sizing used when ironing makes that happen. I only use a Swiffer with a dollar store wet wipe on the bottom to clean my wooden floors. Its the best! (03/30/2006)

By Carol in PA
RE: Slippery Wood Floors
Spray any window cleaner pump spray product, like Windolene, preferably with vinegar and simply wipe up with a damp mop your floor will be much less slippery (09/19/2007)

By Rob
RE: Slippery Wood Floors
I've successfully used SKID SAFE WaterBased Sealer/Finish with ND AGGREGATE TM to end my hardwood floors and steps from being slippery when wet !
See www.ndclean.com (02/15/2008)

By knightf6