How do I get an old water spot off a solid oak kitchen table (light wood)?
By Onesummer
September 10, 2009
0

found this helpful
You might want to view 'Restor-a-finish.... should be at Home Depot..
September 11, 2009
0

found this helpful
I just had the same problem on my teak dining table. I put olive oil on a paper towel and rubbed it in then left the towel on the spot for quite a while. It disappeared!
September 11, 2009
0

found this helpful
RE: Heat Marks on Wood Furniture
I have found the best way to get rid of the white rings from heat or moisture on furniture, I have tried with no luck using Mayonnaise, cigarette ashes, toothpaste, hot iron and towels and what I have found that works is the Mr. Clean Magic eraser dampen the eraser rub gently with the grain of the wood and then polishing as usual, I happen to like Armor All as a furniture polish, if it's not a bad white mark the magic eraser will removed it completely, if it solid white you may have to do it several times It may leave a bit of a ghost but that's still better than having a big white mark.
This was not a bad 1, you can see on the right it's gone. Now that I know how to fix them nobody's making them.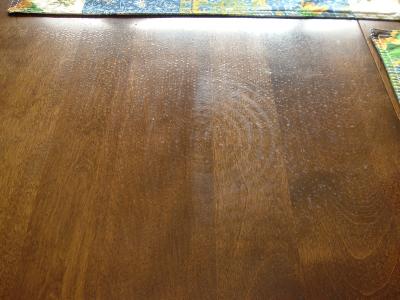 Add your voice! Click below to comment. ThriftyFun is powered by your wisdom!
How can I remove a watermark from an oak dining table? This has been caused by a putting pottery pot with it's base onto the table. It was obviously porous and the bottom rim must have been damp. I brought it in from the greenhouse. Any help would be much appreciated.
Jan from Leicester, England
Answers:
Removing Watermark on Oak Table
Have you thought of trying an oak stain? I swiped some cherry stain over a cabinet that someone had placed a cup on and it caused a water ring. The stain concealed the mark and I just dabbed it and wiped over the whole top with a paper towel dipped in the stain. Shake can well before using though. Just let dry on its own in a well ventilated room and use a pair of gloves. (02/02/2008)

By Lorelei
Removing Watermark on Oak Table
I have had the same problem before also, I used Old English lemon oil and mine came out beautifully. You can get it just about anywhere and you might want to get some saucers or a nice plate, something to set your pot onto so the moisture won't get to the wood anymore. Good Luck!:) (02/03/2008)
By Shasta
Removing Watermark on Oak Table
Many thanks for tips. Have had some success with toothpaste but will try the other suggested remedies if the watermark still remains. (02/04/2008)

By maricia
Removing Watermark on Oak Table
This will sound crazy, but I have tried this and it works. Rub some mayonnaise on the water spot. Let it sit a while and then wipe off/ buff out. Give it a try. Good luck! (02/05/2008)

By Jayme
Removing Watermark on Oak Table
I had a very nasty white ring on an antique table. I used cigarette ashes and cooking oil. I repeated rubbing till the mark disappeared. (02/05/2008)

By SunshineRose