Cleaning Stains on Crocheted Items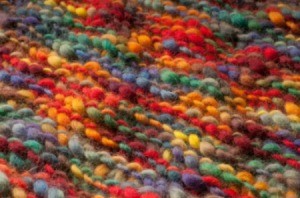 Care needs to be taken when cleaning crochet items, especially the more delicate lace style ones. This is a guide about
cleaning stains on crocheted items.
Solutions
Share on ThriftyFunThis guide contains the following solutions. Have something to add? Please share your solution!
April 8, 2017
0

found this helpful
Removing age stains or old untreated ones from a vintage crochet tablecloth is possible using certain cleaners and even the sun. This is a guide about removing a stain from vintage crochet tablecloth.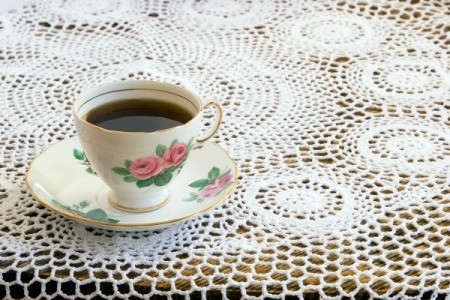 January 27, 2017
0

found this helpful
Crochet tablecloths can be somewhat delicate. Removing stains, such as coffee, needs to be done with care. This is a guide about cleaning coffee stains on a crocheted tablecloth.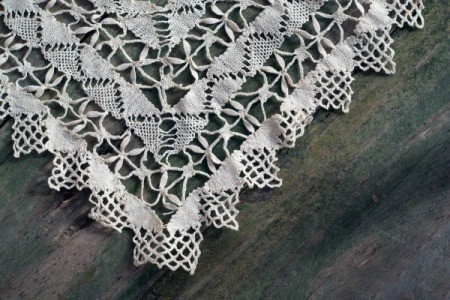 Questions
Ask a QuestionHere are the questions asked by community members. Read on to see the answers provided by the ThriftyFun community or ask a new question.
I received a hand-crocheted baby blanket as a gift. Somehow it has this brown spot on it. The blanket itself is white. I'm not sure what this spot is, as it was there when I received it, but I was wondering if anyone could give me an idea how to clean it without ruining the beautiful blanket?
Sabrina from Woodstock, Virginia
March 12, 2006
0

found this helpful
Best Answer
Request:
How does one wash and block a large, hand crocheted tablecloth? It is 100% cotton, #10 bedspread weight. Also, is starching appropriate for this item?
thistleneedle
Answers:
I've made several crocheted tablecloths. I wash them in my washer on gentle cycle using cold water. You need a flat, clean surface that won't be harmed by moisture on which to dry the tablecloth. I use my picnic table. Spread the cloth out and then "pull" the cloth back into shape before it dries. I sort of start in the middle of the cloth and smooth/pull it into shape while working outward. When it's back in shape (square, oval, round, etc.) just let it dry. I don't use starch as I've found it doesn't drape well over the edges of the table. I'd also avoid drying the cloth in direct sunshine. Good luck!
Post by ShellyE (Guest Post)
March 14, 2006
0

found this helpful
Best Answer
Sabrina,
If you are afraid to try washing it, take it to your local drycleaner. They have all kinds of things to remove spots. It does help if you know what caused the stain, because they know what things to try first.
There is a great cleaner on the corner of Main and Reservoir in Woodstock...
Kelly-CHS '84
How can I safely get stains out of a white, 30 year old crocheted baby afghan? They appear to be just yellowing from age.
July 19, 2017
0

found this helpful
You can wash as usual, and set out in the sun to dry
July 19, 2017
0

found this helpful
I add a bit of baking soda in my wash then sun-dry
July 20, 2017
0

found this helpful
Use oxyclean to soak and lift the stains I used it on my lace table cloth and it worked great!!
July 21, 2017
0

found this helpful
I would suggest washing it in a large lingerie bag for sure so as to not twist it as the threads may be weakened from age.
Use a gentle or delicate cycle and use plenty of water (full load) so the agitation will not damage the fibers. You can add other light colored items but hot too many - slow gentle swish is what you need.
Use mild soap (Liquid Woolite is good) and add some baking soda. Let soak for several hours (maybe turning machine on once in a while for a couple of minutes). Wash for only a few minutes and double rinse - add a cup of vinegar on second rinse.
Find a nice flat surface where sunshine will be for several hours and shape your afghan so it will dry in the proper shape.
This should work but if any yellow remains just pour water on the spot and let the sunshine (and even dew overnight) do the work for you.
I have had to do this many times over the years and it usually always worked.
Store in a cotton pillow case and never in plastic.
My daughter is expecting twins and would like to use the shawls that her grandmother crocheted for her as a baby. They have yellowed with age and were knitted in what we call Bri-Nylon. Any ideas on how to get back to that lovely white color back?

Chrissie from United Kingdom
Answers
By guest (Guest Post)
January 3, 2008
0

found this helpful
Rit Dye makes several products for removing color and stains. I have used one called "color remover" or "whitener" (can't remember which) to whiten nylon undergarments that had gotten yellow.
By guest (Guest Post)
January 3, 2008
0

found this helpful
Have you tried vinegar?
January 3, 2008
0

found this helpful
I've used color-safe bleach(gentler than regular bleach) with good results. But why not keep that beautiful yellowed color? It's so precious, it says, "this was handed down with love".
August 3, 2017
0

found this helpful
try that one time the table cloth came apart that look like rotted
This is a lovely top I purchased at a Vinnies store today. It has an unknown stain on it. I have done a quick hand wash to see if it will come out, to no avail. Any suggestions are welcomed.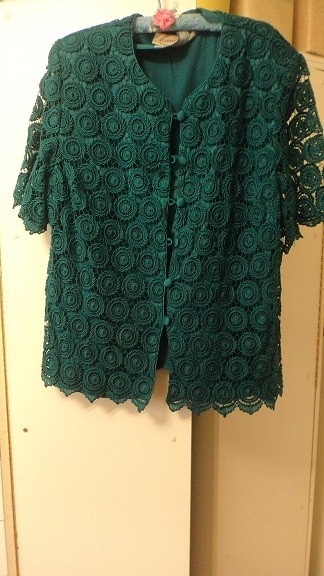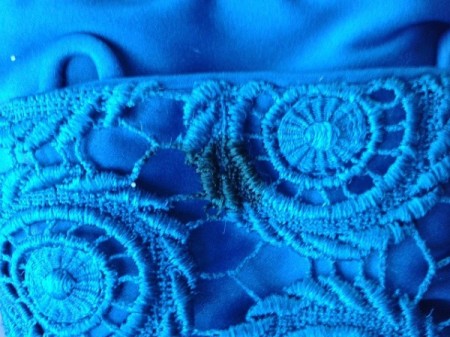 September 17, 2015
0

found this helpful
Try peroxide.
September 17, 2015
0

found this helpful
Try dish detergent, which is very safe. Be careful if you try peroxide, as it might take color out of adjacent areas. See if there's a hidden portion you can test first.
How can I remove a "rusty" stain, i.e. orangish, from a baby blanket crocheted by my grandmother. I think it is wool. The colors of blanket are bands of pink, blue and white.

January 27, 2017
0

found this helpful
Yes
November 4, 2013
0

found this helpful
I have my baby dress give to me by my grandma. A friend of her's made it in purple and white from crochet thread. It has yellowed after nearly 60 years. All of my daughters had baby pictures taken in it. I now have a granddaughter. I want her to have her picture taken in it.
I want to clean it. I've found a recipe using Dawn and Biz, which I substituted for Oxiclean. Is this safe or is there something else I should try? Please help!
By Yvonne H. from DFW, TX
May 6, 2013
0

found this helpful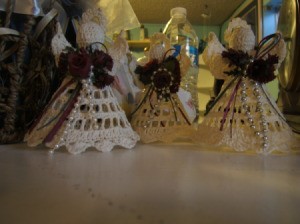 I have some angels that are startched that I've had for awhile and they are very dusty. I tried the can of spray air, but it didn't work. Anyone have a suggestion?
By Julie G.
January 20, 2017
0

found this helpful
I steamed mine clean.
April 17, 2015
0

found this helpful
How do I remove stains from a 60 year old crocheted baby christening shawl?
By T from Belfast
How can I remove wine stains from a really old crocheted table cloth? Grandma made it, probably 60 years ago and it has lain in my aunt's dresser drawer for at least 40 years. I've soaked it regular laundry soap. Now soaking in lemon juice/water. Help!
By Ly
Related Content