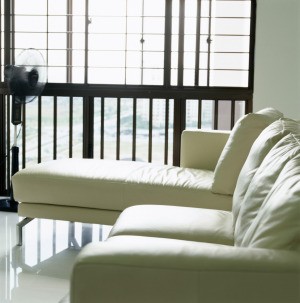 Unfortunately sometimes fabric dye from throw pillows and other items can transfer to your leather couch. This is a guide about removing fabric dye from a leather couch.
Ad
---
Questions
Here are questions related to Removing Fabric Dye from a Leather Couch.
How do I remove dye from a throw off a cream leather suite?

John from Glasgow
Ad
---
---
Most Recent Answer

By Ben Staerck12/03/2007
Hi,

Use this product to remove the stain - http://www.furnitureclinic.co.uk/LeatherStainRemover.htm

Following the below instructions;

Never apply directly to the leather.
Depending upon the size of the stain use either the cotton wool bud, cotton ball or cotton cloth to remove the stain.
Dab the stain gently and as the stain is removed from the leather the cotton will absorb it.
Rotate the cotton to stop the stain from spreading.

I have red dye from a suede pillow that transferred onto my cream colored leather couch and I'm, well, pretty mad. Can you please help?

Thanks,
A Lil Upset
Ad
---
---
Most Recent Answer

By Leather Agony Aunt (Guest Post)11/20/2007
You have dye transfer. Magic Erasers act like fine sandpaper and if they remove the dye they will also damage the finish. Use Maxi Clean (LTT) which is specifically designed for this job and then when you have removed it use Leather Protect which will protect your pale leather from dye transfer in the future

Leather care consultant
I slept on my newer dark leather couch and got very hot with a black t-shirt on. When I woke up, ink from my shirt was imprinted on the couch. Please somebody give me an idea of how to remove this.

Rocky from Tennessee
---
Most Recent Answer

By Mark Sabre [1]01/30/2009
Hello Rocky,

In regards to your leather stained sofa seeing that it is new, did you purchase a warranty on stains? If so, my advise would be to contact your warranty service and have this taken care of professionally and leave the problem in their hands. If you had not purchased a warranty then the problem lies on you.
My suggestion to you is you need to know what type of leather you own. Is it Aniline, Protected (pigmented)or Nubuck? Once your leather is identified then you can proceed with the correct steps in removing the transfer of silkscreen ink from your shirt.
If your leather is (Aniline):
Step 1. Strong Cleaner
Step 2. Leather Protection Cream
Dry between steps with hair dryer
If problem persists use: (Soft Remover/Cleaner)
Always finish job with Protection Cream

If your leather is (Protected/Pigmented):
Use the same steps as Aniline

If your leather is (Nubuck):
Step 1. Use Nubuck Cloth
Step 2. Apply Leather Degreaser
Step 3. Foam Cleaner
Step 4. Use Nubuck Cloth
Step 5. Apply Eco Protector
Dry in between steps with hair dryer
If problem persists call our service for
additional help (203) 734-5343
or email: supremecare@sbcglobal.net
Supreme Care Leather Services

Please Note!
All products mentioned above are developed by Leather Master and can be purchase through us
as well as any additional free advise.
Sincerely Mark
Customer Care
Solutions: Removing Fabric Dye from a Leather Couch
Do you have knowledge about this guide topic? Feel free to share a solution!