Can you get mold off of leather? My husband has a leather jacket that sustained water damage and is now moldy in some places. This leather jacket means a lot to him and I would really love to return it to its previous glory!

Can it be done? What do I need to do?

Thanks yall!

Sheila from Port St. John, FL
Answers
September 1, 2006
0

found this helpful
I found a bag of clothes sitting in the trash that had 2 leather jackets in it. I wanted to see if I could salvage them to make purses. But I guess the bag had something damp inside as both of the jackets had mold on them. Seeing as I had nothing to lose I hung them up on my clothesline and shot them with the hose.
Then I sprayed them with dilute ammonia and scrubbed them with a brush and then shot them with the hose again. I mean they were soaking wet, lining and all. Then I left them on the line all day to dry. They looked as good as new. Now I am not advocating doing this with good jackets as a matter of course, but if you've got nothing to lose, go for it!
Susan
By anthony majusiak (Guest Post)
August 5, 2008
0

found this helpful
First you go to Patrick's Pub and have a beer.
Once done, go home and try
For full cleaning and conditioning, try this mixture:
1 part white vinegar
2 parts neatsfoot oil OR raw or food grade linseed oil
Use a white lint free cloth to swirl on, leave overnight then buff for maximum shine.
Remove any mildew or mold on leather before starting with a regular cleaning. To remove mildew, try this inexpensive, easy recipe:
1 part rubbing alcohol
1 part water
Spray on or use on a dampened cloth. Use a clean white lint free cloth and replace as it gets dirty. Avoid direct sunlight and allow to air dry. You may also turn on a fan and allow it to gently waft over the surface.
Either of these will do the trick.
By frank (Guest Post)
November 5, 2008
0

found this helpful
I have just got out my leather jacket in the back bedroom where it is quite cool and I took out my leather jacket from the protected bag and I noticed to my horror is that it has got green mould spots all over the bottom jacket. Can any body tell me how to get rid of it please, which I would appreciate it.
June 21, 2009
1

found this helpful
I successfully cleaned about 3000 moldy, mucky jackets after Hurricane Katrina. The answer to your question is probably. A lot of the answer depends on how severe the damage is. If the zippers or snaps have been severely corroded, then the leather may be salvaged, but the metal parts will probably need replacing.
That can be quite expensive. Through gentle agitation and a mild soap, most mold can be removed and neutralized.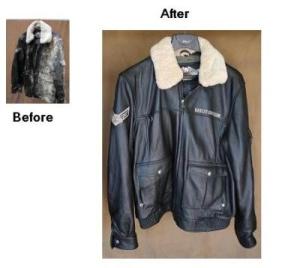 September 10, 2016
0

found this helpful
I have two jackets didn't store them right they have bunch mildew on the what kind of soup did you use thank you can please get back to I really need help to save these thanks
September 26, 2016
0

found this helpful
Was there a nasty smell to it?
November 23, 2016
0

found this helpful
How do i get it out of leather jacket
December 25, 2018
0

found this helpful
I tried tomato as it works better than vegetable.
Answer

this Question
How do I clean mold off of leather and suede?
By eric from Cleveland, OH
Answers
December 16, 2010
0

found this helpful
Best Answer
Have a look at a leather motorbike jacket I just cleaned. It was given a rub with a tea tree oil blend meant for a face steamer. The difference is huge! I will post if it fades but it looks good so far!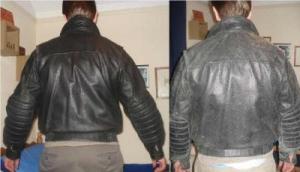 Answer

this Question
How do you clean leather? I have some older leather jackets and chaps that have mold on them. Is there any way to get them clean?

April from North Henderson, Illinois
Answers
By SIRIS (Guest Post)
March 20, 2007
0

found this helpful
My son got blood on a new suede jacket, the dry cleaners here sent it to the city and it came back stained. A native aquaintance said wash it and hang it on the line on a windy day. All the stains came out and it looked great.
Editor's Note: This suggestion should be used with caution. The suede may have been a synthetic (which could be washed). Any washing of leather can change the texture. If you want to try it use only cold water.
By (Guest Post)
March 21, 2007
0

found this helpful
Hi April, you might also try, first hang it out in the sun to dry out the mold as much as possible. Then take a soft brush and brush as much of the mold off as you can, and repeat this a few times, until clean.Susan
March 26, 2007
1

found this helpful
I've had great success tossing leather garments in the washing machine; gentle cycle, cold water, minimal mild detergent. Hang to dry.
Good luck!
Cheers,
Rose Anne
May 28, 2017
0

found this helpful
Do not wash real leather in a washing machine. NOT GOOD FOR LEATHER! There's lots of leather cleaners out there in your neighborhood hardware stores.
November 16, 2017
0

found this helpful
I have been washing leather coats in the washing machine for years as I buy them at thrift stores to reuse the leather. Some come out better than others, and some are too nice to cut up. Dry cleaners use toxic chemicals, which no animal ever used to get clean. Sometimes the leather will be a bit stiff, but easily softened by working it. I also wash my leather gloves and slippers by hand and shape them as they dry.
Answer

this Question
What is the best way to get rid of the musty smell from a Koolah leather jacket that has been in storage for awhile?
By Allan D. from Pender Harbor, BC
Answers
December 4, 2017
0

found this helpful
Air it out very well. Use a saddle soap to clean the leather portion. The inside, if lined, you can help rid the smell by wadding up newspaper and stuffing it into the sleeves to help absorb the odor. You can also spray the lining with fabrize (don't get it on the leather) or vinegar.
February 5, 2019
0

found this helpful
Another way to leech musty, mildewy odours from an item is by completely immersing it in clean, ordinary (i.e., old school, non-clumping) cat litter for a week, maybe longer; cat litter might have to be completely swapped out for new, fresh litter. You will easily be able to tell when it's times to pitch the used litter, and repeat the same process with new litter, if necessary. A clean plastic tub (e.g., dishpan, storage bin, etc.), will work well as vessel for damaged item, and cat litter.
I know this works extremely well with books (My great aunt rehabbed a humungous, over 100 year old family Bible, using this simple method.) I am seriously thinking of employing this cat litter method to help rehabilitate some of my coats that were damaged in a basement flood. The coats range from leather, suede, wool, and cotton, respectively.
Since I think the cat litter can only help, not hurt, once spring arrives I'm gonna give it a whirl. Hope this tip (particularly when using with printed matter such as books, papers, etc.), will prove to be a helpful household hint for others. :) Best regards, Shash B.
Answer

this Question
Leather clothing, shoes, handbags, etc. can develop mildew while being stored. One method that can be successful is wiping down the item with white vinegar. No matter what you use, be sure to check colorfastness before cleaning the entire surface. This is a page about removing mildew from leather.