I was watching my boyfriend's two kids and they got green coloring permanent marker on his brother's beige leather couch cushions. I'd like to help remove the stain. What will remove it safely?

By carla from Grants Pass, OR

Answers:
Sharpie Marker on Leather Couch
I had to post this for you all because a day after getting a new white Italian leather sofa my 2 yr old decided to take bright pink permanent marker and add some "color". I was in shock, but I found an awesome cleaner in my search to get it out, Goop. It worked like a charm and even gets permanent marker off wood, linoleum, certain paint, and best of all - fabrics! :) (10/01/2010)

By Shoehoundess
Sharpie Marker on Leather Couch
My son got a hold of a silver Sharpie and got it all over our black leather sectional. I've tried it all. The nail polish remover, sunscreen, lighter fluid, Magic Eraser, and body sprays all stripped the leather. (Thankfully, I tried it on a small spot on the bottom, back underside of the couch.) As for the wipes, hand sanitizer (both alcohol and alcohol-free), Oxi-clean, and green spray had "no" results. It didn't even fade the metallic marker. I am in desperate need of advice. If anyone knows any secrets, please help. Again, it's not just in one spot, it's all over. (10/11/2010)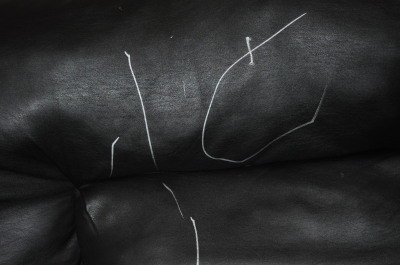 Sharpie Marker on Leather Couch
So, I finally found the cure to the silver Sharpie on the black leather sectional! It's called Leather CPR and you can get it at Bed Bath and Beyond for $12. You simply apply it with a clean sponge. I did have to scrub it with the coarse side "lightly" where the marker was. However, to do the entire 7 seat sectional, it took me about 45 min. to condition it. So not only did I get the marker out, but the couches look brand new! And unlike the other postings, I have posted the before picture (in the blog below this one) and an after picture here. I hope this has helped.

But word of advice before trying anything on your furniture, you should "always" try it on a small piece of the couch, like the bottom or somewhere you wouldn't notice if it messes it up. (10/11/2010)