August 12, 2009
0

found this helpful
My 18 month old daughter recently got a hold of a brown Sharpie permanent marker. She wrote all over our new Italian leather couch. The couch is a sandy color, and leather cleaner hasn't worked. Any answers would be appreciated.
schamberg14

Answers:
Sharpie Marker on Leather Couch
Try a little nail polish remover on a Q-Tip in a place that won't be too noticeable. If it seems to be working, try it some more. The biggest risk is that it will also take off the leather dye.
I've also heard that Goo Gone and Ditto Fluid work.
Susan (12/30/2003)

By ThriftyFun
Sharpie Marker on Leather Couch
I had the same problem. Do not use any cleaners or solvents on your leather. It'll ruin it by drying out the leather and "setting" the marker. You need to take it to a professional leather restorer. No lie. The ink in the permanent marker is so close to the dye in your leather that they sort of mix together, making it extremely difficult to "clean off".
Depending on how deeply the marker soaked into the leather, they may have to strip all the color out of the leather and then redye it. If you are really lucky, they may not have to go to that extreme, but they will only know by looking at it. They use special chemicals for mixing the color of the dye (which is a bit of an art), as well as for sealing and curing the dye, which is why you can't do this at home.
Also, there are different qualities of leather and different dying techniques. If you can, look at the underside of the leather. Does the color go all the way through, or is it white? If the color goes all the way through, it is easier for them to fix. Also, call around. I only had a small spot on one pillow, but was quoted $300 by one place and $75 by another. Turns out the $75 guy was a retiree who still did a few jobs, and who had trained in the $300 guy a few years earlier. Good luck and let me know how it goes. (01/05/2004)

By Liz Pudas
Sharpie Marker on Leather Couch
Do not use hair spray it takes the dye out of the product you are trying to repair. (05/02/2004)

By Buck
Sharpie Marker on Leather Couch
I had dark blue hearts on my cream leather couch. I found the best thing that worked was feminine deodorant spray and it didn't damage the leather, as far as I can see. (06/22/2004)

By zoenikkole
Sharpie Marker on Leather Couch
Axe Body Spray and Q-Tips Worked amazingly well, when nothing else seemed to work. It even leaves the couch smelling nice. haha (04/04/2005)

By Mike
Sharpie Marker on Leather Couch
Whatever you do, do not use nail polish remover on soft leather couches as it will remove the top layer of the leather. (05/24/2005)

By Lindsey
Sharpie Marker on Leather Couch
You should really try the Mr. Clean Magic Eraser Sponges. You can get them at almost any store now. They work great and cost about $1 each. I don't know how they work, but they work. That's all that counts. I now keep a bunch of them on hand at all time. (07/12/2005)

By KR4357
Sharpie Marker on Leather Couch
I have seen a lot of ideas, but isn't leather "sensitive"? You could try baby wipes or Armour All wipes (orange I think). Good Luck. (08/01/2005)

By shesbertsernie
Sharpie Marker on Leather Couch
I tried a little acetone (nail polish remover) with a Q-tip. And after I cleaned the sofa with leather cleaner and then protected with leather protector. So it brought back the original luster of the leather. (08/20/2005)

By Jennifer
Sharpie Marker on Leather Couch
My 2 yr old wrote with black sharpie marker on our lazy boy leather couch and I tried everything to get it out. Finally I used Mr. Clean Magic Eraser and it took it right off. Test on small area before using on a large area. (01/09/2006)

By Brandi, AL
Sharpie Marker on Leather Couch
You all rule. Thank you for the great info. I used Coppertone spray sunscreen (mostly alcohol) and it came right off. Thank you, thank you. (04/25/2006)

By coopnduncsmom
Sharpie Marker on Leather Couch
I just have a little warning about Mr. Clean Magic Erasers, they take the dye out of the leather. I have the same sharpie issue and that's what happened to my couch when I tried it. Cool insight on the axe body spray, I'm going to head out now to buy some and try it out.
If the Axe body spray can remove sharpie marker out of leather, what effect can it have on our skin and internal organs (especially our glands, etc.) with such powerful penetration power. It's just something that makes you say hmm. (05/20/2006)

By Natalie
Sharpie Marker on Leather Couch
My 2 year old colored on my new black leather couch and love seat with a black sharpie marker. I used a Mr. Clean Magic Eraser and it pretty much took it all off. A word of advice though do not clean the marks with water first, because I did that on our couch and the Mr. Clean Magic Eraser did not work very well on those spots. (08/23/2006)

By Stephanie S.
Sharpie Marker on Leather Couch
Alcohol did not work. Nail polish did not work. Neutrogena sun block did work. Good luck to everyone. (11/05/2006)

By Lisa
Sharpie Marker on Leather Couch
My 3 yr old got a hold of a black sharpie and drew a circle on my brown dark leather couch. I tried the Magic Eraser, but that is more for light colored couches. I tried the Coppertone 30spf and it worked great. I had to rub it in and massage it into the couch, but it is very faint now and my husband did not even notice until I pointed it out. Good Luck. (03/18/2007)

By Colleen
Sharpie Marker on Leather Couch
Wish I never visited this website and read these postings. I just tried polish remover and rubbing alcohol and both severely took off the finish of my leather couch and the marker is still there. Now it's ruined for sure, beware of advice over the internet.

Editors Note: I'm sorry to hear about your couch, but you make a good point. You should try any stain removing fix in an inconspicuous area of your couch first to make sure that you are not compounding the problem. (04/02/2007)

By upset
Sharpie Pen and Leather Couches
My grand-daughter had a sleepover and the girls wrote all over their arms with sharpies. My grand-daughter fell asleep on the white leather couch with purple sharpie pen marks on her arms. The couch was covered with "SKATER CHICK" and happy faces. Before I freaked, I looked here and sifting thru the miracles and decided to try Professional Shaping Hair Spray. I tried it in an inconspicuous spot first and after witnessing the miracle continued on and in 10 minutes it was all gone. No stripping. Gone. Thanks. (06/02/2007)

By Terri
Sharpie Marker on Leather Couch
My daughter just wrote all over our leather couch with a marker. We used everything we could find, but the thing that worked the best and actually got it off was my aftershave (not cream).
We used the nail polish remover, but it started to damage the leather and didn't remove much of it.
The color dulled some with the aftershave, but we put on leather proctector cream and it's shine came right back. (10/11/2007)

By Adam
Sharpie Marker on Leather Couch
FYI our daughter has virtually marked up everything in our house with a sharpie at one time or another. Rather than using body sprays as some have suggested in this forum, try alcohol it works the best. Markers have alcohol in them to keep the ink from drying. The higher the alcohol content, the more the marker comes out. (12/24/2007)

By Jeremy
Sharpie Marker on Leather Couch
We used Off Skintastic bug spray and rinsed. Every thing is like new. It saved a new couch. (06/23/2008)

By Armida
Sharpie Marker on Leather Couch
Hand sanitizer also worked on my leather couch, but be sure it has alcohol in it. (07/20/2008)

By vvss123
Sharpie Marker on Leather Couch
I tried the alcohol on my leather sofa. It worked, but it took the color off, also. Now it is worse than ever. (07/29/2008)

By Rita
Sharpie Marker on Leather Couch
OK. Mr. Clean Magic Eraser is the devil. I had a 2 inch Sharpie mark on my tan leather sofa. The eraser left the marker an just stripped the tan color and finish. Tried hair spray and body spray (didn't work) and finally hand sanitizer took it out. However there is a large light spot on my sofa. (08/10/2008)

By Andrea
Sharpie Marker on Leather Couch
My dog got hold of a Sharpie and went straight to the couch. Great. Thankfully, there wasn't more than a short streak (glad I got to to him fast enough). I used Axe aerosol body spray and its totally gone.

Be careful with this. I have a small spot (1 inch by 1/2 inch or so) of leather that the dye seems to have been lifted. It's small white spots dotting the texture of the leather. Its much less noticeable than a black streak on a tan couch, but please, be careful. (09/27/2008)

By Brandon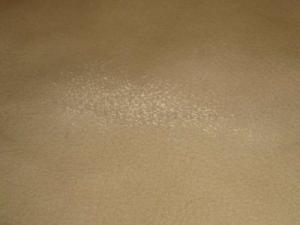 Sharpie Marker on Leather Couch
I tried the hand sanitizer, it worked pretty good, you can still see a little bit of the marker, but it looks so much better. Make sure you use a Q-tip when applying the sanitizer because it does take the color away a little bit. Good Luck. (12/09/2008)

By Nikki Sidles
Sharpie Marker on Leather Couch
Do not use the Axe body spray. I sprayed it on a towel and wiped the leather down. It took the color right off of my couch in 2 seconds. Beware. (01/04/2009)

By Josh B.
Sharpie Marker on Leather Couch
My 2 yr. old son wrote all over my yellow leather sofas with red permanent marker. We didn't see it for several hours. I tried: baby wipes, sunscreen, magic eraser, saddle soap, and WD40. None of them worked. The eraser was taking the color off along with the marker. The others did nothing. So, I used Avon's Skin So Soft body spray. I put it on a cloth and rubbed lightly until it all came off. It was like magic. I thought these sofa's were ruined. Now, they are as good as new. You can't tell the red marker was ever there. (01/14/2009)

By Shannel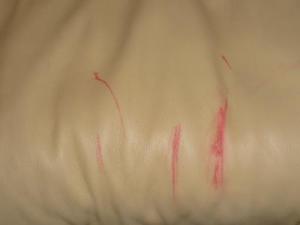 Sharpie Marker on Leather Couch
I had a very large blue sharpie stain on my tan leather couch. I tried leather cleaner spray cleaners and everything I could think of. I finally used Hawaiian Tropic sunblock spf 45 and it finally came off with no discoloration. Do not use alcohol based products will cause discoloration. (01/26/2009)

By Beth
Sharpie Marker on Leather Couch
I just used Chrome by Azzaro men's aftershave. Sprayed it on a little, lightly rubbed it off, then spayed again. Then used leather conditioner. (02/23/2009)

By Tobias
Sharpie Marker on Leather Couch
I also used Coppertone Water Babies spf 40 to remove black sharpie marks on my dark brown leather chair. Thank goodness. Anything with alcohol would take the color right out. (02/25/2009)

By Tracy