December 30, 2003
0

found this helpful
Best Answer
Try a little nail polish remover on a Q-Tip in a place that won't be too noticeable. If it seems to be working, try it some more. The biggest risk is that it will also take off the leather dye.
I've also heard that Goo Gone and Ditto Fluid work.
Susan
April 16, 2016
0

found this helpful
Clearisil pads worked great on getting sharpie marker out of leather
May 29, 2016
0

found this helpful
Peppermint essential oil didn't remove the finish. I slowly rub it on with a q tip.
July 13, 2016
0

found this helpful
Do not use nail polish, it will leave an ugly white mark
September 30, 2017
0

found this helpful
goo gone does not work
October 11, 2010
3

found this helpful
Best Answer
So, I finally found the cure to the silver Sharpie on the black leather sectional. It's called Leather CPR and you can get it at Bed Bath & Beyond for $12. You simply apply it with a clean sponge. I did have to scrub it with the coarse side "lightly" where the marker was. However, to do the entire 7 seat sectional, it took me about 45 min.
to condition it. So not only did I get the marker out, but the couches look brand new! And unlike the other postings, I have posted the before picture (in the blog below this one) and an after picture here. I hope this has helped.
But word of advice before trying anything on your furniture, you should ALWAYS try it on a small piece of the couch, like the bottom or somewhere you wouldn't notice if it messes it up.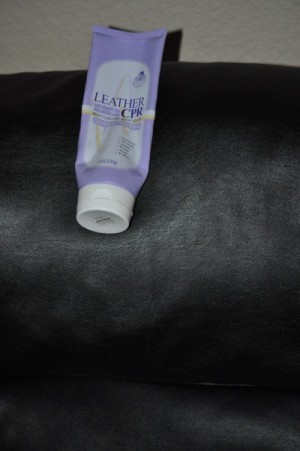 April 6, 2016
0

found this helpful
You had more luck than us, we tried the leather CPR and unfortunately it was no match for black sharpie on wine colored leather. Our $5,000 couch now has a fun black sharpie stain..
November 23, 2011
0

found this helpful
I tried the advise of Xyko. It worked great and immediately. I used Off Sportman Bug Repellet. I sprayed a small amount on a paper towel and the marker came off immediately.
After that I put a leather conditioner on it to remove any residue. So happy it worked, our furniture is brand new. Also it has saved my husbands life. Ha!