September 1, 2006
0

found this helpful
I found a bag of clothes sitting in the trash that had 2 leather jackets in it. I wanted to see if I could salvage them to make purses. But I guess the bag had something damp inside as both of the jackets had mold on them. Seeing as I had nothing to lose I hung them up on my clothesline and shot them with the hose. Then I sprayed them with dilute ammonia and scrubbed them with a brush and then shot them with the hose again. I mean they were soaking wet, lining and all. Then I left them on the line all day to dry. They looked as good as new. Now I am not advocating doing this with good jackets as a matter of course, but if you've got nothing to lose, go for it!
Susan
September 26, 2016
0

found this helpful
Was there a nasty smell to it?
By anthony majusiak (Guest Post)
August 5, 2008
0

found this helpful
First you go to Patrick's Pub and have a beer.
Once done, go home and try
For full cleaning and conditioning, try this mixture:
1 part white vinegar
2 parts neatsfoot oil OR raw or food grade linseed oil
Use a white lint free cloth to swirl on, leave overnight then buff for maximum shine.
Remove any mildew or mold on leather before starting with a regular cleaning. To remove mildew, try this inexpensive, easy recipe:
1 part rubbing alcohol
1 part water
Spray on or use on a dampened cloth. Use a clean white lint free cloth and replace as it gets dirty. Avoid direct sunlight and allow to air dry. You may also turn on a fan and allow it to gently waft over the surface.
Either of these will do the trick.
December 7, 2016
0

found this helpful
Will it discolor black leather?
By frank (Guest Post)
November 5, 2008
0

found this helpful
I have just got out my leather jacket in the back bedroom where it is quite cool and I took out my leather jacket from the protected bag and I noticed to my horror is that it has got green mould spots all over the bottom jacket. Can any body tell me how to get rid of it please, which I would appreciate it.
June 21, 2009
1

found this helpful
I successfully cleaned about 3000 moldy, mucky jackets after Hurricane Katrina. The answer to your question is probably. A lot of the answer depends on how severe the damage is. If the zippers or snaps have been severely corroded, then the leather may be salvaged, but the metal parts will probably need replacing.
That can be quite expensive. Through gentle agitation and a mild soap, most mold can be removed and neutralized.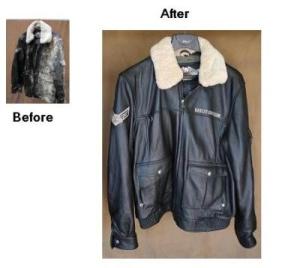 September 10, 2016
0

found this helpful
I have two jackets didn't store them right they have bunch mildew on the what kind of soup did you use thank you can please get back to I really need help to save these thanks
November 23, 2016
0

found this helpful
How do i get it out of leather jacket
June 8, 2017
0

found this helpful
How do I remove mold frm a leaher jacket