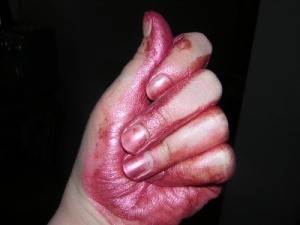 It happens, you are dyeing your hair and either didn't wear gloves or accidentally get some on the skin around your hairline. This is a guide about getting hair dye off skin.
Ad
---
Solutions: Getting Hair Dye Off Skin
Read and rate the best solutions below by giving them a "thumbs up".
I used my son's Johnson & Johnson baby body wash the one in the yellow bottle, then I added a bit of sugar to make a light scrub. Within seconds all the hair dye came off my skin, I now make a batch and use it as a body scrub once a week and my skin is super soft.
Over the years, I have dyed my hair everything from bright pink to blue black. Along the way, I have also accidentally dyed by ears, my neck,my arms and many other body parts, I won't mention. After trying all of the normal methods, I found that the best way to get dried hair dye off of skin is with a combo of Simple Green and baking soda. Not only will it cut through the dye like a hot knife through butter but it will give you a great exfoliation as well!

Keep in mind though, that although the Simple Green is a nontoxic biodegradable cleaner, it will strip your hair of any color. So keep it on the skin and off the hair unless you want blond roots! ;) Hope this helps!

By Roxanne from Richmond, TX
I usually put conditioner around my hair line, ears, neck; anywhere I know dye will get. After I'm done dying my hair, it comes right off! No worries if you get some on your hair before dying it, doesn't do any damage. If you are worried, you can just wipe it off the hair.
By ilma
All I ever do is use Palmolive dish soap on a facecloth with hot water and voila! I wipe it off immediately as soon as I am done putting dye all over my hair. This has worked for me always.
Give a "thumbs up" to the solution that worked the best! Do you have a better solution? Click here to share it!
Questions
Here are questions related to Getting Hair Dye Off Skin.
How do you get hair dye off your face?
By June from Gateshead
Ad
---
---
Most Recent Answer

By Sherri [6]10/07/2011
Hello... This sounds silly but... Cigarette ashes work great! I went to beauty school (back in the day), and this is what they taught us to use. It works every time. Good luck
Every time I get my hair colored (I really have white hair and have it colored golden blonde), my scalp gets really pink. What can I do to get rid of the scalp color? Or make it go away sooner?
By littlebit from Saint Joseph, MI
Ad
---
---
Most Recent Answer

By Kat [7]01/18/2010
As a former cosmetologist and major allergy sufferer, I can say from more than one viewpoint that the pink scalp is nothing to play around with. When I was a cosmetologist, we were required to do a patch test on all customers any time we changed the brand or shade of hair color we used. If there was a reaction it didn't always mean the customer needed to stay away from color, but that we needed to try a different brand, or even a different shade of the same brand. If the patch test is used and there is any irritation, keep trying until you find one that does not have a reaction; this may even mean bringing your own color to the salon if the ones there all cause reactions.

If they all cause reactions see an allergist, you may have other sensitivities as well. Do not add anything to the color or just take a benedryl without first trying to alleviate the problem, as this is the least dangerous option. Danger? I know someone who would pop benadryl when she had a reaction and one day she had to take 4 doses before the reaction slowed, 4 doses is a day's worth, and she had to take them all within maybe an hour, next time she may not be so fortunate. Also, have you ever seen a full-blown allergic scalp reaction to a chemical such as color or perm? Horrible to see, painful for its victim, and the effects are lasting.
I dyed my boyfriend's hair and he has hair dye all on his forehead and ears. We have tried everything to get it off; any other tips?
By Rebecca
---
Most Recent Answer

By Barbara03/28/2013
I get my hair colored at the local beauty school. They use something called Sea Breeze on a cotton ball. Works great. You can buy it at any drug store or Walmart.
I've dyed my hair and now I have a red ring of dye still on my head. How do I remove it? I need help ASAP!
By Jaki from London
---
Most Recent Answer

By ble37305/12/2012
We learned the hard way. Once it sets, hand lotion works best.
Last night I dyed my hair black and I was in such a rush that I didn't even realize I hadn't put the gloves on. Now my hands and nails are dyed black. I've gotten some of it off, but there's still some there that I can't get. How do I get the rest off?
By Deja from Goliad, TX
---
Most Recent Answer

By Fishercat [5]02/11/2012
A few thoughts:

**IF** your hair dye smells like ammonia, you could try using a weak ammonia solution: put 1 or 2 capsful in a quart of warm water and wash your hands with that. Ammonia's fairly toxic, and it'll be really hard on your skin, so if it doesn't come off quickly, don't leave your hands soaking in it for long. Rinse REALLY thoroughly and moisturize the heck out of them afterwards. They'll need it.

You could also try coating your hands with petroleum jelly or vegetable oil, letting that soak in for a bit, and seeing if the dye comes off when wiped on a paper towel or washed with soap.

Hydrogen peroxide is a mild bleach and safe to use on skin. Dump a bottle into a bowl and soak your hands for a while.

Worst-case scenario, nothing works: Paint your fingernails *black or navy blue, and every few days, scrub your hands with a paste of sugar and vegetable oil before washing them with soap. That'll get rid of the dead skin cells on your hands, and speed up the fading of the dye as the new skin comes to the surface. As a bonus, your hands will feel like silk afterwards.

Good luck!


*I'm suggesting colors that won't contrast a lot with the dyed skin, which is not true of, say, dark red.

Fishercat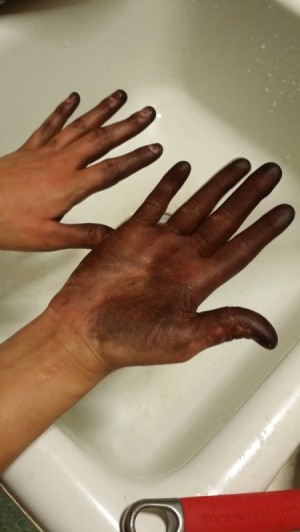 My crazy daughter dyed her friend's hair dark brown, without gloves! It is 2 weeks til prom and her hands look like she dipped them in old engine oil!
By Shasha
---
Most Recent Answer

By ishvi05/11/2015
Mix equal parts baking soda and dishwashing liquid. If you have lemon add that juice also. Apply the mixture to a damp washcloth. Rub it onto the affected area until the stain has lifted. Rinse off the mixture with warm water. Apply some lotion because baking soda makes skin dry.
The groomer dyed my dog's hair red (did not know until she was picked up). Well now her skin is dyed and can't get it out. Any suggestions? It has been 3 months now.
By Teresa
---
Most Recent Answer

By Kat [7]04/18/2014
Since you didn't know they were going to dye your pup, if I were you I would take the pup back and have them remove any remaining dye, and without charge. That wasn't very professional of them, to just dye the dog without the owner asking for it.
Can hair dye change the color of a mole near my neck?
By littlebluegirl1973 from MD
---
Most Recent Answer

By Grandma J [46]11/15/2013
If you are asking if this can change it permanently, no. Temporary hair dye might slightly change it IF you concentrate on leaving the dye on the mole. If it has changed on its own or you don't see if change back to normal in a few days, get it checked out. That is the kind of mole that could seriously be something else.
How do I remove dark purple hair dye from my hands?
By Robin O.
---
Most Recent Answer

By Pam Griffis [4]06/09/2011
Don't know if this will work, but it removed self-tanner that had turned the p