Fluffy (Persian) - Getting Cats Used to Each Other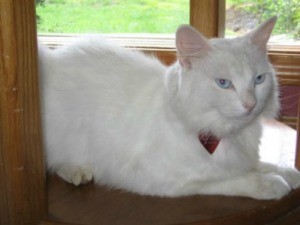 This if Fluffy, our beautiful persian! She showed up on our doorstep one day and captured our hearts immediately! When we first got her, she was skinny and so sad looking. However with a lot of TLC and good food, she's now a very happy cat!
One tip that has really worked for us as far as getting Fluffy used to our first cat, Mouser -- we place their food bowls side by side each morning so they have to be close together to eat! In no time, she was used to him and stopped hissing at him every time he got near her. Each cat has a different temperment, of course, but this little trick would probably work for most cat owners when introducing a new cat into the household.
By Mary J. from Florence, SC
Feedback
Read feedback for this post below. Click here to post feedback.

By gazookeeper (Guest Post)
11/20/2005
Whatever breed and whatever physical problems he may have...this is one beautiful animal. Lucky you.

By denjan (Guest Post)
11/20/2005
We also had a pure white cat with blue eyes ,he also was deaf.He fathered a litter of kittens and 1 was white with blue eyes,but she had a tinge of orange on her ears and on her tail.She could hear.Intresting about white blue-eyed cats being deaf.

By Dede Payne (Guest Post)
11/20/2005
Are you sure this is a Persian? They usually have a smashed face and extremely long hair that needs to be combed almost daily. I am not sure about the white ones, but most of them have gold eyes.

By
11/20/2005
I'm curious -- is Fluffy deaf? We had a pure white Persian mix cat with blue eyes many years ago and he was completely deaf. We never had a problem, he even went outside. We would tap the floor so he would feel the vibrations to get his attention. When he was outside, we would throw a stone or stick near him so he could see it to get his attention. Since he couldn't hear anything, he didn't any have fears. We lived near a firehouse that had a huge Dalmation. Oscar, our cat, never batted an eye when that dog was in our yard. Funniest thing -- the dog would bark at him but would never get that close. He was scared of our cat since Oscar never reacted to the barking. He lived to be eleven years old. He was a very interesting pet.
Post Feedback
Add your voice to the conversation.