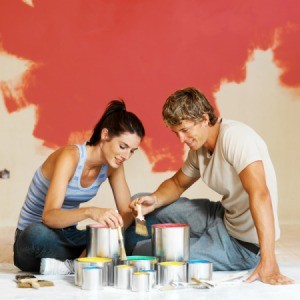 My question is about many colors. I like pale colors, and I have a foyer and stairs that lead to my kitchen, office, dining room, and living room. I know my kitchen will be a pale yellow, my office sky blue, and pale green in living room (all off of the foyer).
I have a dining room with pine furniture. I need some suggestions on the foyer and the dining room (paint colors). Would the same pale yellow be too much for those rooms all feeding off each other? I love yellow.
By Donna from Atlanta, GA
Answers

Joan
Bronze Feedback Medal for All Time! 186 Feedbacks
December 29, 2009
0

found this helpful
I would go to a neutral color, like taupe or gray(on the decorating shows gray seems to be really popular now), even a sage green would be nice, because that is considered a neutral.

joan pecsek
Bronze Request Medal for All Time! 66 Requests
December 29, 2009
0

found this helpful
Pale yellow would be great in the foyer, not too much at all. For the dining room try a pale peach, apricot, or coral. Those colors would tie in with the rest of your colors and look good with the pine furniture.
A soft aquamarine (robin's egg color) would be good also.

Allison
Bronze Feedback Medal for All Time! 231 Feedbacks
December 29, 2009
0

found this helpful
I think it's good to use no more than two or three colors in a house, but you can use varying shades. So, use your yellow in a few places, but go one shade up or one shade down here and there. I also think it helps to draw it out on paper and look at how the colors flow.
Also, make sure the colors are all in the same tone. Hope that helps!

December 30, 2009
0

found this helpful
You sound like an excellent decorator and your plans are splendid. As long as you like it, that is what counts...right?
I agree though with Allison5 about varying shades. Maybe you can use varying shades on the walls and trim? One light yellow on the walls in the foyer with a vibrant bright yellow trim.
Paint the kitchen the bright vibrant yellow with light yellow trim. Just some ideas...
You have to like it when you get done. Remember chocolate brown compliments light blue, so maybe you could paint the trim in your office chocolate brown with light blue walls. Taupe compliments pale green colors also.

December 30, 2009
0

found this helpful
If you want your house to seem larger than it actually is, make rooms that are connected or seen from other rooms the same color. Also, its good not to use more than three colors to decorate your home (in addition to black and white). In the yellow rooms, use green and blue as accents, one more dominant than the other. For example, green (or blue) drapes and seat covers in the dining room with blue (or green) china or decorative objects on the table and other furniture.
The blue room should have yellow (or green) curtains and at least one chair in that color. Also, yellow and green should be included if there is a carpet located in that room.
The green room should have yellow and blue accent colors. Best of luck and enjoy your creation.

December 30, 2009
0

found this helpful
You can vary the shades of one color on that wall from room to room. Take a paint strip and use one of each of three shades in each of your yellow rooms. But I would be certain to use the same shade on every room the same color. I like pure white, but maybe you like linen or another shade of white. Keeping the trim the same shade, makes continuity throughout the house.

Dena Roberts
Bronze Feedback Medal for All Time! 102 Feedbacks
December 30, 2009
0

found this helpful
It's your house. Paint it whatever colours make you happy! Your colour choices sound wonderful!

susan
Silver Feedback Medal for All Time! 472 Feedbacks
December 31, 2009
0

found this helpful
You can unite the rooms in a variety of ways. The same flooring running throughout the rooms will look wonderful--perhaps wooden or tile. You can have the same color wood trim throughout the spaces--all painted white or stained the same color. Differing window treatments in the same fabric or material will work. Or just use the wall colors from the other rooms as accent colors in the adjoining spaces.
Whatever you choose, just make sure the flow is uninterrupted, otherwise you will feel an unconnected energy as you move through your spaces. Definitely use colors you love, forget about trends or what others think. It's your space and you will be spending lots of time there. Don't rule out a neutral paint color and using your colors as the accent colors, or using one or two wall colors you love and using the others as accent colors.
Above all, if you are a warm person, use colors with warm undertones; if you are a cool person, use colors with cool undertones. There is nothing worse then feeling 'depressed' by the colors in your own home. Remember, paint is cheap and you can paint over any color that you feel isn't right for you. You are not locked into any decision that isn't right for you. Have fun and good luck.
Answer

this Question