I'm looking for floor cleaners and mops which run on electricity. I need these cleaners for my house. Please advice which are easy to use, which do not occupy too much of space, and can clean in small areas.
By Barbara Smith [2] 07/13/20100 people found this helpful
I have tile and wood floors and have purchased several floor cleaners, all have been dissappointments. They don't last very long, leave too much water, etc. I have purchased a floor steamer, best floor cleaner I have ever purchased. Very easy to use, reasonably priced, doesn't leave a lot of water on the floor (very important when using on wood floors). I presently have a shark steamer.
By Mimi L 05/01/20110 people found this helpful
Check this one out. it might be of help!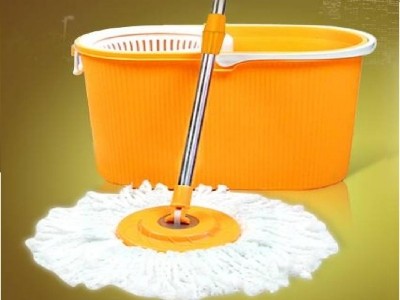 I am interested in purchasing an automated (electric) floor cleaner for linoleum and hardwood floors. I need advice on the best model. I am interested in cost, ease of use, ease of cleaning, and effectiveness. I would appreciate any suggestions you may have.
Diana from Louisville, KY
---
RE: Floor Cleaner Reviews
You said "automated floor cleaner". To me that infers one which you preset to automatically by itself clean your floor. I believe you have to have sealed your hardwood floors to use an automatic floor cleaner. I am assuming you are not talking about the Irobot floor vacuum which is automatic. I am also presently in the market for one. I think I have narrowed it down to the Irobot.com automatic floor washer which first vacuums then cleans and then soaks up the wet from the floor. It's a four in one process. I will probably purchase it from SharperImage.com as one can purchase additional years worth of guarantees. This is a most reliable web site and you can request a catalog. I have purchased throughout the years some things and they have always stood behind their guarantees.
Both my husband and I have physical problems and cleaning the floor was always painful for us until I got a catalog from HammacherSchlemmer which offered for $100.00 a hand push electric floor steamer cleaner which was well worth the money. The catalog also offered $50.00 gift certificate if we purchased $100.00 worth. So I got a hand held window steam cleaner for the $50.00 free certificate. I did have to pay for shipping. Both products work really great. Also, after about a year the floor cleaner malfunctioned. As they offer a lifetime guarantee (your lifetime) I called, sent it back and received a new one. Check onto Irobot.com, sharperimage.com, hammacherschlemmer.com and see for yourself. I will purchase my Irobot floor washer from Sharperimage because I will extend the one year guarantee the mfg. offers. Good hunting, and if anyone else knows of other mfg or web site of such products I would be interested in what they are. (01/23/2006)
By Spunky
RE: Floor Cleaner Reviews
The Swiffer Wet Jet is is fine around animals. I went to Snopes.com and found that is an urban legend email. My vet said the same thing. Some people have too much time on their hands that write this stuff. (01/24/2006)
By Fran Marie
RE: Floor Cleaner Reviews
I just got a Bissell Flip Ease floor mop and love it. Unlike a Swifter Wet Jet it is rechargable for the vac part and this eliminates the need for a dust pan and broom. The wet side uses no batteries, and has washable pads. It has a tank so no need to buy expensive refills for it. I would recommend that you order a few more pads if you do not do laundry everyday, but do mop. (11/26/2007)
By cantmissamy