My husband and I have 6 children, (so far) Kriztina 18, Chriztopher 16, Lyndzie 13, Jacob and Joshua 4 1/2, and Matthew 19 months. Frugality for us started about 14 years ago. I would say I started out with sewing.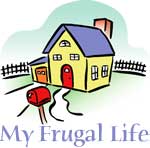 I made my oldest two children's school clothes one year and found I loved sewing and loved seeing them get so excited when all the outfits were layed out for them to see. They wore them very proudly and told everyone I made them. I was proud and they were proud a great great moment.
My husband and I both knew and wanted as many children as God wanted for us. So we knew we would have to tighten things here and there. That little sewing experience just kept growing and growing and growing over the last 14 years and allowed for me to be home with the children, homeschooling them the entire time.
We made many mistakes over the years, Our biggest I would say was buying a house that was way out of our league, Thankfully we were able to sell it for what we owed and get out of it fairly unscathed in 2002. We rented until last year, when we found a 2400 sq ft house for $5000. It needed a lot of work just to be livable, but we worked on it day and night, I remember painting while the baby slept in the front carrier on my chest, another great memory. We got it livable and fix it up more here and there as we see things. But it is paid for and we all love it.
I used cloth diapers with the last 3 children, and was sorry I did not do it with all the kids, it was actually easy to do. I make my own laundry soap, the kids help and we love the smell of it cooking. We repurpose everything that we possibly can. We shop at thrift stores and mend or tailor the clothes. We use everything until it has no use left. We go to the park and zoo for free here and the younger kids love it. The older kids coupon with me and help do the grocery shopping. We eat 99% of our meals at home, set up the table and all gather around it for homemade food. My 13 year old and I spend our moments together making bread and granola bars and all kinds of great things.
We stockpile, we just made a room out of the end of our upstairs hallway this month, that is our stockpile room, We have about 6 months worth of food and personal items. We started a garden for the first time this year, I was very very skeptical of this. We grew most everything from seeds, then transplanted into the ground, You would have thought that we had won the lottery, as all 8 of us were tending the garden two weeks ago, and started screaming and dancing around cause we had beans on the bean plant lol. Our latest and greatest memory to date!
Good luck to all in frugalness. Michelle, Wife to Mark, Mother to Kriztina Chriztopher, Lyndzie, Jacob, Joshua and Matthew.
Michelle from Independence, Kansas
Do you have a frugal story to share with the ThriftyFun community? Submit your essay here: http://www.thriftyfun.com/post_myfrugallife.ldml
By michelle
Ad
---
By Phyllis Smith 2 47 06/23/2009 Flag
Thank you for sharing your story. I love sewing and enjoy repurposing fabric that other people have accumulated. I sell my stuff locally and the biggest hit right now is fabric grocery bags. I call them vintage market bags because the fabric that I use is from people's stash of old fabric.

I am thrilled that your family is united in this adventure and you feel God's blessing in what you do!
By kathleen williams 76 1,661 06/23/2009 Flag
Enjoyed your frugal life note, you sound like myself. I have always lived like that and saved every dime I could and still do and proud of it. No use throwing money down the drain. I went further with my sewing, I put a small sign in front of our home, "I sew". You can make lot of money sewing for other people. I stayed busy all the time. I'm retired, just sew for the family now. I have always enjoyed sewing and designing clothes. I designed the "Dropseat Jumpsuit", the patterns are for sale. They wear very good, can be worn anywhere, anytime. Good luck.
By pam munro 522 790 06/23/2009 Flag
My mother always sewed and taught my sister and I too. She would often say: "I could make it for less than that!" and encourage us to be creative about ways to spruce up our wardrobe and tailor our things. These were great lessons that I am very grateful to her for! Passing on these skills is a wonderful way to prepare your children for adulthood!
By Cyinda 214 1,287 06/23/2009 Flag
Good for you! I enjoyed your story. Thank you for taking the time to write it!

I sewed all my daughters newborn gowns & receiving blankets etc. Also I made her clothes from kindergarten all the way until Jr High school. Her younger friends would jump for joy when receiving her hand-me-downs because they were always up to date & "cool". Sewing can make home decorating affordable & you can also make money mending clothes for others. These days I enjoy taking nice adult clothes & cutting them down to fit kids.

It's not easy to live frugally like you & I do, but it's the reason my home is also paid for & I was able to stay home & raise my 4 kids. We didn't have a lot (of material things) but we were happy & know what's important in life.
By Joan Dykes 14 43 06/24/2009 Flag
You know the new way of life now is called Living Green. I'm 68 years and that is the way we lived all our lives. I truly enjoy all the blogs on-living green, it brings back a lot of memories, and like Martha would say-That's a good thing.
By Frances Adams 11 554 06/24/2009 Flag
It sounds like you and your husband have a wonderful plan, taking care of yourselves, each other, and your kids---not just having kids and expecting the government to provide for you!
The best memories your kids will have, are of the 'things' they did with you, not the 'things' they had or didn't have!
Good luck, and God bless you all!