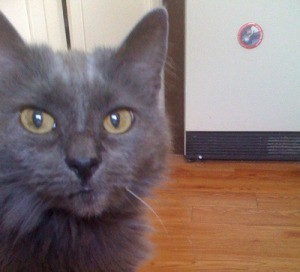 This is Sissy, I am unsure of her age, she was a stray, but the vet says she was pretty old. She passed away last Monday, November 8, 2010. She was a Long Haired Domestic. Sissy was a stray who visited me at night for food I left outside. It took me a year of sitting with her before she'd let me touch her. After that, she'd sit on my lap under a blanket in the fall and I was finally able to take her inside and keep her.
She loved to play with pipe cleaners! Sissy was the first of all the cats I've owned who loved to sit on me all the time. If I was sitting, she was on my lap or thrown over my left shoulder. She had a thing about always being on the left shoulder or she would sit on your leg, but it was always the LEFT leg!
She was a very touchy, snuggly girl who'd had a rough outdoor life. She'd had a broken arm that hadn't healed so there was a bump on the bone, and her canine teeth were missing except for one. I fed her canned food so it was easy on her old teeth. It hasn't been a week yet, but I miss this girl so much, and I know I'll never have another like her.
By Krystal
Ad
---
By Sharon 27 126 11/19/20100 people found this helpful
So sorry for your loss. I know how bad this can hurt. I've lost several cats and one of mine now is pretty sick. I'm going away for the weekend and will worry about her the whole time. My condolences to you. I know you gave her a good life.
By NEWFIEGIRL 8 426 11/19/20100 people found this helpful
Your beautiful girl has crossed the "rainbow bridge" she spent the best years of her life with you.
By Dena Roberts 35 491 11/19/20100 people found this helpful
I had a similar experience. A stray showed up in my porch one day just as winter was setting in. He had broken through the screen in the middle of the night and was huddled in the corner. I put food and water out there for him, but couldn't get near him. He was extremely scared, took me about 2 months to coax him into the house. I live in Winnipeg and it was about 30 below 0 and with really biting winds, so I wasn't going to let him back out into that! When he finally came in, he ran for the basement and I never saw him again for over a year, but the food and water was disappearing and the litterbox was being used, so I knew he was okay! Well, he finally started sneaking upstairs and eventually turned in to the nicest, sweetest cat I have ever had! I named him Charlie Brown because he always seemed so sad. He was a real "old soul". He passed a few months ago after living with me for 12 years and I miss him terribly, and am so grateful he chose my house to break in to!
By cybergrannie 32 880 11/19/20100 people found this helpful
What a lovely story. I have an 18 year old that I know I will be missing soon and it really is a sad time. Hope you can find another to love and maybe bring comfort to you.
By Lizzyanny 9 1,215 11/19/20100 people found this helpful
Your story really touched my heart. It is hard to think of cats living without love and care. But not Sissy. She was a lucky girl and you are a wonderful pet owner.
By Kathy 1 4 11/19/20100 people found this helpful
Krystal, I am so sorry for your loss. I too have lost several cats and a dog. I grieved them as much as I've grieved when a human died. I pray your memories will bring you peace. Sissy was a lucky gal to have chosen just the right person to love and to be loved back. When the time is right may another kitty in need find it's way to you. God bless, Kathy
By Julia 147 1,074 11/19/20100 people found this helpful
Sissy was such a pretty kitty. Years ago, I was owned by a "Smoky" cat who was pretty much the same as you describe Sissy. Very loving and cuddly. We can form such close attachments to those who so obviously love us, can't we? I'm so glad that you had that wonderful experience. You were definitely blessed.
Thank you for sharing Sissy with us.

Pookarina
By yvonne 6 11/19/20100 people found this helpful
I am so sorry to hear you lost a loved one, dear. My heart and prayers are with you and I know Sissy is being taken care of and loved very much by Jesus. Heaven is not just for us humans, and the animals were created before us! Take care, dear.
By bpaddle 1 42 11/21/20100 people found this helpful
Thank you for sharing her story with us and for your kindness to her. It means a lot.
By lalala... 702 87 11/22/20100 people found this helpful
What a beautiful girl! I am so sorry for your loss!
By Sherri 10 552 11/23/20100 people found this helpful
Aw, I am so sorry about your Sissy. She found you in the last years of her life and she knew you would be her friend and caretaker. I have the same experience that you had with Sissy and he finally came in the house and now sleeps in a comfy bed with us. We named him Bud-Bud. Please take care.
By susan winship 4 405 12/03/20100 people found this helpful
I'm so glad you found each other. I remember a cat (I didn't have him/no one had him. He had himself) He lived in my apartment house parking lot. Hip improperly healed, only one ear, didn't like women at all (I'm one) but he would let me feed him and when it was obvious that he was in a bad way I was able to take him to the vet. I called him Beast. He didn't like me but I grieved for him when the cancer put him down. You had a wonderful cat that gave you what she could, sounds like it was a lot. Thanks for sharing with us.