Photos of Long Haired Cats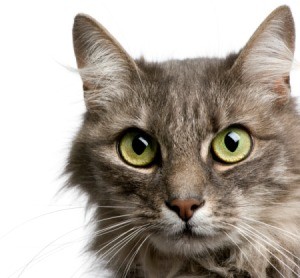 Long haired kitties come in a wide variety of colors and patterns. This page contains
photos of long haired cats.
Photos
Share on ThriftyFunCheck out these photos. Click at right to share your own photo in this guide.
Little Bit (AKA Bitsy) is 14. He is a Long Haired Angora. Got my pet from my daughter and granddaughter when we met. He loves cheese, sleeping, watching birds and being the King of the House. We lost him recently and I just wanted to share him with all of you.
By Crafty Chrissy from Oshkosh, WI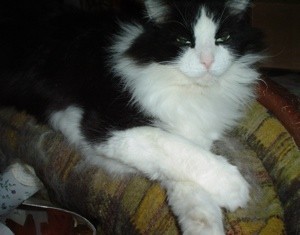 I got these cute sisters at a rescue site. They keep me laughing with their funny antics. Since my husband died recently, they are great company and keep me from getting lonely.
By Nancy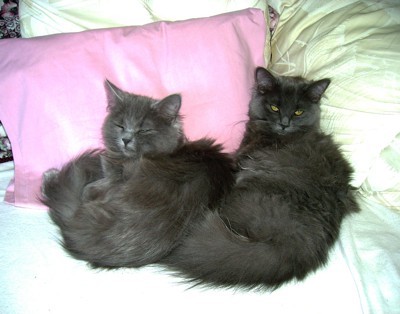 April 19, 2011
14

found this helpful
Gary Gray is 7 years old. He has long hair. Gary snuck into our garage one morning and we took him in temporarily, for what we thought would be a trip to the animal shelter. We fell in love with him and decided to keep him. Gary plays with toys with dad, chases his sister cat Rosie, or cuddles with mom. He is the best!
By Kendall R.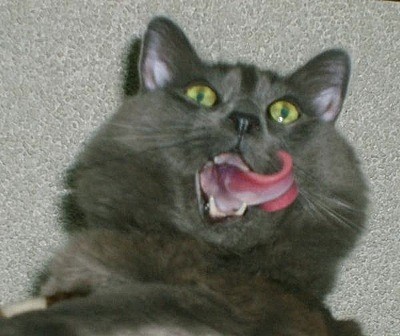 Gizzy loves to play with pom pom balls and yarn. As she took a break, I laid underneath the table to get this upward shot. I love how this angle turned out. It shows the details in her fur and paws as do the yarn images.
By Kathy L.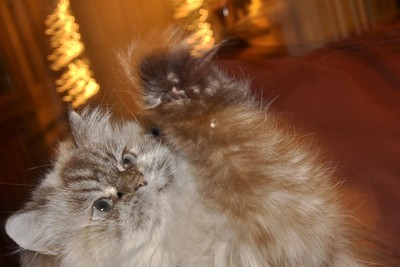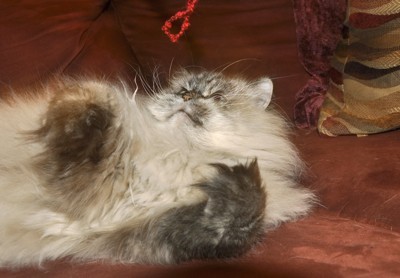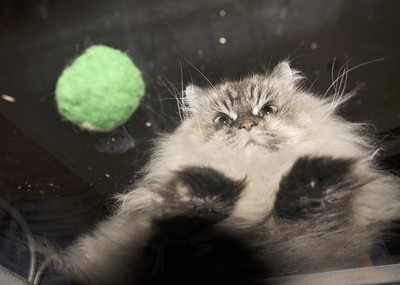 Precious is a 12 year old long haired, white kitty (a kiss of butterscotch on the top of her head) and one blue eye and one green eye. How I acquired Precious is a story in itself. I was visiting some people at their house. While there, their daughter and her boyfriend came to visit. While we stood outside and chatted with them, this cute little white kitten came jogging down the street towards me and meowing. I picked her up and thought she was the cutest kitty I had ever seen! But she had a little collar on her. Surely she had to belong to some little girl! So the girl we were visiting with said she would try to find the family she belonged to.
About a week or so later I went to a different area of town to a yard sale and there was that girl I was talking to! I asked her if this is where she lived and she said yes. Then I turned around to look at her yard sale items and there was a "Free Kitten" sign. I thought to myself, this couldn't be the same one, could it? Someone would have surely snatched up on her! She was beautiful! But it WAS her and I took her home with me that day! She has been my baby ever since! She likes to Sleep.
The picture I'm sharing with everyone is her looking over the top of the laptop screen while I'm working on it. :) I just HAD to snap a picture of her.
By Misty from Wooster, OH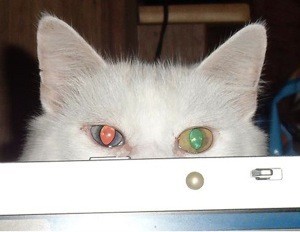 Related Content