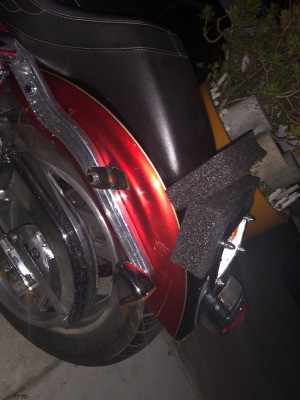 I love riding on my boyfriend's motorcycle but the passenger seat isnt too passenger friendly. Without installing a sissy bar, you will be sliding around the back which may cause the wheel well to rub or, worse, you can slide off. My boyfriend doesnt like the sissy bar look, and mounting/detaching one every time I ride with him can be a hassle. To purchase a detachable sissybar was far too expensive.
I thought if I could just put something that would fit on the little space to keep me from sliding off then it hit me. I took a piece of packaging foam that was shaped like a rectangle and I cut the top side off, to make it snug behide the license plate. This would act like a cushion wall which would keep me from sliding off. Since it's foam, it's lightweight, won't scratch the paint and far more comfortable than mounting hardware brackets.
Last but not least, it's detachable. When I get off the bike I just remove it and store it in my helmet for future use.