It's good to keep the water in your humidifier smelling fresh. This guide contains homemade humidifier treatments.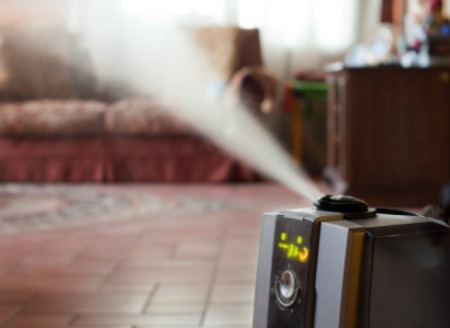 Is it harmful to add bleach to the water in your humidifier?
By Kim from Leominster, MA
---
Most Recent Answer
October 26, 2009
The Wal-mart in our area sells an additive to keep the water in a humidifier clean from mold and bacteria. It is fairly inexpensive. One bottle usually lasts awhile. I believe the manufacturer is Holmes. A humidifier should be disinfected every 4-6 weeks or when needed. I use a mix of bleach and water, rinsing thoroughly before using.
---
My humidifier uses wick filters and I'm replacing the filter every 2-3 weeks. I've tried various water treatment solutions, but they're expensive too. Can anyone please recommend solutions which don't involve spending a lot or which use common household ingredients and not a number of questionable chemicals? Our water is reasonably hard and fluoridated. Thanks kindly.

Rose Anne from Calgary, Alberta
---
Most Recent Answer
November 21, 2013
I use bleach and water to soak the filters about once every ten days. Make sure you use gloves, and don't squeeze the filters, just rinse them afterwards. It will have a slight bleach smell for a day, but it will give the filter about six months of lifespan. I've also heard citric acid is good for removing minerals, but have not tried it.
---
Will white vinegar neutralize the smell coming into the humidifier?
By Allen from Rochester, NY
---
Most Recent Answer
December 29, 2010
You must make sure to clean the humidifier as bacteria can build on things as well as mold. Vinegar is a good water conditioner for this too.
---
By Rose Mary 2 2
A bottle of Holmes Humidifier Water Treatment was left in the house I just bought. I do not have a humidifier. Are there any other uses for this product?

Thank you,

Rose Mary from Jackson, MI
---
Most Recent Answer
By guest (Guest Post) Flag
September 23, 2007
This product is designed to prevent mineral build-up in the humidifier.
So it might be useful for removing mineral deposits from shower heads, around sink and lavatory faucets, etc.
I'm not sure how strong it it - it might not work, but what have you got to lose?
---
By alica 7
I have an older room humidifer with the removable 2 gallon plastic tanks that I refill when empty. I need to know how to maintain the humidifer, keep it clean and get rid of lime build-up. I used to buy cleaner that I put directly into the tanks, but it was expensive and hard to find. I've heard vinegar, but I can't stand the smell! Thanks!

Alica from Missouri
---
Most Recent Answer
By guest (Guest Post) Flag
January 11, 2009
White Vinegar is the only product I have found to clean out my humidifier of the lime in it. I do it once a week with success at an economical price ($1.47 gallon). The vinegar is less potient than the vinegar used when I cook pickles in the summer.
---
By Don H. 1
I want to know if I can put vinegar in the water in my humidifier. Would it be harmful to breath it in? How about for the kids? We have a pink bacteria (probably Serratia marcesans) that shows up very quickly in the humidifier tank. I clean it once a week.
By DJH
Are there any good home made humidifier treatments?
By Patty P.