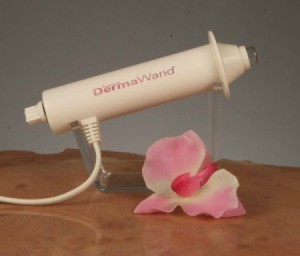 Before buying beauty products that promise skin rejuvenation, it is a good idea to do a bit of research. This is a guide about Derma Wand reviews.
Solutions: Derma Wand Reviews
Read and rate the best solutions below by giving them a "thumbs up".
The Dermawand has many proven results. My mother uses it, my co-worker's mother also uses it. The results are not instant as many thing after using it for one week, it is a long term investment for your skin. After using it for a few months you will see the improvements. My mum and co-worker's mum are proof. They love it, their wrinkles are reduces, their skin feels smoother and they say they have their "glow" back again.
Look on the Australian Shaver Shop website where there are many reviews that are very informative., The Shaver Shop staff are trained extensively on the Dermawand product and are very helpful. They explained everything to me and the process it takes. Go ask the experts.
Give a "thumbs up" to the solution that worked the best! Do you have a better solution? Click here to share it!
Questions
Here are questions related to Derma Wand Reviews.
Is the daily use of the Dermawand laser harmful in any way to your health? Can it cause any cancer or something else?
By YR
---
Most Recent Answer

By Cj B.11/09/2012
I simply keyed: "Dermawand laser" in my browser and many useful links came up. You should get your question answered there. Also reviews pros and cons. Hope this helps.
My question is that if it's free for 30 days for the test, how am I gonna get that without paying and am I gonna pay after 30 days?
By mujhdanasiri
---
Best Answer

By LaQuetta [1]01/21/2014
I contract for one of the companies that takes orders for the derma wand. One reads "By ordering today you can try the derma wand for free for 30 days". After 30 days it's $39.95 + 14.95 shipping & handling with 2 more payments of $39.95 ($119.85 total + s&h).

Another one reads "You pay $14.95 today, processing fee for the skin care products. Then is 30 days you pay $39.95 + 14.95 s&h, followed by 2 more payments of $39.95".

Some say $9.95 instead of $14.95... depends on which ad you see. Either way though you'll end up paying $119.85 for the derma wand plus s&h and if you decided to return it within the 30 day money back guaratee you will pay the shipping fee to return it.

Always...Always listen for risk free. I hear all day long (on numerous products) that the commercial said free... Nothing is ever totally free. Always listen for RISK free which means you can return it within their stated time period and get a refund thus you've lost no money other than your p&h (processing & handling) or s&h (shipping & handling).

Marketing is big business and the consumer is responsible for looking out for themself! Always listen closely and look for the small print on the bottom or corner of your TV screen. Many times that's where you'll see they've added in costs they haven't stated out loud. Example: "Buy one get - one free" but in small print on your screen you'll see "just pay additionaly shipping". It's a buyer beware world out there so keeps your eyes and ears open for a catch!
I have just received my Derma Wand and have not used it yet. I am wanting to use it for the first time, however, I am going out soon after I use it and am wondering if I can do this and put make-up on right after and then go out with friends. Please advise me what is the best thing to do or not to do?
By Janine from Watonga, OK
After using this for a few weeks the pores on my cheeks close to my nose became huge. They run all the way down to almost my lips. I haven't used it for months and they are still huge. I'm really upset at this. It's good for spot treating pimples and draining the lymphatic system for under eye bags. But my pores look awful!
By Jessica
Do you have to continually by creams or moisturizers to be used with the Dermawand? How long do the results last/ Is it something I have to always use to keep the results?
By Judy
Are you able to use the Dermawand all over the face and body? If not please give me all the limitations. Thank you.
By rosedarlene
I'm interested in hearing from anyone that has used the Dermawand for a year or more?
By JM
Are there substitutions for the products you use with Derma Wand? I have had mine for a few weeks and my daughter definately notices the difference.
By Jeanne D.
Can Derma Wand can be used by men?
By Prakash
---
Most Recent Answer

06/04/2012
I don't see why men couldn't use it; afterall skin is skin ;-) It's doubtful they really work but here are a couple of reviews you can read about them to make up your mind if you really want to. What the person in the second review is talking about is probably broken capillaries.

http://www.theperformanceleader.com/derma-wand-review/

http://wiki.answers.com/Q/Derma_wand_-_does_it_work
The results of Derma Wand are temporary from what I've read. I was wondering how long they do last. All day, a few days? Thanks.
By Bailey from Denver, CO
---
Most Recent Answer

By Aerial The Shamen09/08/2011
The modern exaggerated ozone phobia is pointless. Ozone is corrosive but it is part of normal air (especially in summer). The worst it does is decomposing latex. But treating facial skin with fruit acids is corrosive also and you could surely kill humans and decompose the corpse with only enough fruit acids. And everything that attacks skin cells can increase skin cancer risk. Strengthen your immune system by enough sleep and organic food to fight against it.

I employ a classic violet ray machine for pain treatment (not beauty), which is likely much stronger than the Derma Wand. The way I employ it, the ozone smell doesn't make headache. I guess that happens only after being exposed for over an hour to it. I vent the bathroom immediately after use (not least because the acrid stuff eats latex). With summer smog ozone the situation is much different, because 1. the environment is way too hot and 2. you can not open a window to get rid of it. Classic violet ray machines even had a dedicated ozone inhaler to disinfect your respiratory tract. (Some people still use it.)

These machines work not by producing some strange neon light but mainly by firing thousands of small lightning bolts onto the skin, those produce the ozone and some full spectrum light (containing a bit of UV). These sparks have a strongly disinfecting effect but also burn the surface a bit. Overexposure can cause sunburn-like damage, but unless it is overused, I would not consider this very dangerous. (Domina studios even use similar "violet wand" devices of much higher intensity than medically recommended to produce pain and temporary skin brandings.) How ever I would not want to treat my head with it without reason because I fear that the pulsed HF (strong like 15 mobile phones) may cook my brain. But I am also aware that the lower frequency (500kHz with violet ray) concentrates heat way less than the microwaves of mobile phones. I don't use mine for beauty, but I read that mild spark treatment (holding tube at distance) can e.g. soften scars. Stronger sparks burn warts and (unlike mechanical removal) kill the embedded germs.

Websearch for "violet ray" history. In early 1900th such machines were used to treat all kinds of medical conditions, but FDA banned them in 1950th (pushed by the pharma lobby) due to exaggerated health claims.
Archives
Thrifty Fun has been around so long that many of our pages have been reset several times. Archives are older versions of the page and the feedback that was provided then.
Has anyone used the DERMA WAND -- and if so, what do you think of it?
Does anyone have any information on Dermawand? Have you tried it and what results did you have? How long did it take to get results? Does anyone know how and where I can get information about this product and if it works? Thanks!
Does anyone know why my pores are larger after using the Derma Wand?
By Wendy C. from Riverside, CA
---
RE: Derma Wand Reviews
I know you don't want one. I was a pro for years in day-spas doing everything one can do, and those things are really not good for your skin. You can only thin your skin so much, or the epidermis isn't there to keep pores tight and closed up. We once played with one in the shop and decided we didn't want it! Customers bought them, and then we had to fix the damage. It's too abrasive. I know they aren't cheap, but I can't say I liked it.
I just use sugar to exfoliate; it breaks down dead skin and gets rid of them-no pores get clogged because all of it dissolves. With the Derma Wand, I developed a thin spot and it seemed to leave particles and dead skin behind. I have irritable skin, and you may, too. It's not sensitive, but allergies make it want to get red. Maybe you're having a similar experience. (07/19/2009)
By damaged05170
RE: Derma Wand Reviews
I used the Derma Wand for 2 years and really thought it was doing my skin some good. I let my son use it because he had acne and he believed it was helping his spots clear up. But unfortunately, one day while he was using the Derma Wand on a fairly high setting, it blew up at the tip and it's a wonder he wasn't blinded or something from the glass fragments or even the beam. From that day on I've never replaced it even though my son wants me to. (08/12/2009)
By Xocai-Lady
RE: Derma Wand Reviews
I followed the suggestion of another reviewer and bought my Derma Wand through HSN. It only cost me $79.99 (saved $40 right off the bat) plus free shipping. I also purchased a 2 year warranty for $13.00, so if I break it, it will be replaced. I received it 3 days ago. The first time using it, I felt that it wasn't doing anything, but I decided to give it a real try by using it twice a day as recommended.
I already see a significant improvement in my skin texture. That hormonal acne that runs from the corners of my lips down to my chin is almost entirely gone. I also have 2 small fatty lumps that I've had for years and they are shrinking already. I've also been experimenting using it on a couple of psoriasis lesions on my leg, it will take some time to see how that is affected. So overall, I'm happy with the product. Regardless of whether it actually smooths out wrinkles, it is still doing great things for my skin. (10/11/2009)
By B Taylor