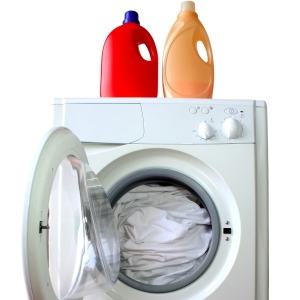 There are laundry detergents made especially for front loading washers. Choosing the best one for your machine can improve its overall performance. This is a guide about best laundry soap for front load washers.
Ad
---
Questions
Here are questions related to Best Laundry Soap for Front Load Washers.
I just bought a front load washer. Do we need to use that expensive soap? Can we make our own? Thanks!
By Syber from IA
Ad
---
---
Best Answers

By Patti [1]04/18/2007
I just use less soap.
---
Best Answers

By annie (Guest Post)04/17/2007
There are many sites for making your own and I have tried 3 of them. Our clothes did not come out as bright so I went back to Tide but I stretch it a little with the homemade soap.
---
Best Answers

By duckie43 (Guest Post)04/17/2007
You can definitely make your own. The borax and castile detergent is low sudsing. Would work fine in the front loader.
Is homemade laundry soap safe for HE washers?

Lisa from Lebanon, IL
Ad
---
---
Most Recent Answer

By Therese01/27/2008
OK I have to ask. What is an 'HE washer'?

Editor's Note: An HE washer stands for "high efficiency washer". They are typically front loading washers that use much less water than conventional washing machines.


Can homemade laundry soap be used in the HE washing machines?

Brenda from Carrollton, Texas
---
Most Recent Answer

By Barb. Lehto [2]01/28/2009
Homemade laundry detergent does not have any suds because we don't put a 'sudsing agent' in it. Suds do nothing to clean the clothes - it's just a visual thing - when we see suds, we think the soap is working.
Homemade laundry soap is made by grating a bar of Fels Naptha soap, put it into a pot with enough water to cover the soap + about 2". Heat on low to medium until soap is dissolved , stirring occasionally, and add to a 5 gal. bucket of the hottest water from your tap. Stir well & add 1 cup of WASHING soda (found in laundry area of store). Put into gallon jugs (not milk jugs - plastic is too weak). Use 1/2 c. per load. A bar of Ivory soap can be used instead of Fels Naptha. Soap can gel, so shake before using. Works great & comes to about $1.50 for 5 gal! Been using it for years. If you don't have a laundry tub, use the bathtub & clean it out with the spilled stuff after you are done - a 2fer!
I just got a new front loading washer. Can I use up my old regular detergent by using smaller amounts or will it damage the washer? Thank you.
By Aline from Vero Beach, FL
---
Most Recent Answer

By Barbara Leviton [6]01/03/2011
We use Maytag front loader at our dry cleaning stores. I found that LG front load washer is not the best. BUT, I have found that the following gives me a good and fresh smell to our laundry: 1 Tablespoon of the proper tide (HE) detergent is ample.The odor comes from putting too much detergent in. On towels I add some vinegar too. I wipe down the rubber and put a small sink stopper to keep it open. Also, it really is a must to drain it every month.(A pain!). Our machine is 4 years old. It was rated highly by consumers. I would definitely not recommend it.
Please, can anyone give me some advice?
I have a brand new HE top loading washing machine being delivered next week and I'm worried if I can use my homemade laundry powder in it.
My recipe is:
1 cup grated laundry soap
1 cup washing soda
1 cup baking soda (I have hard water)
1 cup oxygen-based brightener (like oxy)
I don't use borax since its not available in my country.
I usually use 1/2 cup of powder since my old twin-tub machine had the capacity for 17lb "dry" weight of clothes. This new one has the same capacity. I don't get good results using less powder. This recipe suds up a little, but not too much.
Will I damage my new machine if I use this powder or should I buy the expensive HE laundry powder available?
Liquid detergent is not an option coz I don't like them.
Thanks for any help.
By cettina from Malta, Europe
---
Most Recent Answer

By Jess [119]04/26/2011
Cettina, I have a front loader, a GE Duet. My biggest suggestion to you would be to NOT use liquid detergent but you say you never do. :) I use the cheapest HE powdered detergent I can get. I did develop the "stinky clothes" problem you hear about all the time, but it went away as soon as I switched to powdered detergent and stopped using fabric softener. I use less detergent than I used to, maybe half.

In my opinion, I can't see why using your own version would damage the machine. It might not work as well as it did in your top loader but it seems like it would just wash through. You might want to run a "clean washer" setting occasionally, to guard against clogs.

Hopefully, we will get some more opinions from other people who have used their own detergent soon. :)
When using homemade laundry soap, should I use liquid or power for he washer? Mine is a Cabrio top loader.
By Debra from Grayling, MI
---
Most Recent Answer

By Marilyn09/04/2010
Liquid.
Is it OK to use homemade soap in the new HE washers?
By Dell
---
Most Recent Answer

By Kelly B.10/28/2013
I am getting a HE washer this weekend and I have read about 20 articles that say homemade detergents are safe.

Also Carol, homemade detergents are not crap, they are all natural, no dyes or perfumes and people have been using these ingredients for ages.
Is there a homemade washing soap powder that is safe for HE machines?
By Sharon from Sprakers, NY
---
Most Recent Answer

By LisaE [18]03/01/2011
I am not sure if this answers your question but many people use homeade powdered detergent in their HE machines. However, my opinion is that powdered detergents tend to gunk up machines. I stick to liquid only. Homeade detergents are low sudsing so it works well for HE machines.
I can no longer find any detergents marked HE for front loading washers in my grocery stores. Is it no longer made? What do I use in place of it?
By LEP
---
Most Recent Answer

By Manuela02/19/2015
They are often kept on the top shelf. In a pinch, you can just use half or one third of a regular detergent.
I use less than 1 tablespoon HE laundry detergent and I have way too much soap.
By Elfi
Solutions: Best Laundry Soap for Front Load Washers
Do you have knowledge about this guide topic? Feel free to share a solution!