Dog Urine Stains and Smell Off Furniture
I had a large dog that leaked urine when she slept on the couch. How do I remove that smell?
By Glory from Franklin Lakes, NJ
Answers: Dog Urine Stains and Smell Off Furniture
Read answers for this question below.
If the urine has turned the wood black you may not be able to get the black out. You could try sanding it down to see how far the wood has turned black. The process of "fuming with ammonia" was used in mission style furniture to darken the wood. The ammonia reacts with the tannins in the wood and turns it dark. The same thing happens when the dog urine breaks down into ammonia.

You could fume with ammonia to get the rest of the wood the same color. I think it is as easy as putting the furniture in a large plastic enclosure or some other enclosure and putting a pan of ammonia in with it.

To get rid of any urine smell on the furniture you need to use a bacterial product like Natures Miracle or Ridex. Apply it and cover with plastic for a few days. It needs to stay moist for the bacteria to break down the organic matter in the urine.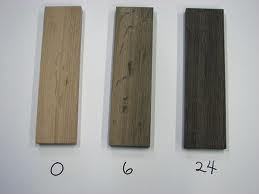 I bought SCOE 10X on the internet from BioFog. I haven't uaed it yet, but all the reviews were great.It isn't cheap but is a concentrate and one bottle makes many. I believe it has a money back policy if not happy. It's cheaper than a new couch.
In general, baking soda works really well as a deodorant. In the past when something smelly has happened to my couch, I sprinkle baking soda on it, leave it for a couple of hours, then vacuum it up.
Questions
Here are questions related to Dog Urine Stains and Smell Off Furniture.
Removing Dog Urine Stains on Wood Furniture
How do I remove old dog urine buildup from hardwood furniture? The urine is so thick I could use a scraper, but would damage the wood.
By Mark from Whidbey Island
---
Most Recent Answer

By mom-from-missouri
07/06/2012
Personally I would throw the furniture out.
Answer This Question
Add your voice to the conversation. Click here to answer this question.