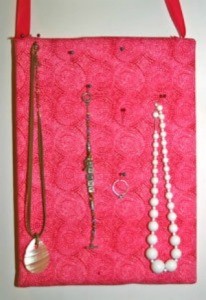 Use a hunk of Styrofoam packing from one of your technology purchases and a fabric scrap to make this organizer to hang all your baubles. I hung one in the bathroom for my 16-year-old to get some of the mess off the sinktop. I also made a small one for my other daughter's dorm room. You could also use it for photos, mementos, notes, or seasonal items just for decoration.
Approximate Time 1 hour or less
Supplies:
piece of Sytrofoam the size of your choice, but at least two inches thick
fabric scrap to cover
ribbon to hang it
hot glue or tacky glue
assorted trims if desired
package heavy duty, long quilters' pins with pearlized beads on top (They cost about $2 for 40).
Instructions
Cut fabric to fit foam, leaving about one-inch excess all around.
Wrap foam just like a gift and glue in place. (If using hot glue, be sure to glue fabric to fabric, so you don't melt your project!)
Add lace or rickrack, etc. to edge of foam, if desired.
Attach length of ribbon to hang, using pins.
Attach jewelry with pins.
By Cindy from Waynesburg, PA
Ad
---
Feedback Forum
Feedback about this article is posted here. Want to contribute? Click above to post feedback.

By Theresa (Guest Post)09/16/2008
Brilliant! Thanks Cindy!

By joynchocolate (Guest Post)01/10/2008
What a clever idea! I am going to try this as some of my bead type necklaces don't fit in my jewelry box.

By Saara01/04/2008
I love this idea, I'm going to use this and make a small bulletin board for my kitchen, and one for over my desk.

THANK YOU!

By zanjabil (Guest Post)01/04/2008
I love this idea, I'm going to use this and make a small bulletin board for my kitchen, and one for over my desk.

THANK YOU!

By Cyinda [214]01/04/2008
That's funny! I just made one of these 2 weeks ago, as a gift for my daughter for Christmas! I used 2 pieces (back to back) of "Foam Core Board" from the dollar store & made a sort of "pillow case" from fabric to surround it, the pillow case can be removed for washing. It's light as a feather, so I only used 2 pins to hold a piece of yarn across the back to hang it from. (but if you're hanging heavy jewelry, you may need to poke holes through the styrofoam & tie a piece of ribbon through these holes for added strength)

---> It's a BULLETIN BOARD: Made because my daughter likes to tape "eyes" from fashion magazines to her bathroom wall as samples of how to do her eye make up. Now she has this hung in her bathroom. It's better than taping things to the wall ... & it can also be used as a place to store earrings & jewelry as you showed.

OR: Hang one in the sewing or craft room! I like to cut pictures from junk-mail catalogs. Ideas of outfits I want to sew or jewelry I'd like to make. Mine is made from a huge piece of styrofoam insulation (thicker "foam-core" styrofoam) from Home Depot. I've used magnet-backed clips to attach it to the back of my metal door.

* I guarantee one thing: If you make one of these, you'll get lots of use from it! No matter WHAT you decide to use it for!

By (Guest Post)01/04/2008
Cindy,

This is such a clever idea! I'm going to make one. Betty

By Janice C. [18]01/04/2008
Cindy, this is a really good idea, and timely for some of us who need to get organized after the holidays. And I like the pink fabric you used in the photo. Very decorative.

By (Guest Post)01/03/2008
You just helped solve a problem for me, thanks!

By lavonneann [6]01/03/2008
Thanks for the good idea.
Post Feedback
Add your voice to the conversation. Click here to share feedback.