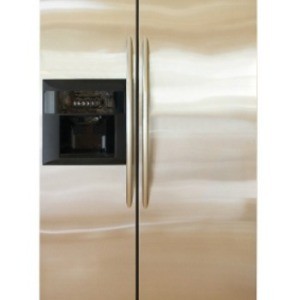 Having clean gaskets help your door to seal better. This guide is about cleaning a refrigerator gasket.
Ad
---
Solutions: Cleaning a Refrigerator Gasket
Read and rate the best solutions below by giving them a "thumbs up".
Did you know that one of the first thing to wear out of a refrigerator is the rubber door gasket? So, with this simple tip, you can protect the gasket from cracking, drying, and mildew. Just apply a very thin coat of Vaseline petroleum jelly. By this simple procedure, you are preforming a preventative for the cracking, drying, and mildew! It also improves the seal!
By Dorothy from New Creek, WV
If you are having trouble with ice build-up on the heater coils in the back of an older fridge and are having to go through the lengthy process of removing the food and shelves to defrost with a hair dryer -- a little Vaseline may be all you need!
It turns out that the plastic seal around the edge of the door loses its elasticity over time and so may not be sealing as tightly. I got a tip from a repairman that simply rubbing the seal with petroleum jelly will help soften it up. It completely eliminated the problem for me!
By Tahlula from Northfield, MN
Never use bleach, diluted or undiluted, to clean refrigerator seals as it breaks down the rubber. I used to, but after 18 months I had to replace the seals.
By Slayer from Bunadaberg, QLD
Give a "thumbs up" to the solution that worked the best! Do you have a better solution? Click here to share it!
Questions
Here are questions related to Cleaning a Refrigerator Gasket.
What cleaning solution do you use to clean the rubber around the doors of your refrigerator and freezer?
By RR
AnswerWas this interesting? Yes No
Ad
---
---
Most Recent Answer
By Nancy [9] 01/03/20120 people found this helpful
Drying it, and applying a thin coat of vaseline, will keep gasket from cracking.
---
What is the best way to prevent mold/mildew from building up on the door gaskets of the refrigerator? What is the best way to clean it when it does form?

Connie from Smithville, TN
AnswerWas this interesting? Yes No
Ad
---
---
Most Recent Answer
By ellen wagner [18] 03/07/20090 people found this helpful
Hydrogen peroxide. I can't praise this stuff enough. Put some in a spray bottle and spray the mold or if you don't have a spray bottle just pour it on. Let it sit a few minutes. Wipe. You may have to repeat.
---
I bought a used side by side refrigerator and on the freezer size someone had put, of all things, packing tape on the rubber seal. They did this to keep the seal in place because they had taken the door off and didn't take time to put the rubber seal back in its place correctly. When I pulled the tape off the seal to put the seal around the door properly it was sticky. How do I get the sticky residue from the tape off of the seal?
By Norma from SC
AnswerWas this interesting? Yes No
---
Most Recent Answer
The rubber gasket around my refrigerator and freezer doors gets mildew and mold buildup constantly. I've cleaned it several times with Clorox and other cleaners however the older stains remain and the mildew/mold builds up again. Does anyone have a better and permanent solution please?
By Nancy
Archives
Thrifty Fun has been around so long that many of our pages have been reset several times. Archives are older versions of the page and the comments that were provided then.
Can anyone tell me how I can clean the mildew on the rubber seal on my refrigerator/freezer doors? Thanks!
Pam
---
RE: Cleaning Refrigerator Gaskets
I use chlorine bleach, either straight or mixed with hot water. Also, to get the mold or mildew out of the gasket grooves, take q-tips and dip them in the bleach, and then run them through the grooves. Great for those tight spots. (02/02/2005)
By Tori
RE: Cleaning Refrigerator Gaskets
A toothbrush and cleaner with bleach works great for scrubbing those moldy gaskets. And my refrigerator repairman says we need to lube them every 6 months, with, believe it or not, vaseline. (02/03/2005)
By Deb
RE: Cleaning Refrigerator Gaskets
I use comet cleanser. Works really well. (02/07/2005)
By jeangnome46
RE: Cleaning Refrigerator Seal (Gaskets)
Clorox Cleanup will do the trick. (03/25/2005)
By suzi homemaker
RE: Cleaning Refrigerator Seal (Gaskets)
I would try Scrubbing Bubbles. In Florida, as you know, we experienced 4 hurricanes last Summer / Fall. Some refrigerators were in terrible shape after several weeks of no electricity and the owners unable to get to them for a variety of reasons. Scrubbing Bubbles to the rescue.
I have started using it each time I clean my refrigerator now --- because it gives it such a nice clean look, and I figure the bleach in it can only help sanitize.
Hope this helps! (03/27/2005)
By Rama
RE: Cleaning Refrigerator Seal (Gaskets)
I use Soft Scrub with Bleach. It works really well. (03/28/2005)
By Meari
How do you clean black mold off refrigerator gaskets? I really need to clean it up before company arrives in 2 days.

Fionar from Arlington Heights, IL
---
RE: Cleaning Refrigerator Seal (Gaskets)
I've been in the gasket business for 25 years and the one thing you should not use is bleach. Bleach will dry out the vinyl and in a very short time they will crack.(02/20/2008)
By Kris
RE: Cleaning Refrigerator Seal (Gaskets)
Bleach is very bad for the seals (gaskets). Everyone that uses a bleach product will be buying a new refrigerator, or a new gasket sooner or later. How long have you been using Scrubbing Bubbles? Does it contain Bleach? Any cracks or distorted areas on your gasket yet, bleach users? Does anyone know what the manufacturer recommends? If they recommend BLEACH we all know why. (07/10/2008)
By Velo